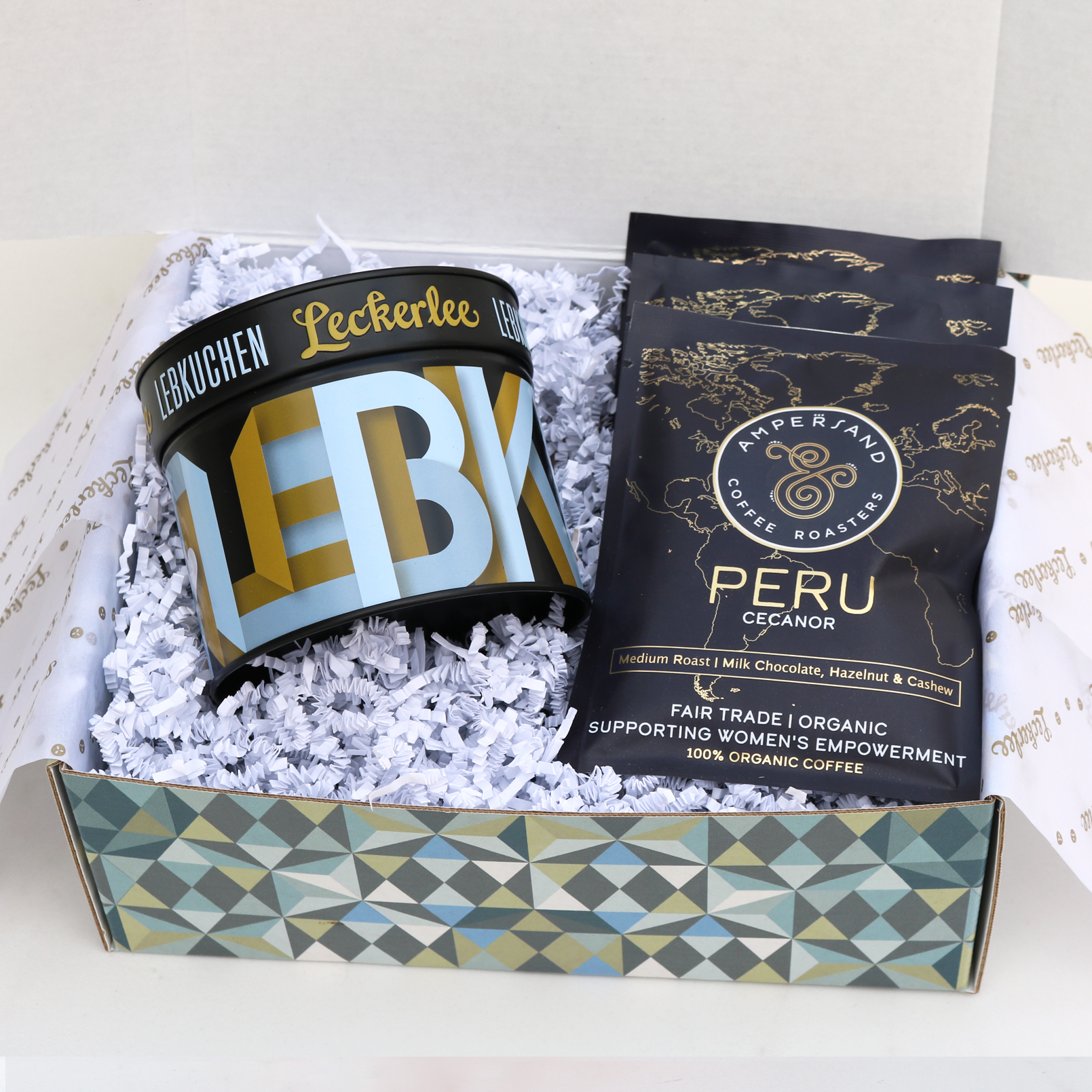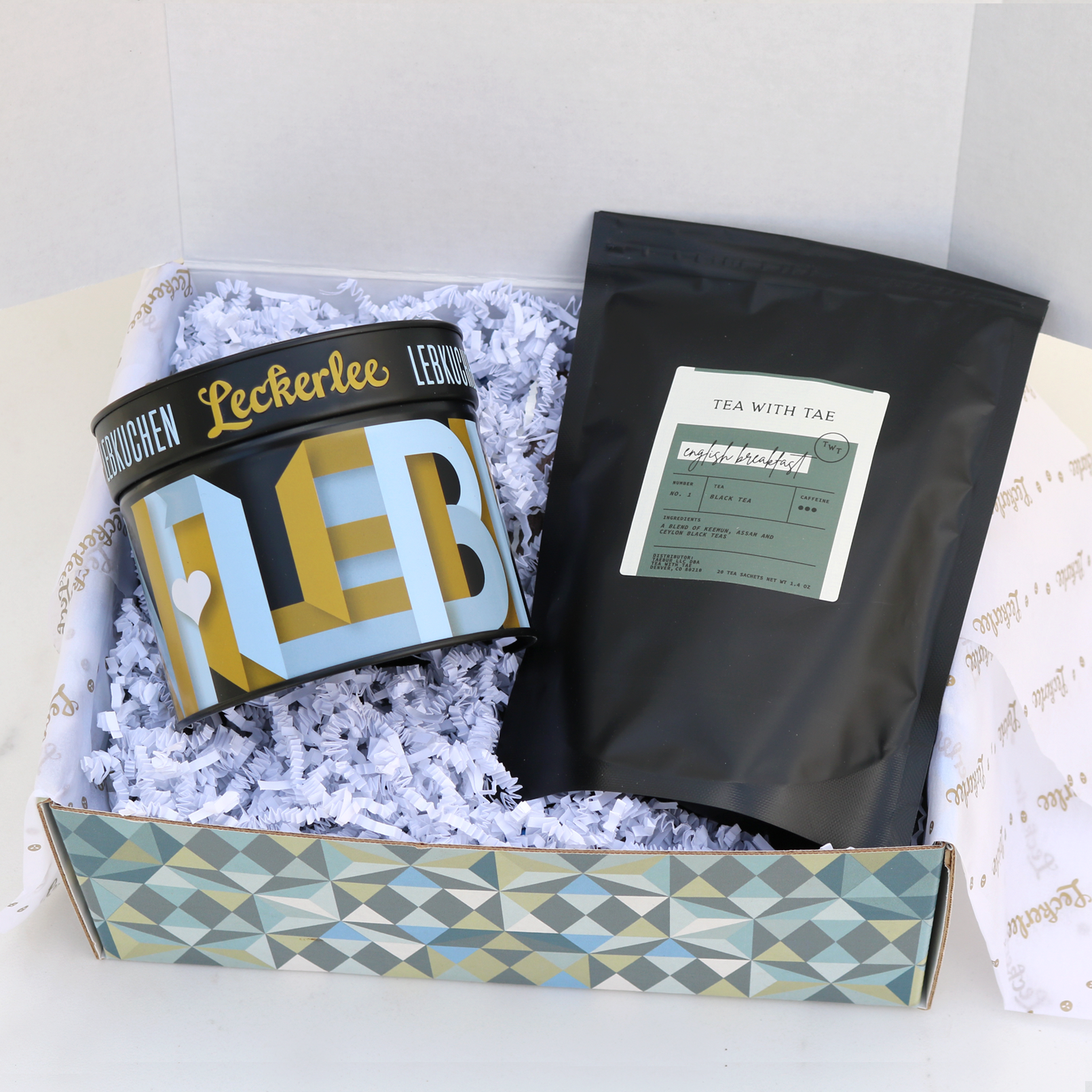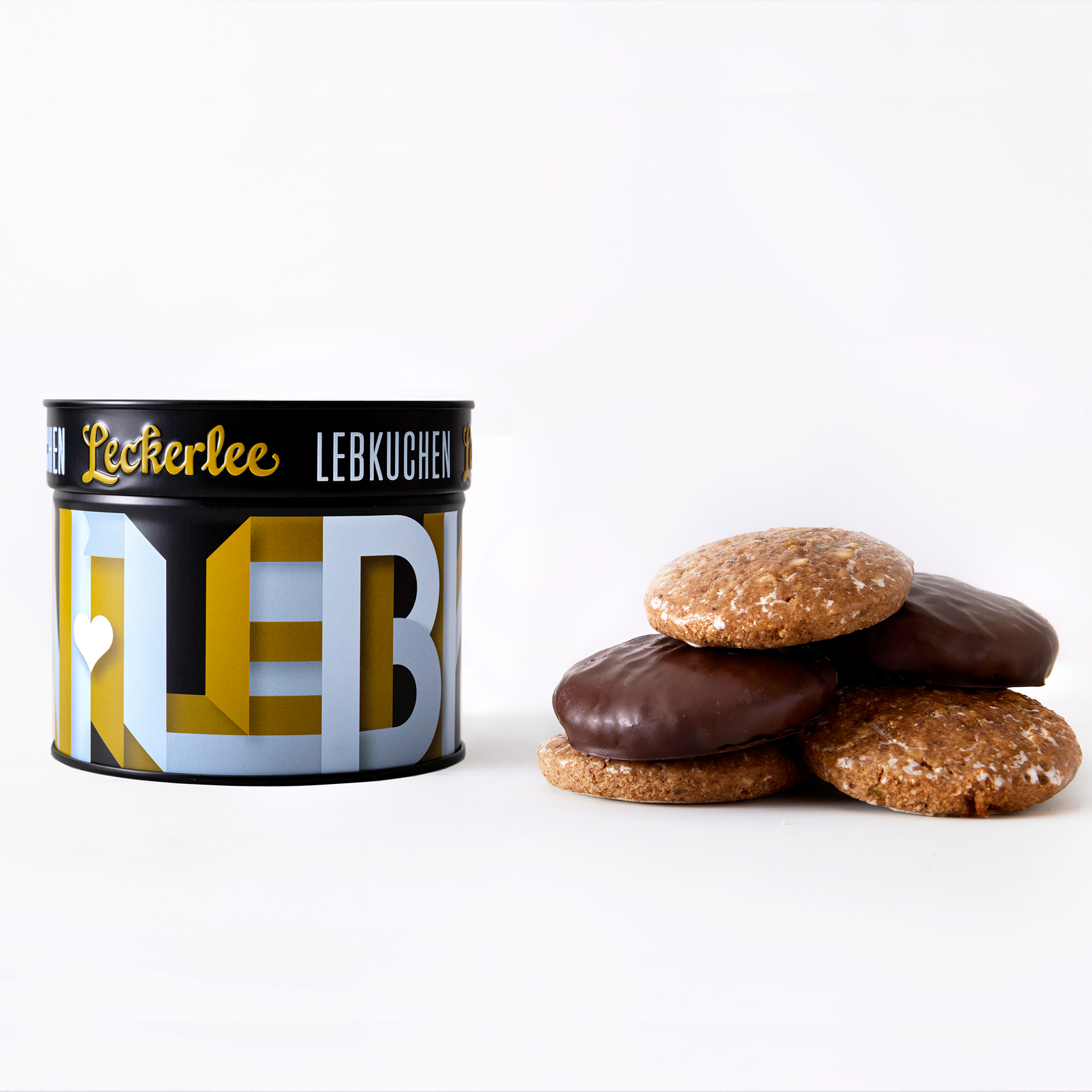 Give the gift of Leckerlee lebkuchen with its perfect accompaniment, premium coffee or tea from two of our favorite local purveyors.
Gift box measures 10" x 8" x 4" and contains one of each of the following:
Leckerlee Deco tin with Assorted Mini Lebkuchen, 9.5oz net weight
Choice of a) Ampersand Coffee Roasters' sampler of whole bean coffees (organic and fair trade), 8oz total net weight or b) 20 Tea with Tae biodegradable tea sachets, net weight 1.4oz. 

Coffee/Tea flavor options:
Ampersand Coffee sampler contains 2oz packets of whole beans of each of the following medium roasts: Honduras (milk chocolate & brown sugar with a delicate citrus finish), Mexico (milk chocolate with mild grapefruit), Peru (milk chocolate with hazelnut and cashew), and Congo (delicate milk chocolate & caramel with sweet lemon-lime). Ampersand roasts beans for us weekly to ensure maximum freshness.

English Breakfast Tea: a rich blend of Keemun, Assam and Ceylon black teas.
Winter Bliss Tea: white, black, and green tea blissfully blended with almonds, coconut, hazelnuts, cinnamon, and chocolate.
About our coffee/tea purveyors:
Ampersand Coffee Roasters is a Boulder-based company dedicated to ethically sourced, fair trade organic coffee while supporting social change through women's empowerment.  
Tea with Tae is a woman-owned tea company offering premium teas sourced from some of the finest tea farms in the world, custom blended into biodegradable tea sachets designed to preserve the sophisticated flavor profiles and aromas of each tea while maintaining the convenience of a tea bag.
Almonds (blanched almond flour, almonds), dark chocolate* (unsweetened chocolate, sugar, cocoa butter, soy lecithin, natural vanilla flavor), sugar, hazelnut flour, egg whites (egg whites, guar gum), flour (unbleached hard wheat flour, malted barley flour, niacin, reduced iron, thiamin mononitrate, riboflavin, folic acid), honey, citron peel, orange peel, glucose-fructose syrup, spices, water, less than 1% of: corn starch, potato starch, sea salt, citric acid, sodium bicarbonate, monocalcium phosphate, natural flavor(s). *Chocolate variety only. CONTAINS: EGG, WHEAT, ALMOND, HAZELNUT, SOY.
** Reviews below reflect only this particular tin/packaging style. To view all 1,950+ lebkuchen reviews we've received to date, click here.
Delicious Lebkuchen!!
The lebkuchen were fantastic! My only gripe was that they each had paper attached to the bottom of each cookie. Otherwise, the flavor was amazing and rich! Definitely will try again, but please leave off the paper!!
Hi Joanne, thank you for your kind review. The white wafer (known as a 'Backoblate' in German) on the bottom of each cookie is a traditional component of the lebkuchen and is actually edible! It has roots in the communion wafer, as lebkuchen was invented by Franconian monks in the Middle Ages. Sorry for any confusion!
Amazing flavor!
We tried these lebkuchen for the first time this year and enjoyed them so much we sent them to our out of state aunt and uncle as a Christmas gift. The package traveled from Colorado to Louisiana in three days! We got an immediate rave review back! They love the combination of spices the soft texture and the incredible freshness. They want to visit the Leckerlee factory when they come see us!