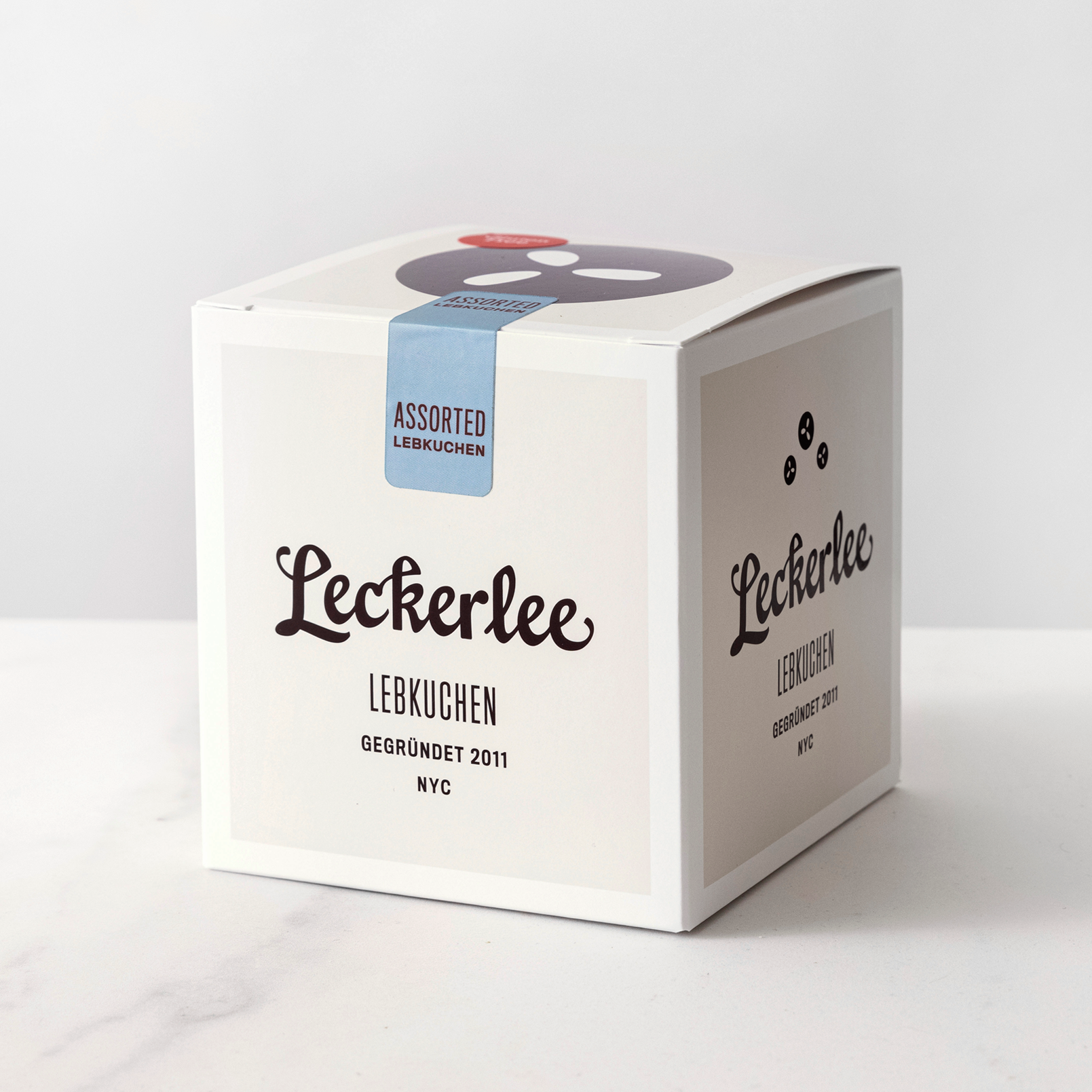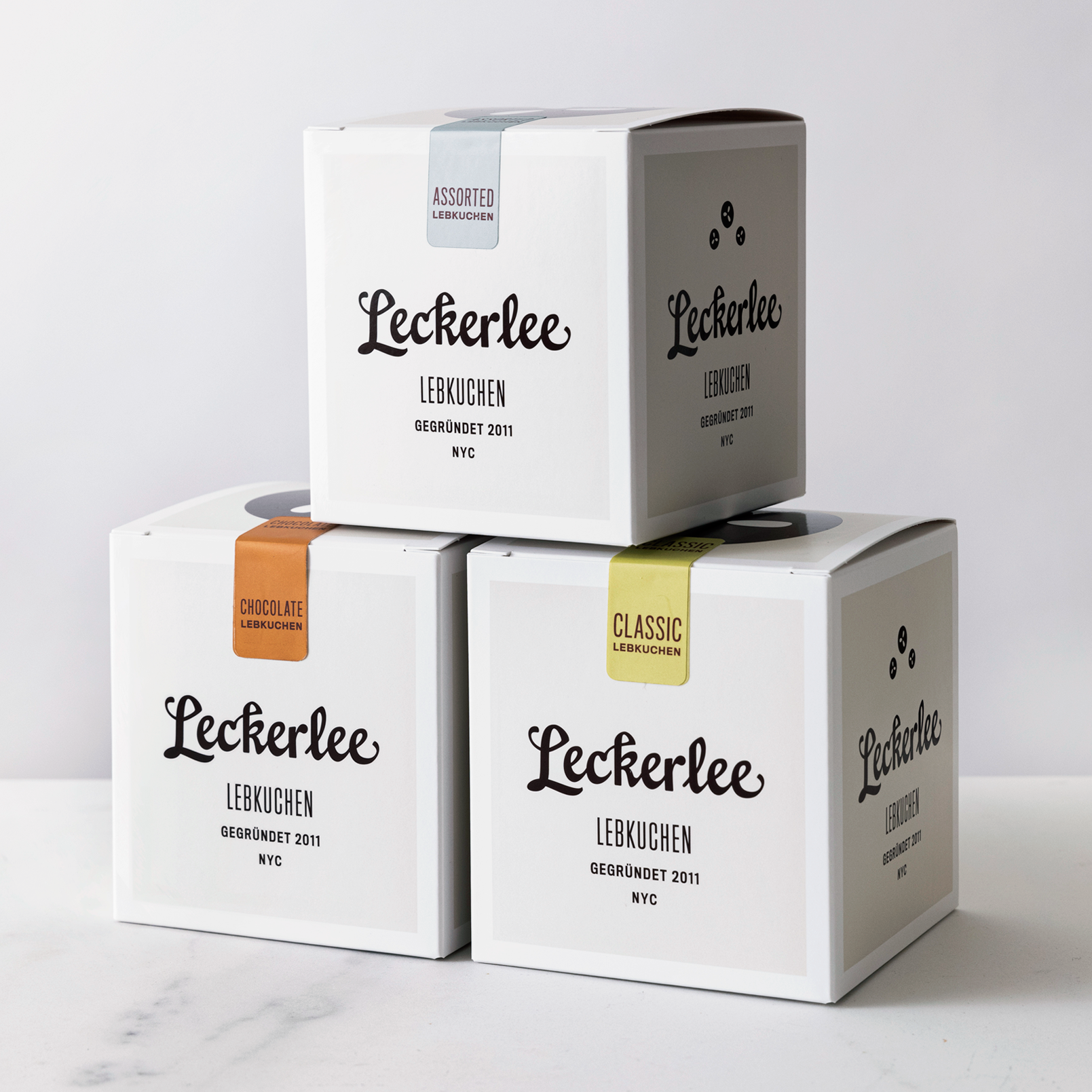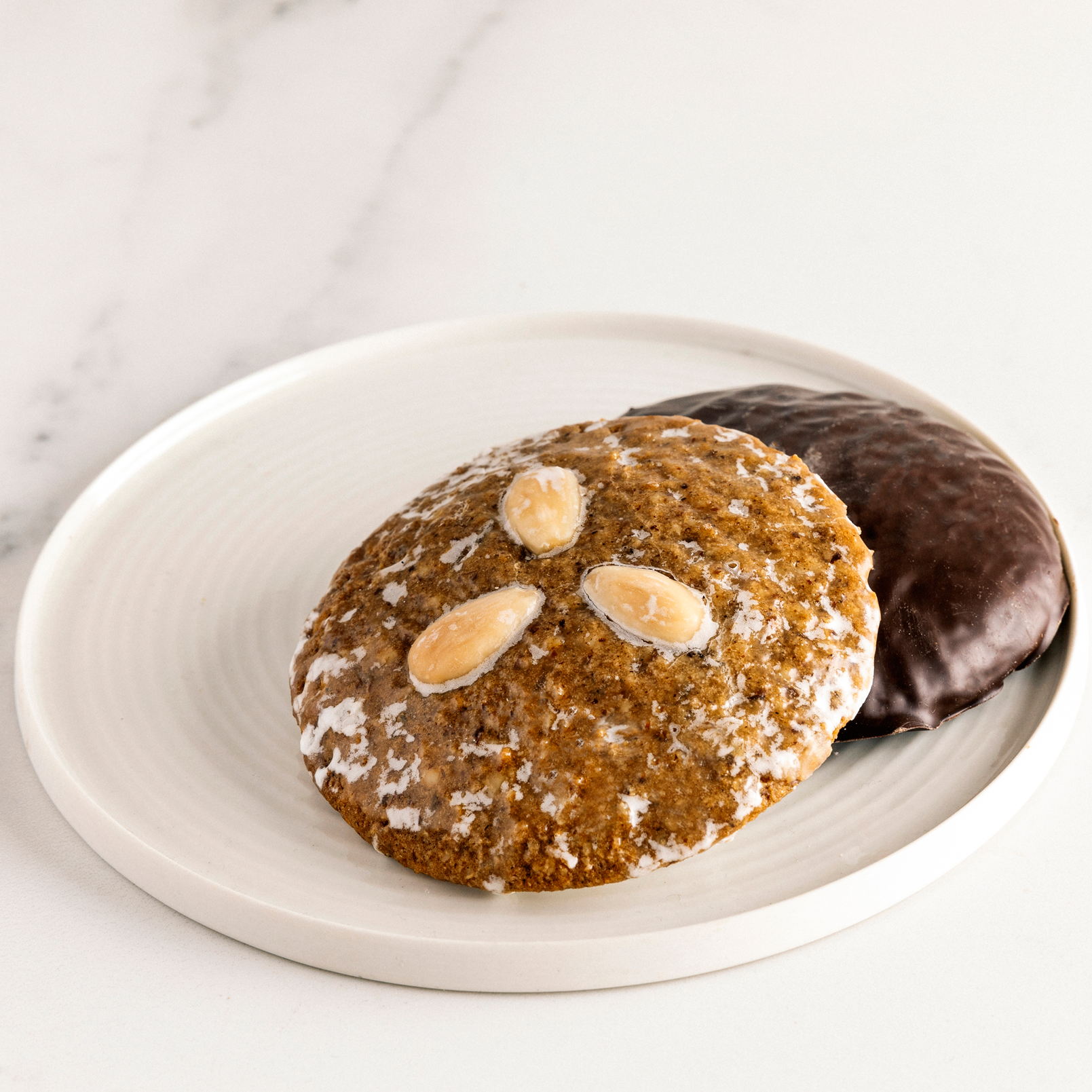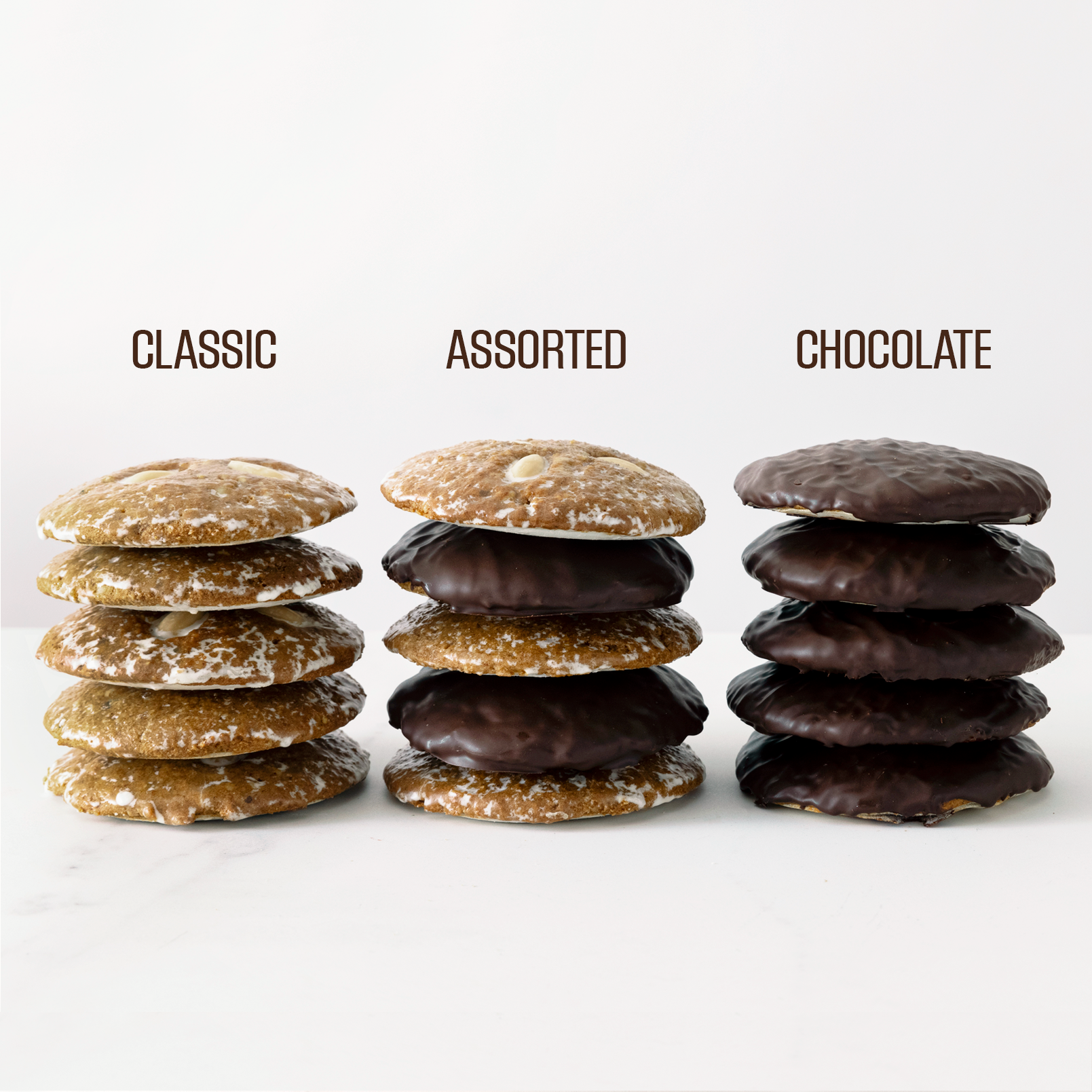 ** We are currently sold out of gluten-free lebkuchen for December. We plan to make more in January **
Our signature Nuremberg lebkuchen is now available in a gluten free version! Our gluten-free lebkuchen tastes like our original lebkuchen, with a similar texture. You'll find our gluten-free variety to be slightly chewier, owing to the small amount of rice flour used in place of wheat flour. The edible wafer ("Backoblate") is also chewier.

We produce our gluten-free lebkuchen using equipment shared with wheat-containing foods. However, we take gluten-free production seriously and follow a protocol to minimize the possibility of cross-contamination. See FAQs tab below for more info.
Gluten-Free Lebkuchen is also available in select tins here.

Buy in bulk and save! Buy 2 or more boxes of any variety (Lebkuchen, Mini Lebkuchen, or Gluten-Free Lebkuchen) and the following volume discounts will be applied to your order at checkout:
Almonds (blanched almond flour, almonds), dark chocolate* (unsweetened chocolate, sugar, cocoa butter, soy lecithin, natural vanilla flavor), sugar, hazelnut flour, egg whites (egg whites, guar gum), gluten-free flour (rice flour, brown rice flour, potato starch, tapioca starch, corn starch, xanthan gum), honey, citron peel, orange peel, glucose-fructose syrup, edible wafer (potato starch, corn flour, modified corn starch), spices, water, less than 1% of: corn starch, sea salt, citric acid, sodium bicarbonate, monocalcium phosphate, natural flavor(s). *Chocolate variety only. CONTAINS: EGG, ALMOND, HAZELNUT, SOY.
Are your gluten-free lebkuchen certified gluten-free?
No, we produce them in the same facility and on shared equipment with our regular lebkuchen which contains wheat.

However, we take gluten-free production seriously and follow a protocol to minimize the possibility of cross-contamination. This includes baking gluten-free lebkuchen on dedicated production days (i.e., never on the same day with regular lebkuchen); cleaning and sanitizing all equipment and wares prior to use; and testing samples from the day to check that they contain less than 20 parts per million (ppm) of gluten.

Why isn't the gluten-free lebkuchen always available?
As mentioned above, we produce gluten-free lebkuchen on dedicated production days. As the demand is still relatively low, it only makes sense for us to offer it when we have a sufficient number of pre-orders to justify allocating a full production day.

Will you bake gluten-free lebkuchen closer to the holidays?
Unfortunately, there is not currently enough demand for the gluten-free lebkuchen to justify allocating a full production day during our peak season. Therefore, we've only been able to offer it in our shoulder season, usually in October when our season opens, and in January after the holiday rush.

Spreading the word about our gluten-free lebkuchen will certainly help us get closer to being able to offer it more regularly. Thanks for any support!

Can I choose a deferred ship date for gluten-free lebkuchen?
We advise against selecting a deferred ship date for gluten-free lebkuchen, as we always prefer to get our product to customers as soon as it's baked. However, it does have a shelf life of several months, so it will be fine to eat. But it does lose some moisture over time. As long as this is understood, you can choose a deferred ship date -- please just confirm your understanding in the Order Notes at checkout.
Can you freeze the lebkuchen?
In our experience,Oblaten Lebkuchensuch as Nuremberg lebkuchen freeze well. For best results, carefully wrap each lebkuchen individually in plastic food wrap and place in an airtight container in the freezer.

If possible, thaw lebkuchen in the refrigerator before bringing to room temperature. Defrosting the lebkuchen slowly helps preserve the texture. For chocolate-covered lebkuchen in particular, this phased defrosting also prevents drastic changes in temperature that may affect the chocolate's appearance and texture
I have been buying from Leckerlee for years. A delicious, yearly treat, baked with love ❤️
Delicious!!!
You can't tell it's gluten-free. Sooo good!
Absolutely Lecker!
These are the best lebkuchen in the US! I bought the gluten free, absolutely delicious, for myself and the gluten full for my family. They report that they are also delicious. Thank you so much!
It's AMAZING!
Not just good gluten-free lebkuchen, it's amazingly delicious lebkuchen. I expected good, but this stuff had wonderful flavor and was just the right texture. I couldn't believe it. Embarrassingly, I ate the entire box and then ordered another one. Soooo good!
AMAZING!
I have been looking for a good gluten and dairy free Lebkuchen for years. I pretty much had given up hope. Others were hard, stale, or chalky. But the Leckerlee Lebkuchen? OMG!! FANTASTIC!! Just like original Lebkuchen. Soft, chewy with a wafer in the bottom, they have the perfect combination of nuts and spice. They are also very large and filling - if anyone is worried that it's "only 5 cookies" bear in mind the box weighs a pound and will last you a bit. They are absolutely delicious. Half a cookie is a perfect snack. Cannot wait to order more! Please never stop making these!