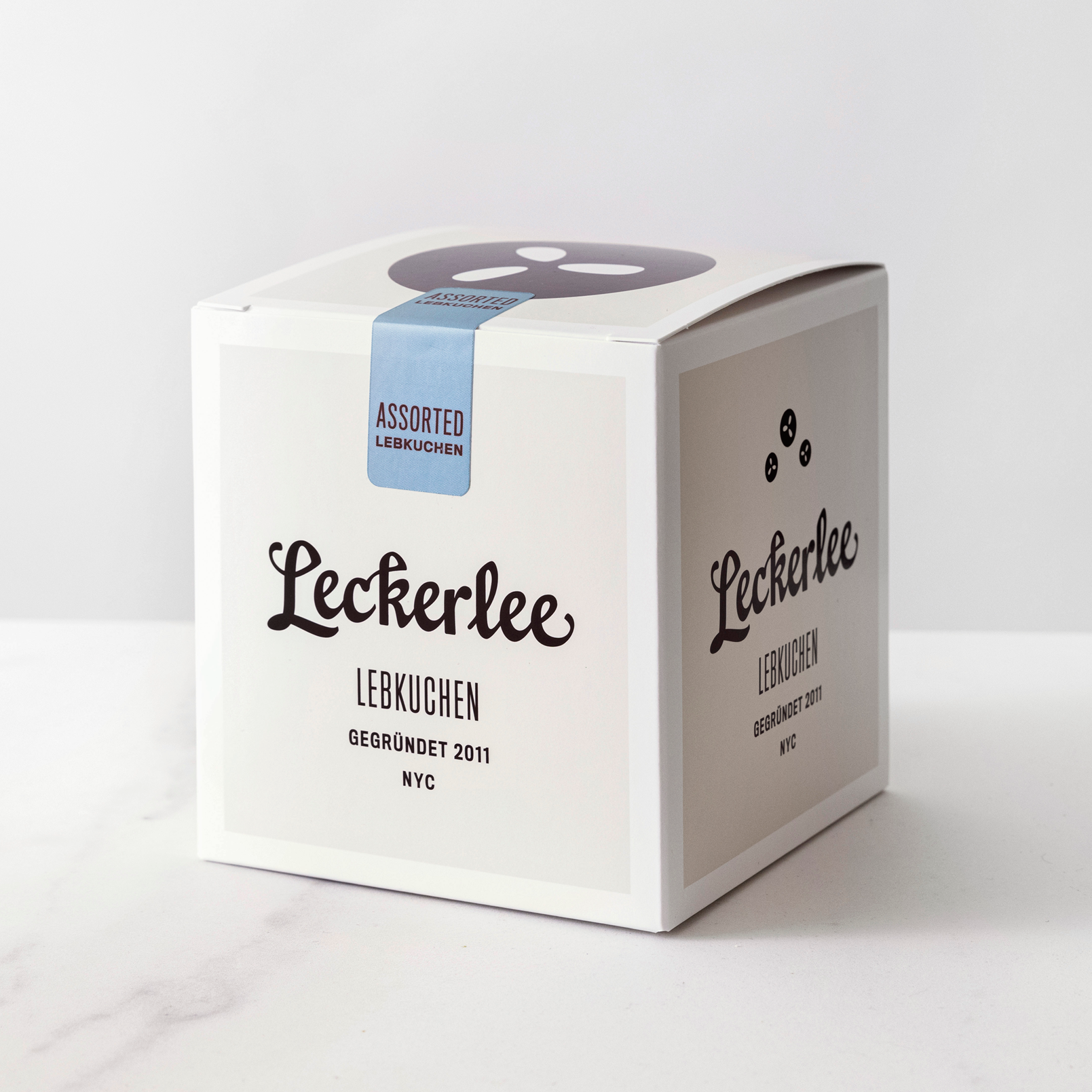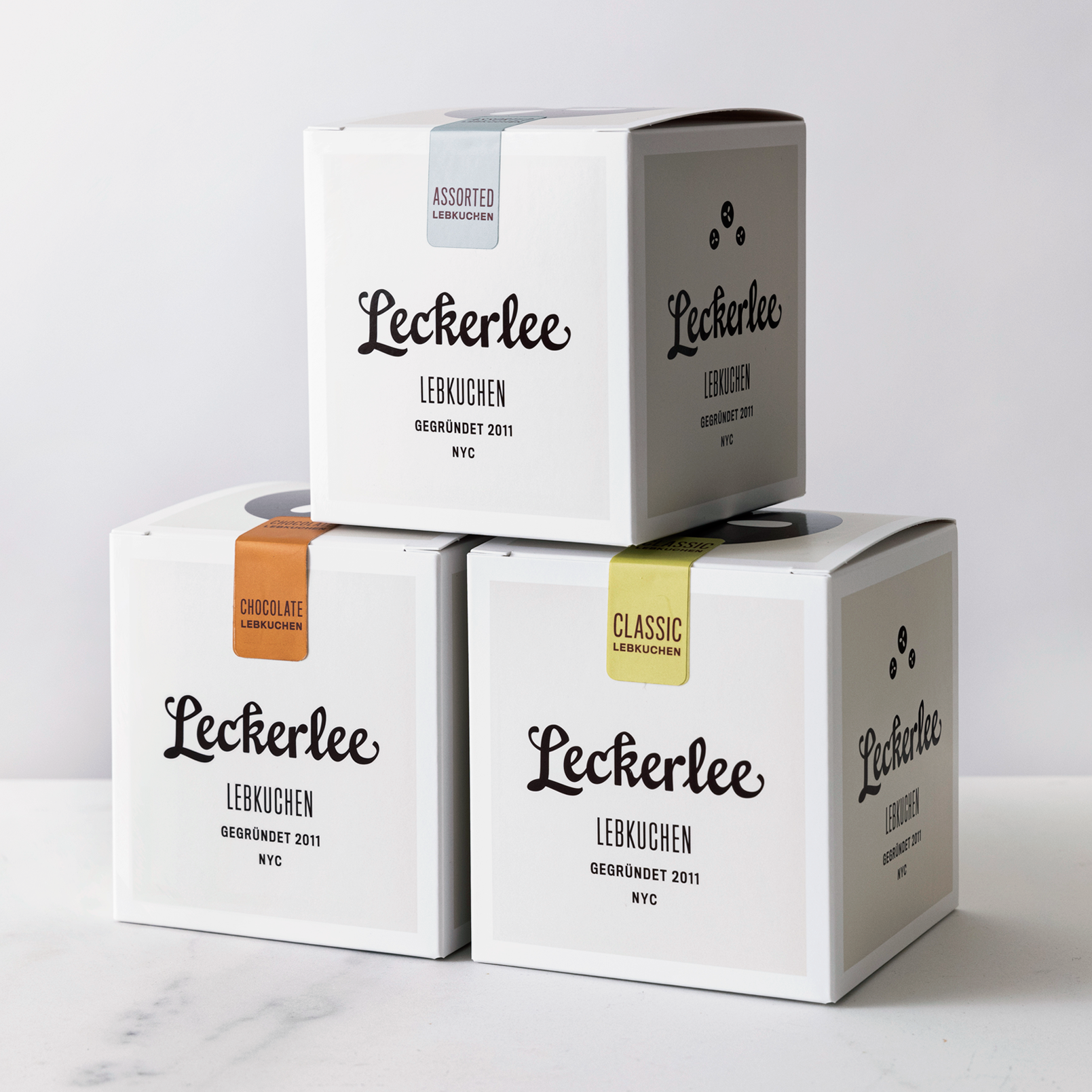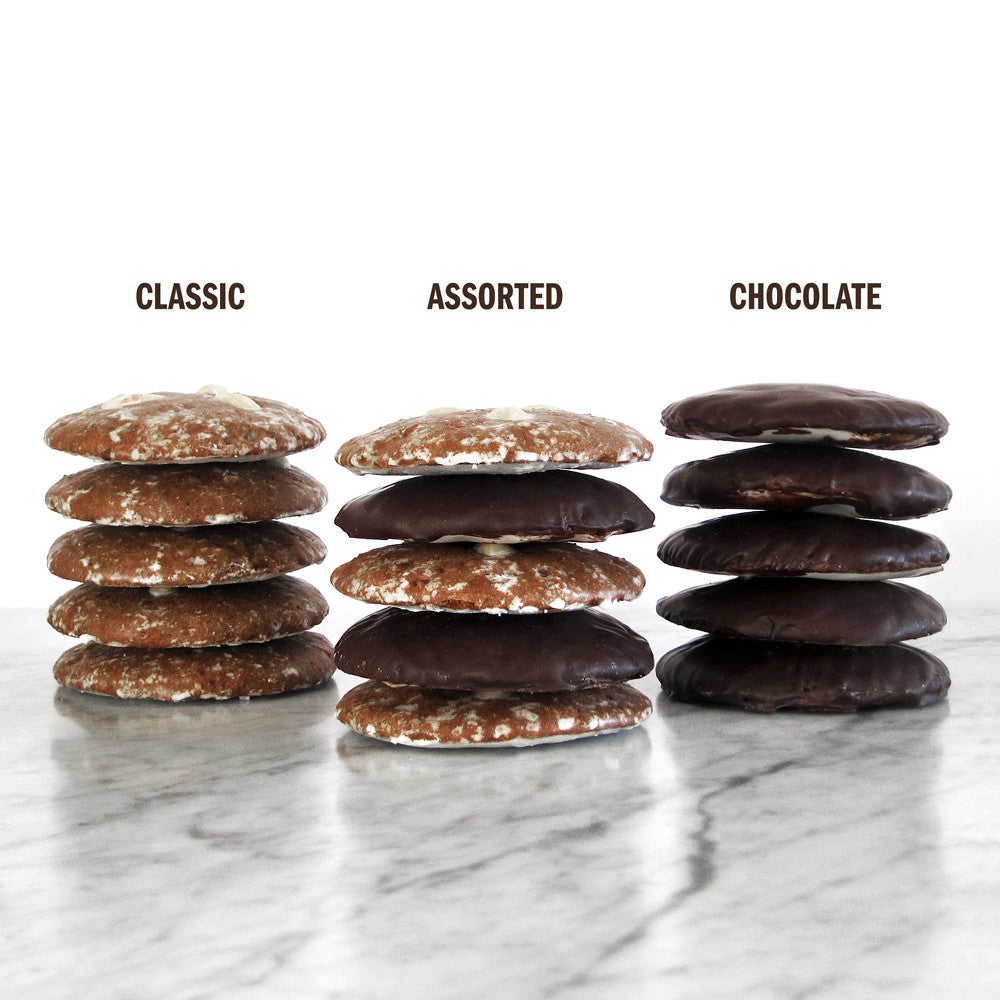 ** FOR IMMEDIATE SHIPMENT ONLY, NOT AVAILABLE FOR DEFERRED SHIP DATES ** 
In Nuremberg, you can often find Lebkuchen Bruch -- lebkuchen that taste great but might have some imperfections -- at a nice discount.
We occasionally have lebkuchen that don't make the cut for our standard boxes or tins, or may be up to two weeks old, and we'll make them available here at 50% off.  
You'll get our same signature Nuremberg lebkuchen or mini lebkuchen, but they may be cracked/broken or otherwise imperfect in some way. Perhaps we baked too much in a given week and want to clear them out. Chocolate lebkuchen may occasionally have some streaks, but the taste is not affected.

Our Lebkuchen Bruch come packaged in our standard boxes marked with a "Bruch" sticker. Occasionally we will also have Bruch available in tins, which may have very minor cosmetic imperfections.
Almonds (blanched almond flour, almonds), dark chocolate* (unsweetened chocolate, sugar, cocoa butter, soy lecithin, natural vanilla flavor), sugar, hazelnut flour, egg whites (egg whites, guar gum), flour (unbleached hard wheat flour, malted barley flour, niacin, reduced iron, thiamin mononitrate, riboflavin, folic acid), honey, citron peel, orange peel, glucose-fructose syrup, spices, water, less than 1% of: corn starch, potato starch, sea salt, citric acid, sodium bicarbonate, monocalcium phosphate, natural flavor(s). *Chocolate variety only. CONTAINS: EGG, WHEAT, ALMOND, HAZELNUT, SOY.
** Reviews below reflect only this particular tin/packaging style. To view all 1,950+ lebkuchen reviews we've received to date, click here.
BV
I have been buying Leckerlee Lebkuchen every year since I discovered them. Now that I am retired, I am trying to save a little money here and there; and this year I was happy to try the Lebkuchen Bruch. Same great taste and they came perfectly intact . Delicious!!
Es Gibt Nicht's Besseres in Amerika!
Being from Germany, I can attest that we should all be thankful for Leckerlee…it's the real deal! Taste taste, great pricing.
♥️
I wish these were available year round.
Best Lebkuchen there are!
Fantastic, moist, full of the good stuff and actually pretty healthy... ❤️
I am German
Addictive!
Our friends love them so much we might have to get more!