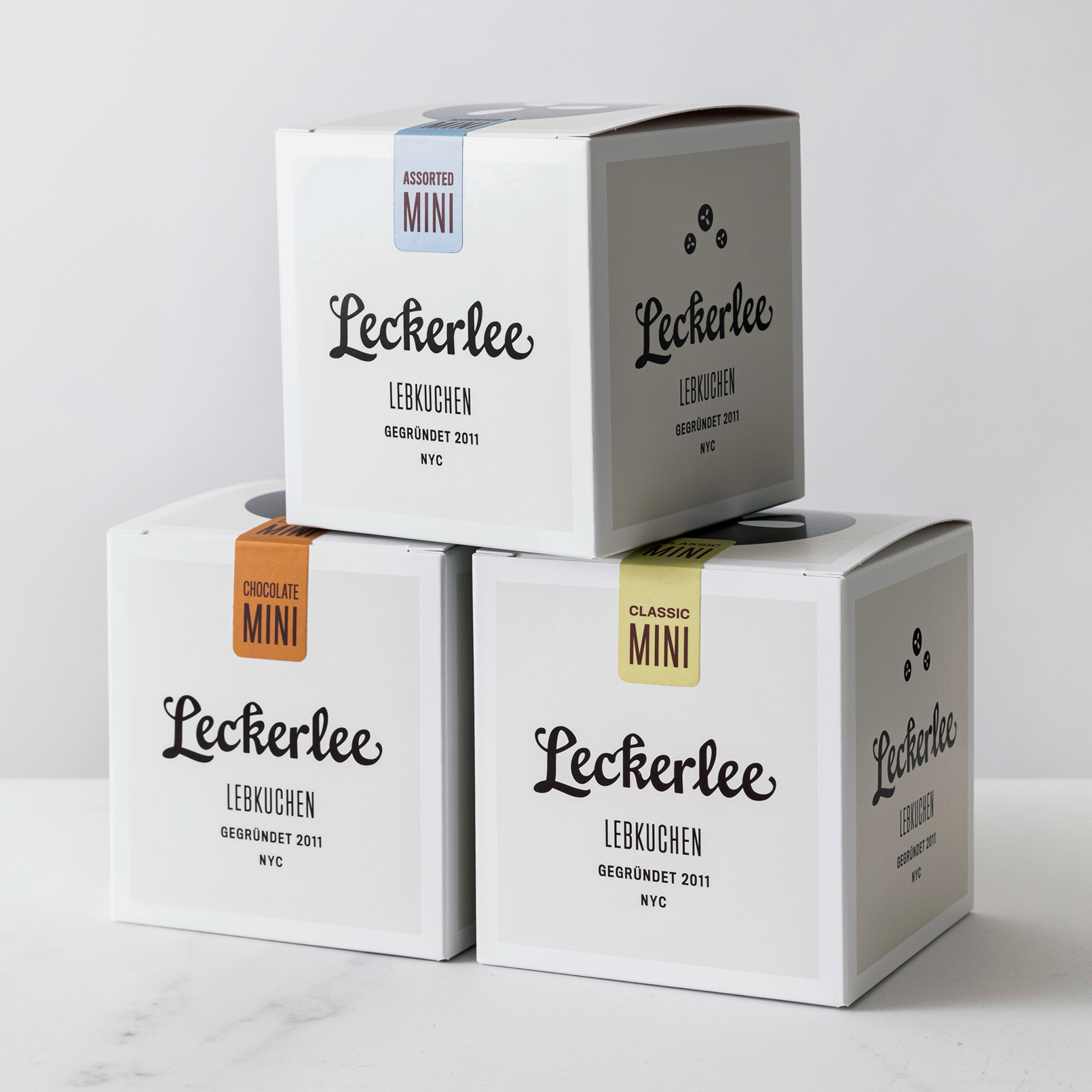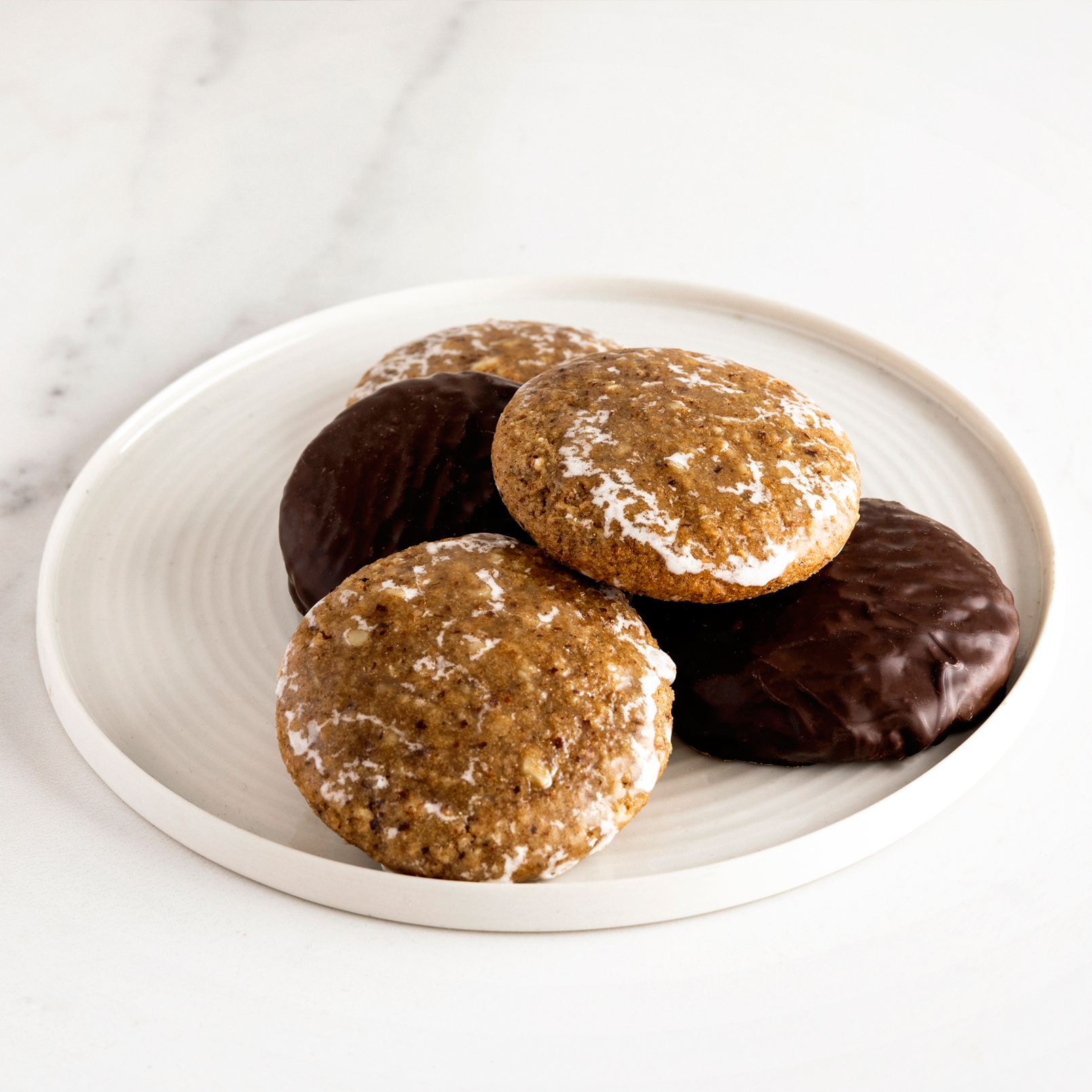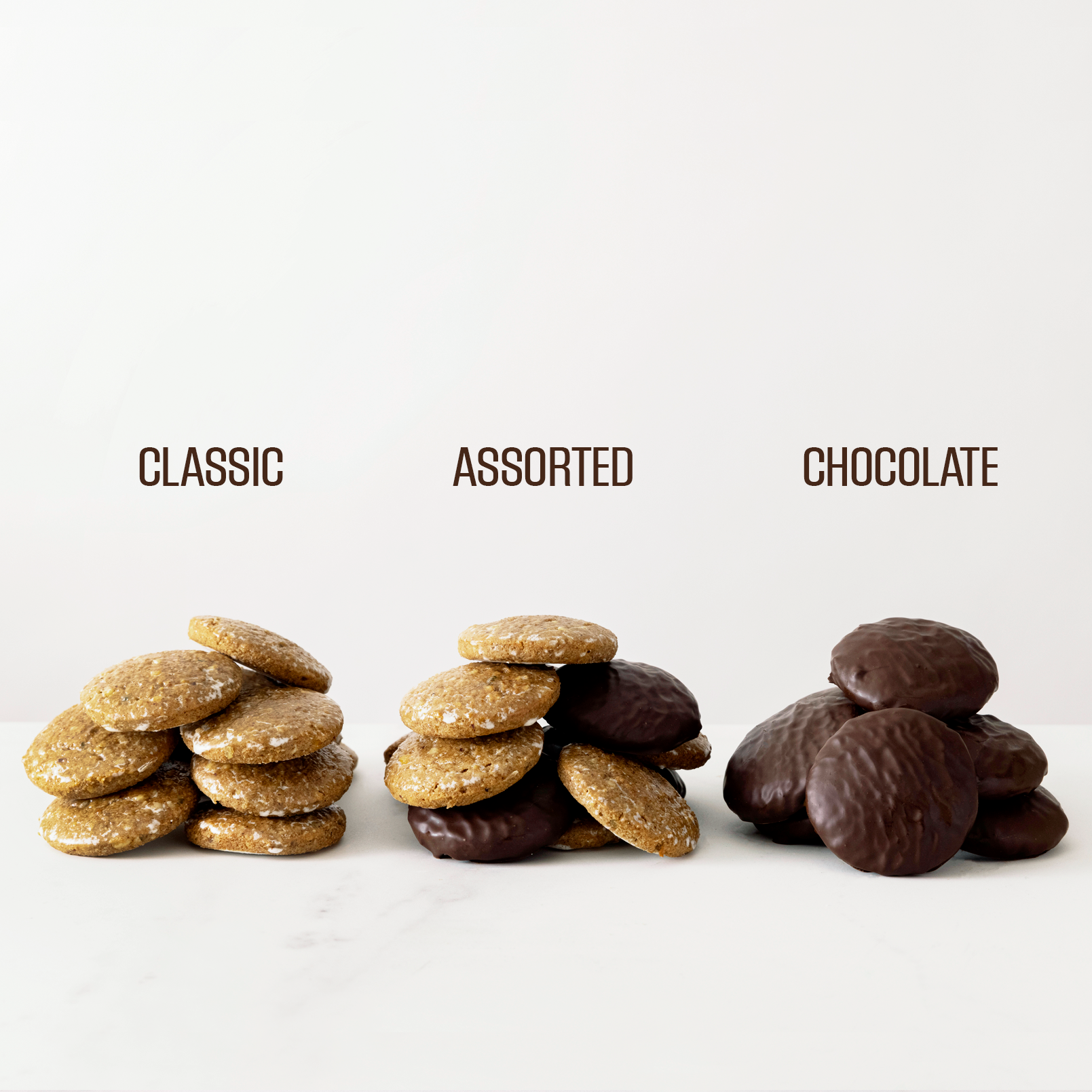 Get our signature Nuremberg lebkuchen, in a smaller portion size (about half the size of traditional lebkuchen), packaged in 1-pound boxes of 12 mini lebkuchen (11 minis if you order all Chocolate).
Buy in bulk and save! Buy 2 or more boxes of any variety (Lebkuchen, Mini Lebkuchen, or Gluten-Free Lebkuchen) and the following volume discounts will be applied to your order at checkout:
Almonds (blanched almond flour, almonds), dark chocolate* (unsweetened chocolate, sugar, cocoa butter, soy lecithin, natural vanilla flavor), sugar, hazelnut flour, egg whites (egg whites, guar gum), flour (unbleached hard wheat flour, malted barley flour, niacin, reduced iron, thiamin mononitrate, riboflavin, folic acid), honey, citron peel, orange peel, glucose-fructose syrup, spices, water, less than 1% of: corn starch, potato starch, sea salt, citric acid, sodium bicarbonate, monocalcium phosphate, natural flavor(s). *Chocolate variety only. CONTAINS: EGG, WHEAT, ALMOND, HAZELNUT, SOY.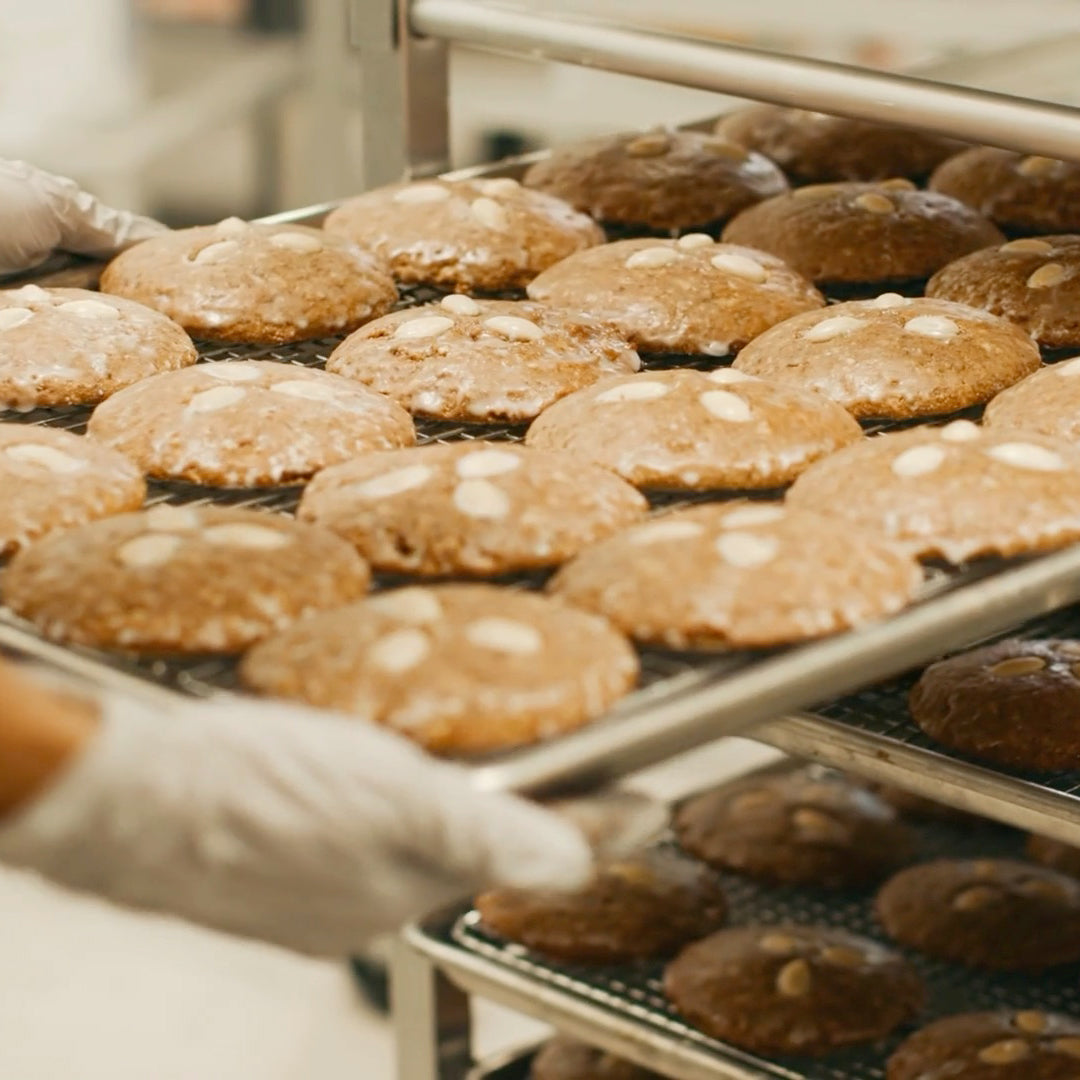 Made Fresh in Small Batches
The freshest lebkuchen you can buy in the States
Baked for you in Longmont, Colorado and shipped quickly
Our 13th season baking Nuremberg-style lebkuchen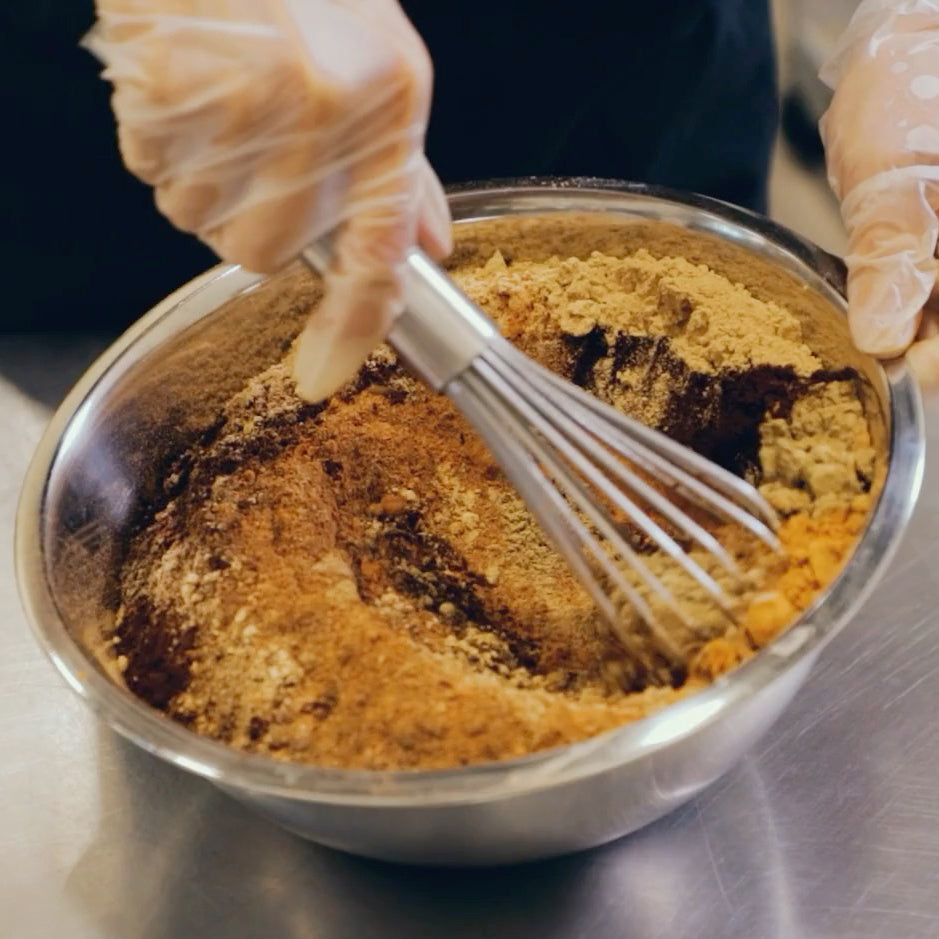 Quality Ingredients
40% almonds and hazelnuts
No artificial preservatives, flavors, or additives
Cold-ground spices (to preserve their aroma and flavor)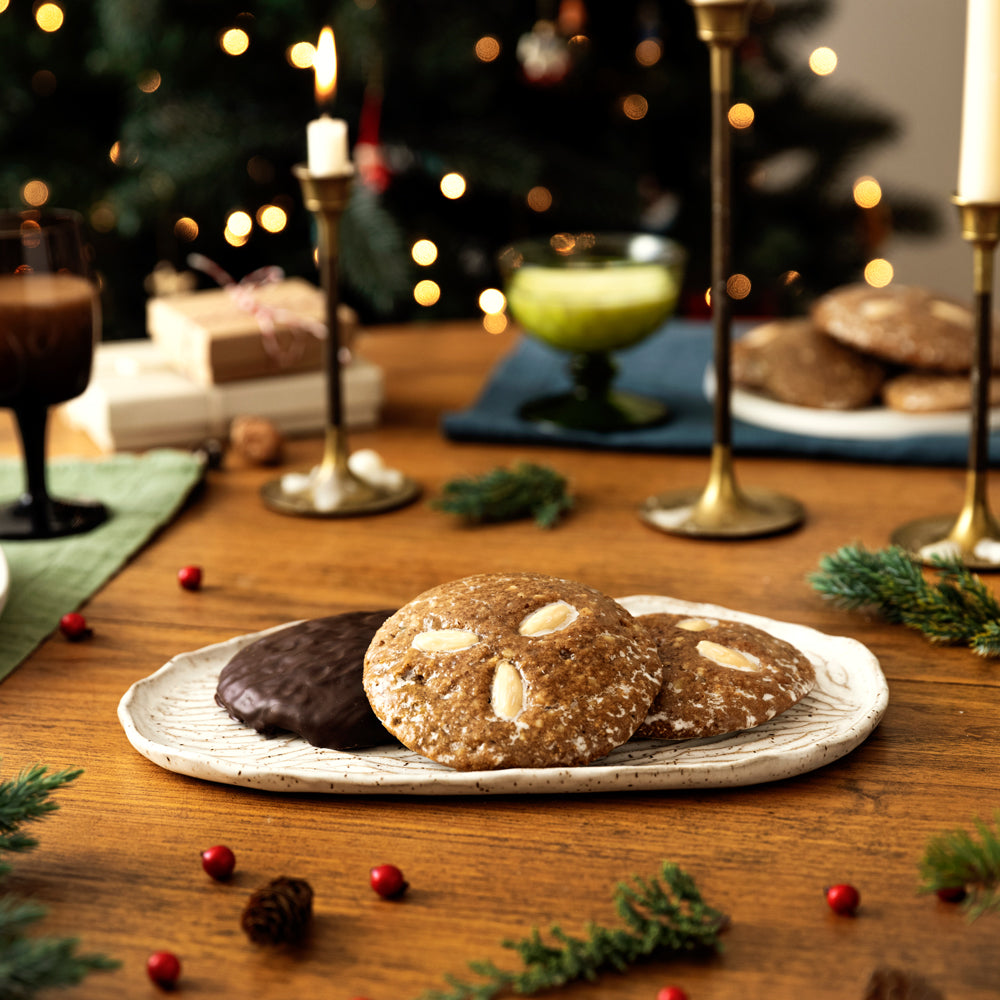 The Taste of the Holidays
Perfect cold-weather treat or festive addition to your holiday table
Distinctive holiday gift for friends, family, hosts, and colleagues
** Reviews below reflect only this particular tin/packaging style. To view all 2,000+ lebkuchen reviews we've received to date, click here.
Authentic Lebkuchen with So Much Love & Care
Mini Lebkuchen are in a perfect size of a 3-4 bite afternoon treat (with coffee or tea). No need to break in half of the original size ones. Honestly, I often finish the larger original size one in one sitting.
I've been treating my family members & friends with Leckerlee each year and it's truly a special treat for many of us. And all very much appreciate them.
The quality is consistent every year and I could rely on the quality & care every time. Can't recommend enough to all others.
Excellent Quality
I have been ordering Leckerlee for several years — a LOT of Leckerlee - small and large size, varied tin designs, plain & chocolate. They are top quality, and make excellent presents to relatives, friends, colleagues. For relatives, I tell them to return the tins and each Xmas I order bags of Leckerlee w/o the tin, refilling my existing tins. I admire how the owner expanded her business over the years.
A heavenly bite!!!
The is the best lebkuchen I have ever had including the three years I spent in Austria and 30 years in Europe.. The mini's are
wonderfully moist and chewy but the perfect size for a heavenly bite! And a perfect size to share.! It is a pity Michelin stars aren't given for Lebkuchen!
Delicious Treat
I received an email about the lebkuchen & wanted to give them a try. Brought back wonderful memories of my mother's homemade lebkuchen. Delicious & the perfect holiday treat. So good with a hot cup of tea or cocoa.
Don't sleep on this
after receiving a box of the original lebkuchen as a gift, I immediately went online and bought literally one of every type: original, chocolate and the assorted PLUS these minis. ALL OF THEM WERE BEYOND DELICIOUS!!! the minis are great because you get all the flavor of their bigger counterparts but in smaller portion sizes on those days when you just want a tiny dessert. I am so happy I found this company and look forward to future purchases every fall/winter season. mahalo!!!