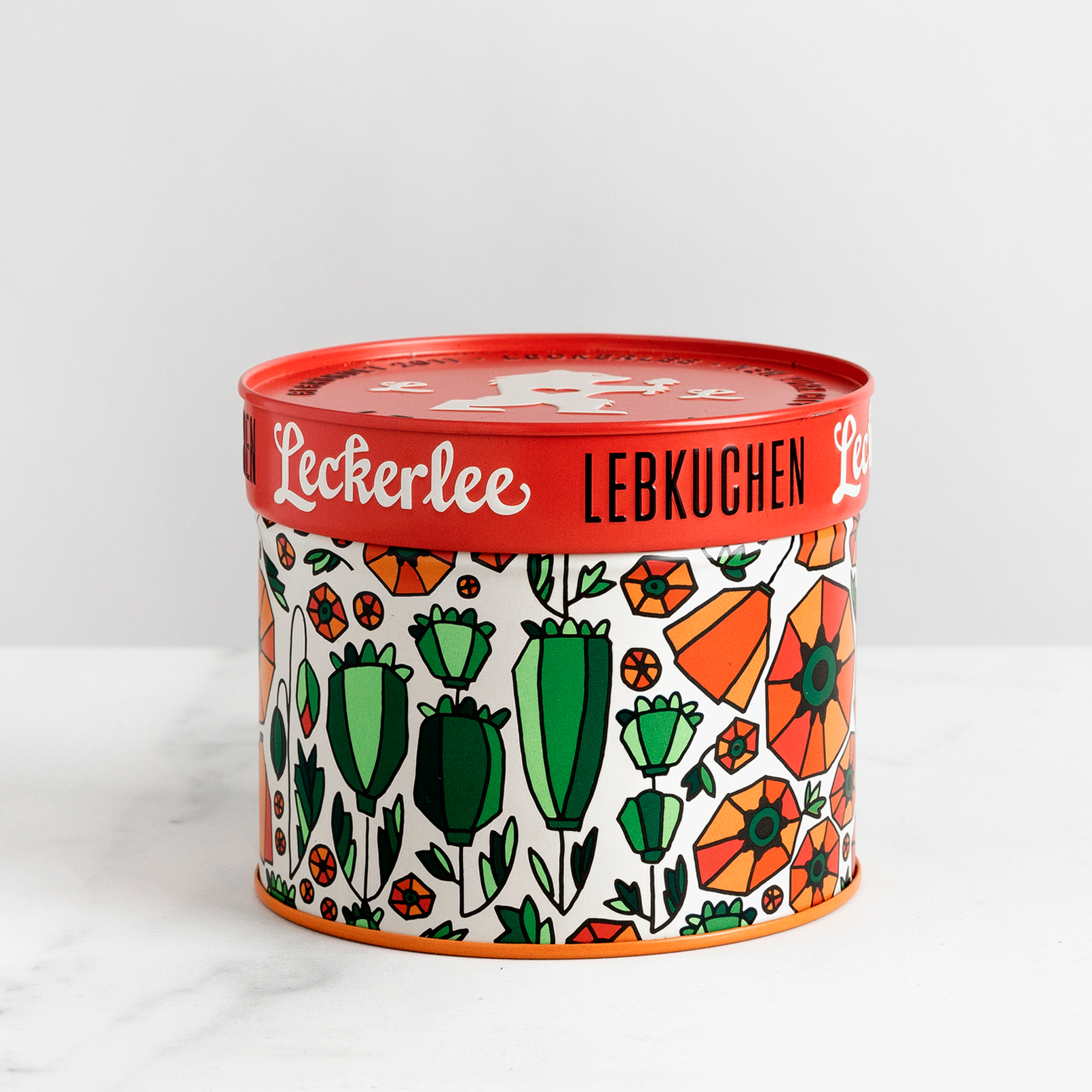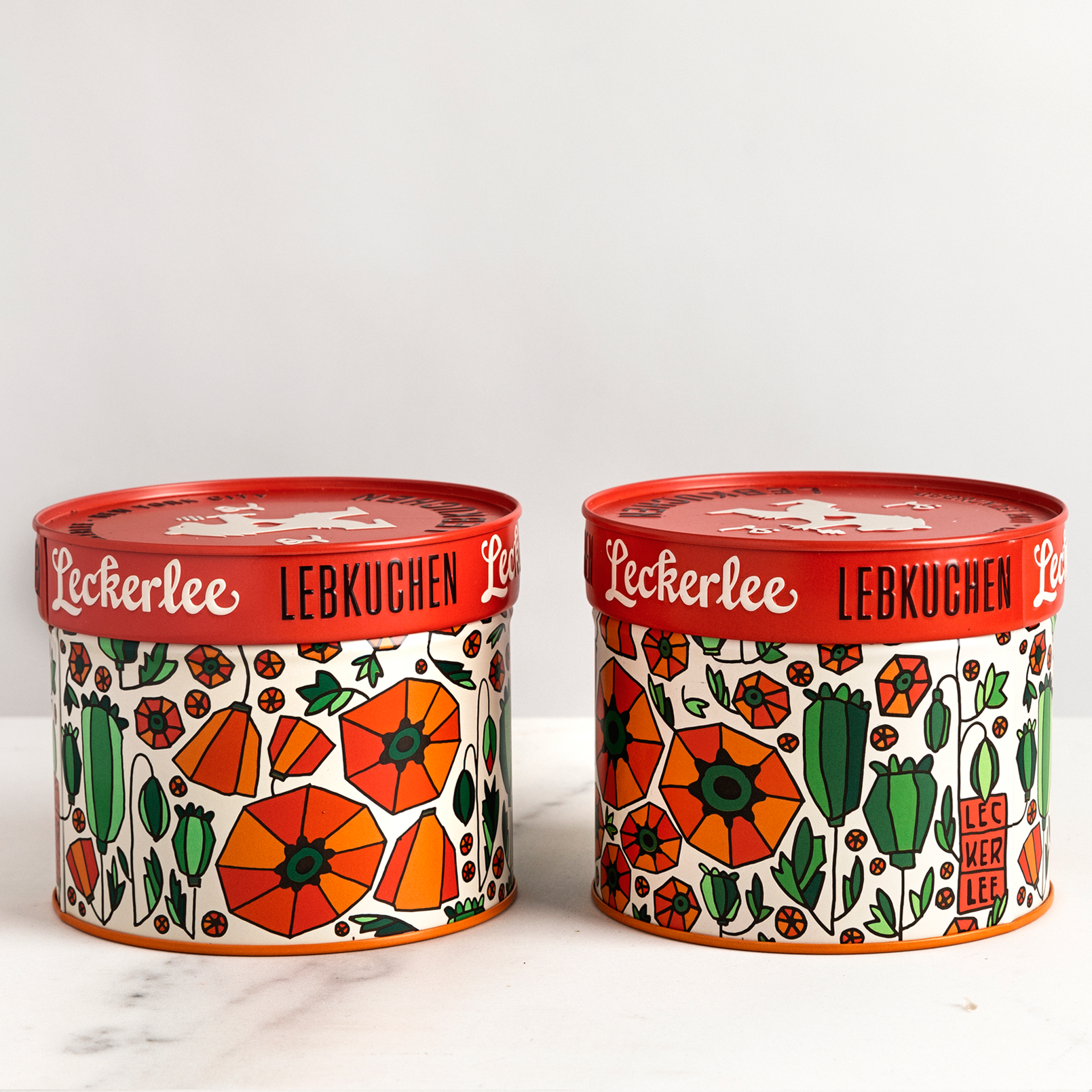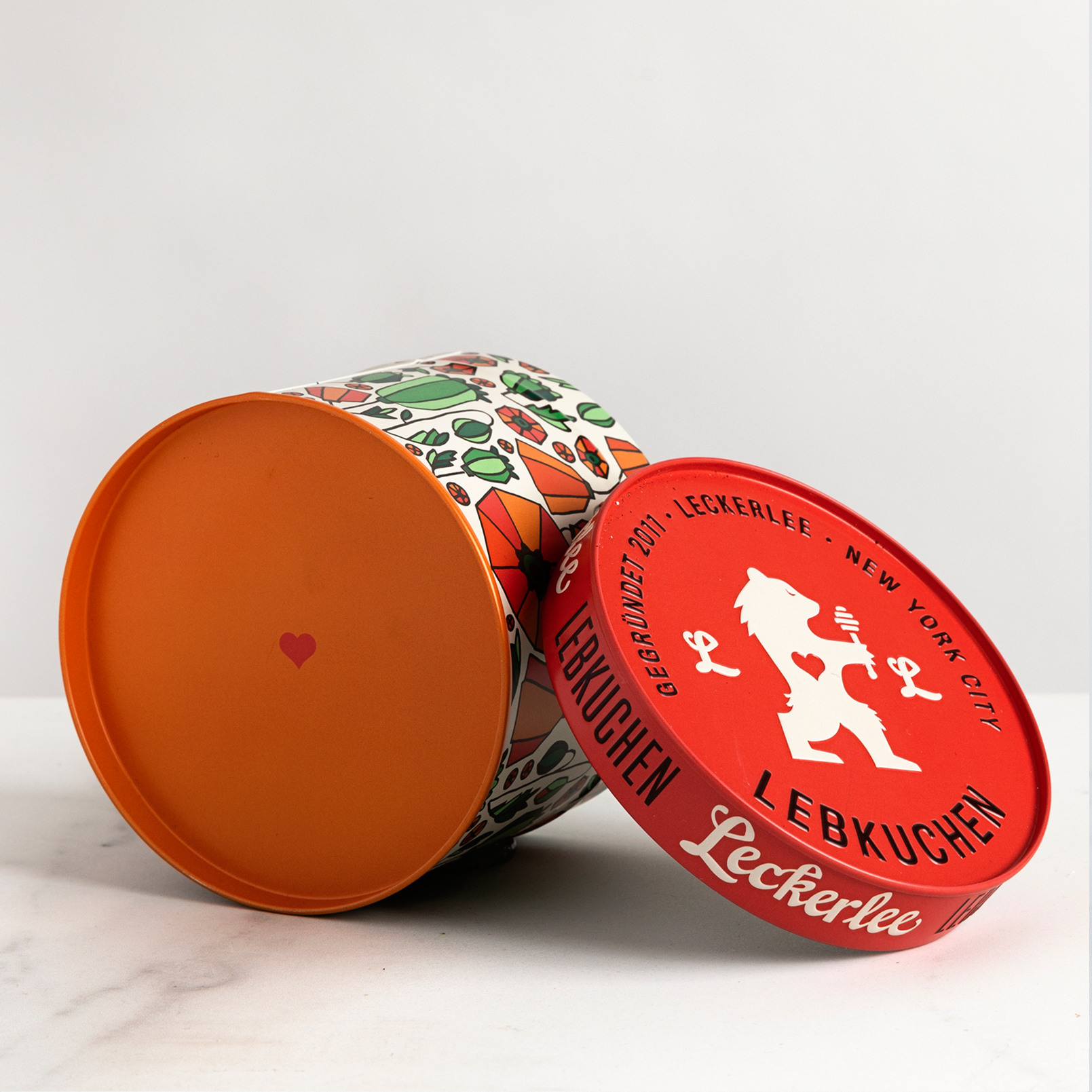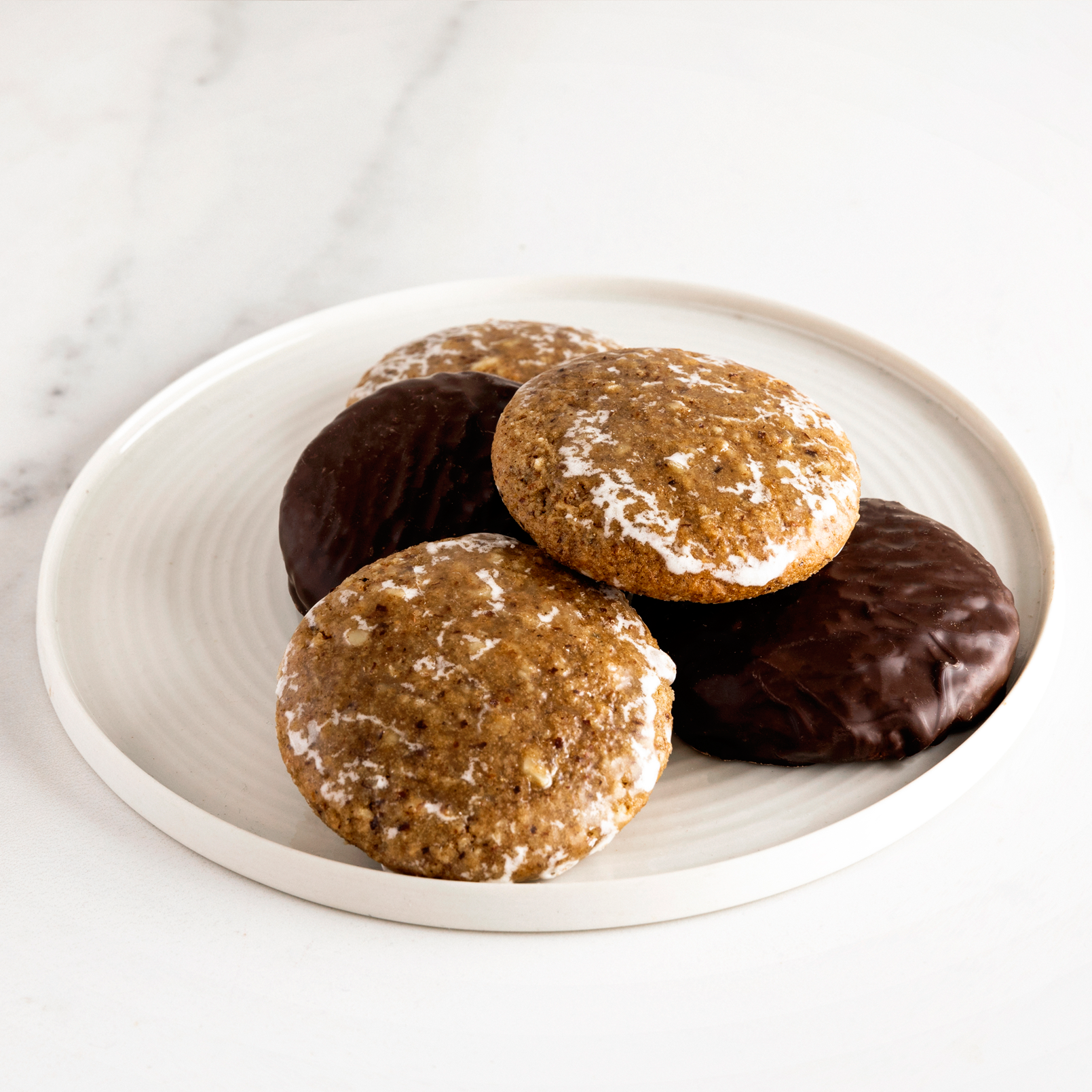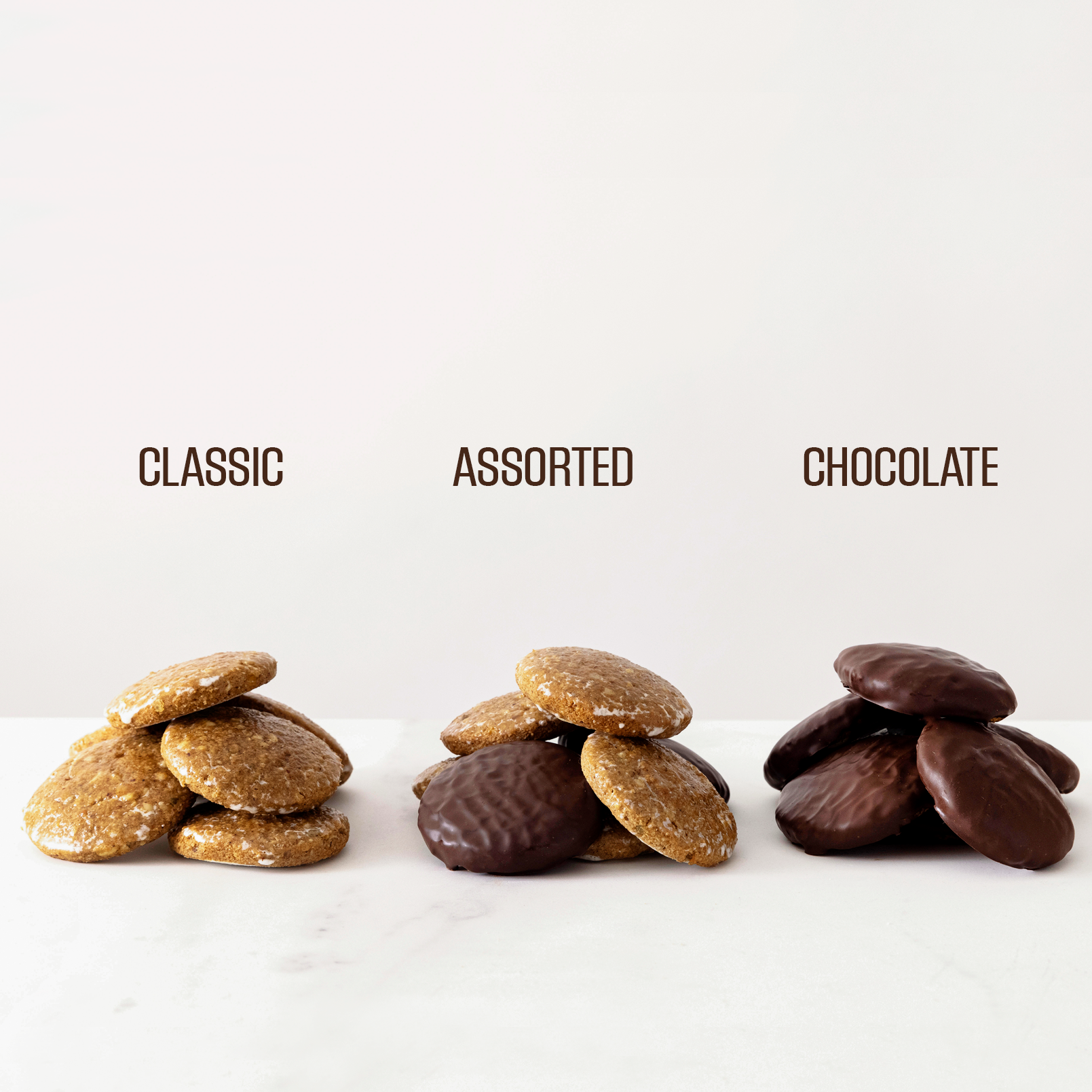 Taking inspiration from early 20th-century floral designs by the Wiener Werkstätte (Vienna Workshops), this springtime tin features geometric poppies blooming in a gorgeous pop of color.
Contains 7 Nuremberg mini lebkuchen (6 minis if you order all Chocolate), in your choice of Assorted (our most popular option), Classic, or Chocolate flavors. Assorted contains 4 Classic and 3 Chocolate minis. Net weight 9.5 oz.
Our tins are heavyweight and carefully embossed, imparting a high level of finish that feels distinctly from another era. Measures 4.63" in diameter & 3.8" high.
Almonds (blanched almond flour, almonds), dark chocolate* (unsweetened chocolate, sugar, cocoa butter, soy lecithin, natural vanilla flavor), sugar, hazelnut flour, egg whites (egg whites, guar gum), flour (unbleached hard wheat flour, malted barley flour, niacin, reduced iron, thiamin mononitrate, riboflavin, folic acid), honey, citron peel, orange peel, glucose-fructose syrup, spices, water, less than 1% of: corn starch, potato starch, sea salt, citric acid, sodium bicarbonate, monocalcium phosphate, natural flavor(s). *Chocolate variety only. CONTAINS: EGG, WHEAT, ALMOND, HAZELNUT, SOY.
** Reviews below reflect only this particular tin/packaging style. To view all 1,950+ lebkuchen reviews we've received to date, click here.
Superb
You fill our orders perfectly and, of course, the lebkuchen are delicious!!!
People we give gifts to love the cans and save them to reuse. Thank you!!!!
Everyone's favorite
These lebkuchen are unimaginably tender, fresh, and flavorful. The recipe used seems to have improved over the years; they were great before, now they are perfect. As a German, I love to gift these. They are unique as gifts and deliciously authentic as lebkuchen. Everyone loves them!!
Yummy!!!!
These are the most elegant not too sweet cookies ever!
Incredibly good!
I rarely give reviews. I'm doing so here only because I am very impressed! This is an exceptionally superior product. Most importantly, the cookies are delicious with great flavour and texture. The packaging is also very high quality with amazing graphics and design. Customer service is above par as well!
Best Lebkuchen Outside of Germany
I really enjoy and look forward to getting these Lebkuchen. I love the chocolate covered ones the best. They remind me of what I got from the bakeries when I was visiting Germany.