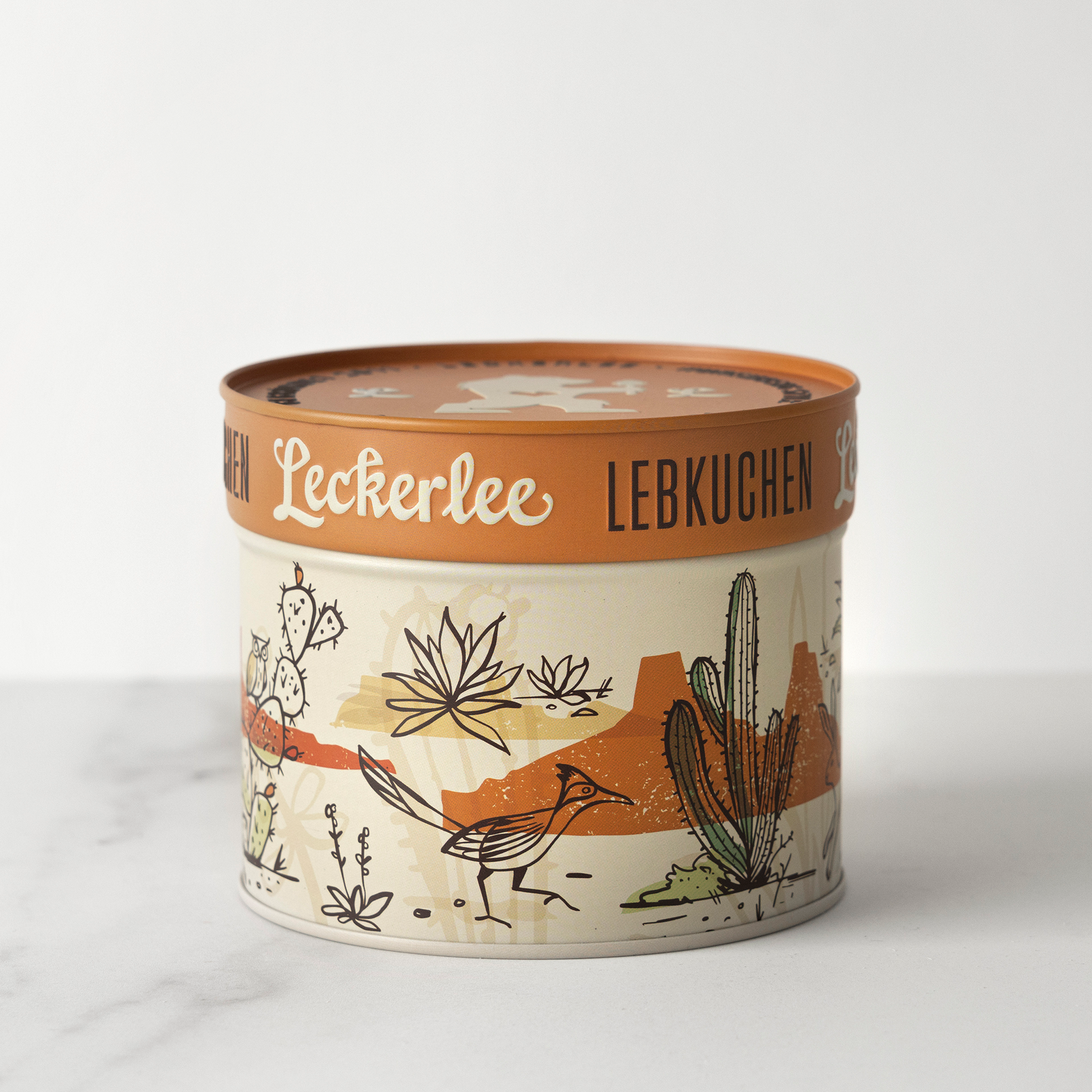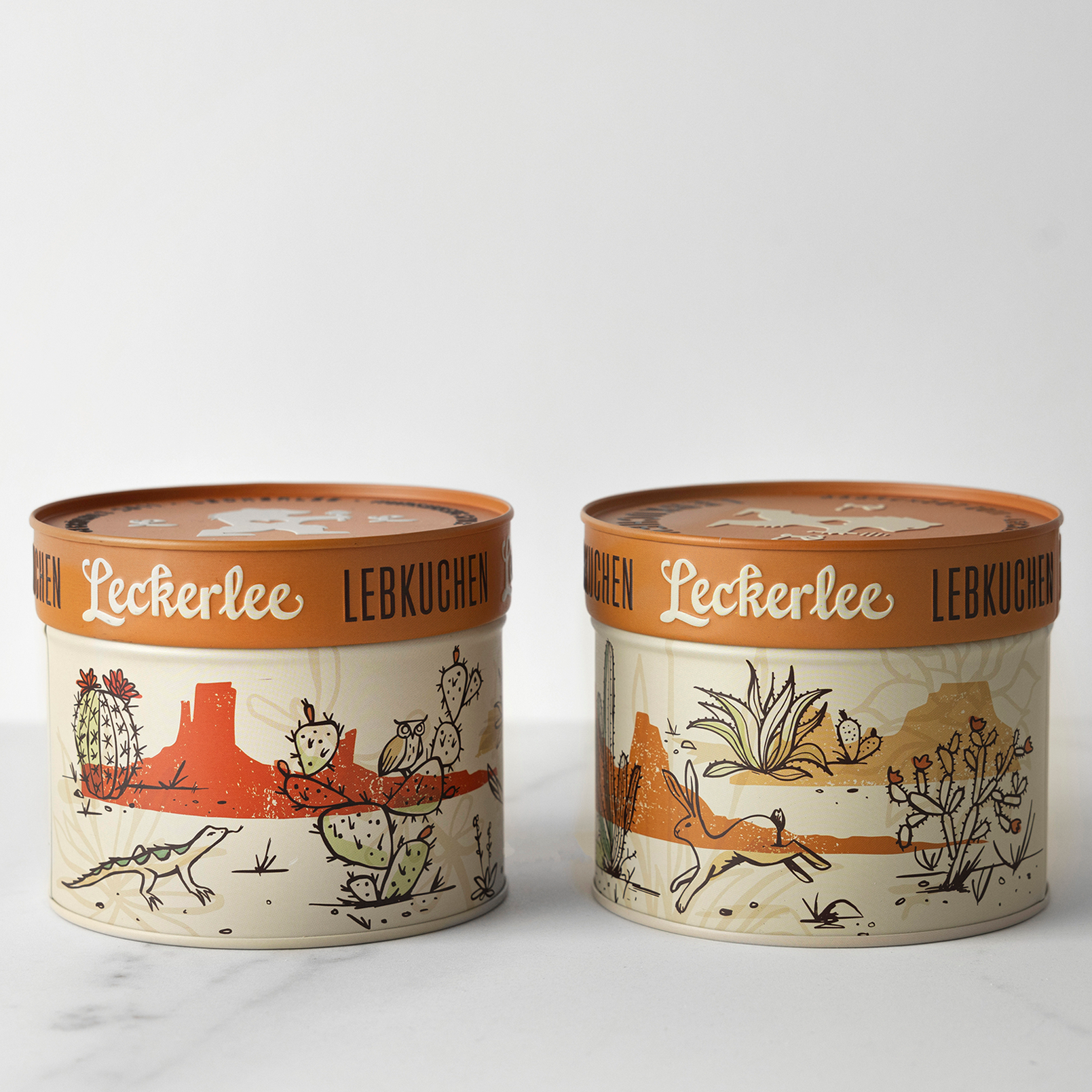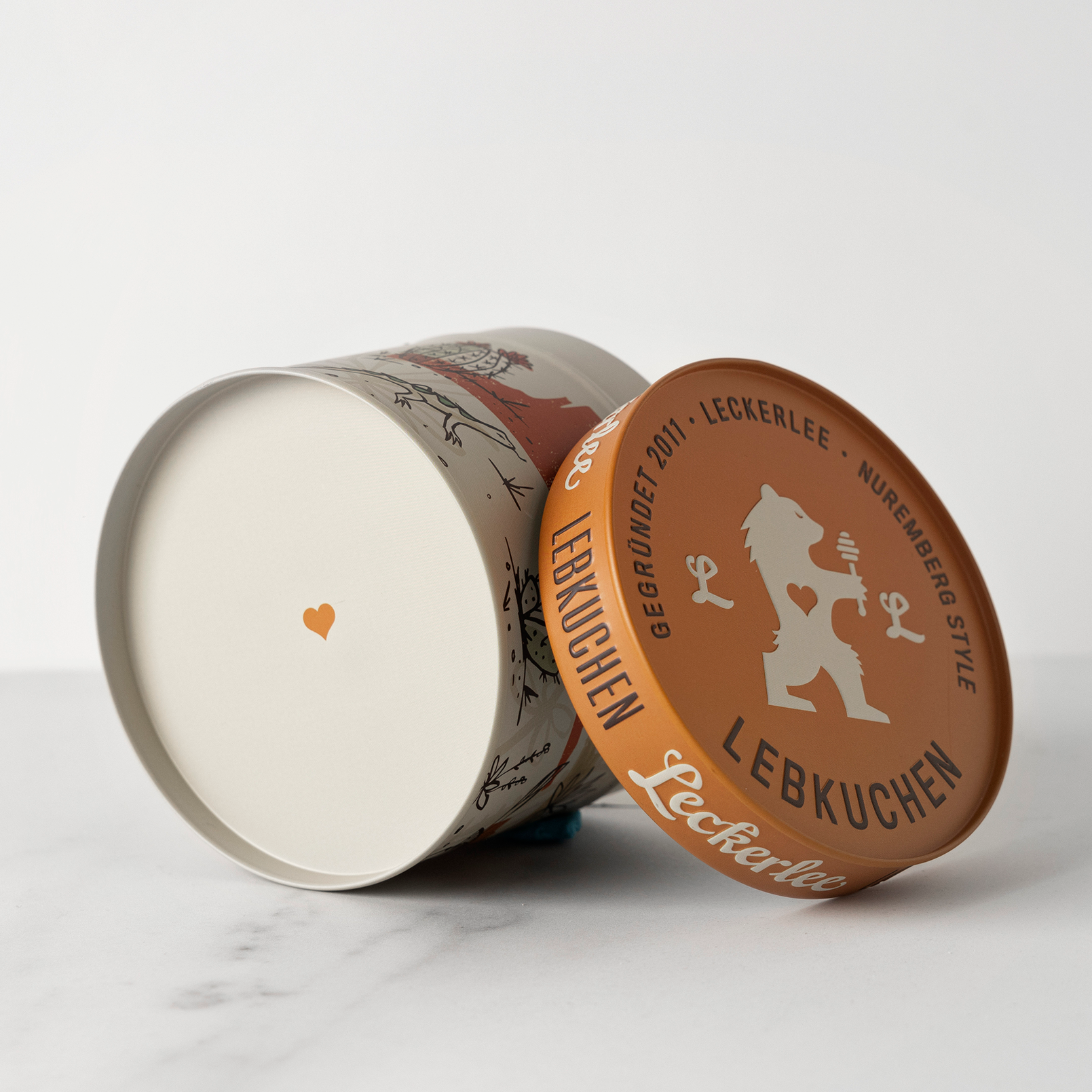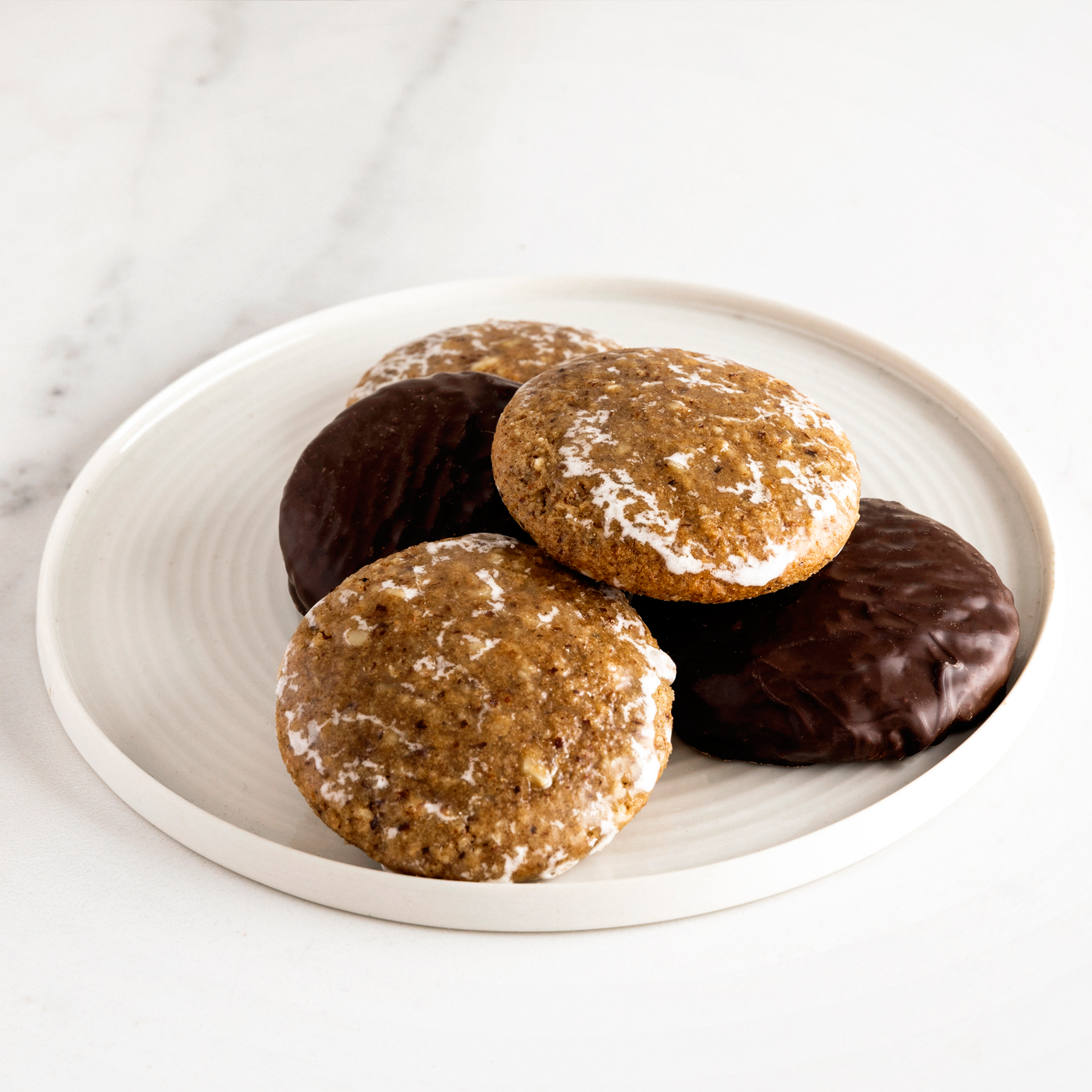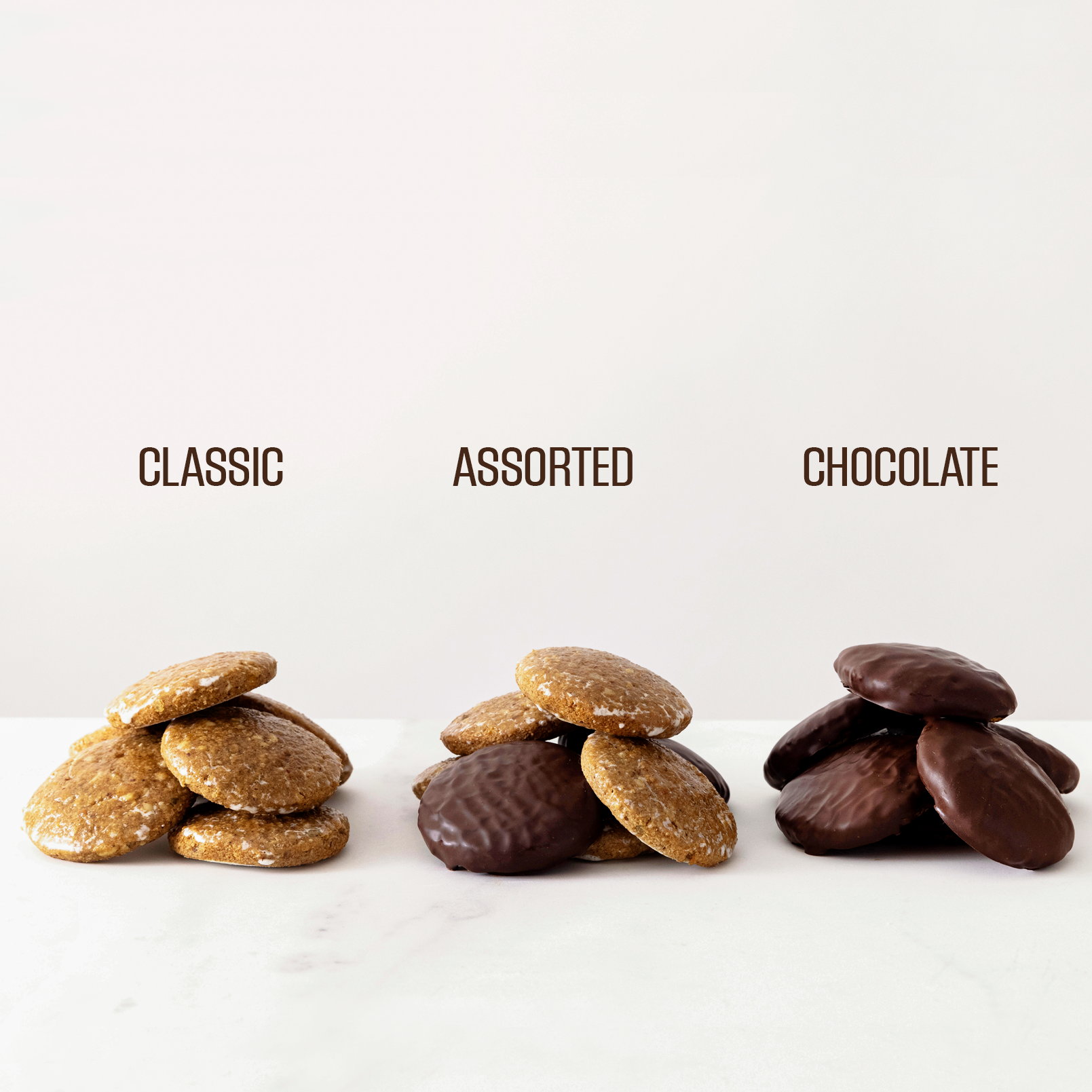 Desert winters mean sunlit days, cool nights, and enduring greens. Featuring iconic favorites like the prickly pear, saguaro, and jumping cholla, the Desert Bloom tin is a regional exclusive designed for Whole Foods locations across California, Arizona, and Nevada.

Don't miss out on this special design—our online stock is limited!
Contains 7 Nuremberg mini lebkuchen (6 minis if you order all Chocolate), in your choice of Assorted (our most popular option), Classic, or Chocolate flavors. Assorted contains 4 Classic and 3 Chocolate minis. Net weight 9.5 oz.
Our tins are heavyweight and carefully embossed, imparting a high level of finish that feels distinctly from another era. Measures 4.63" in diameter & 3.8" high.
Almonds (blanched almond flour, almonds), dark chocolate* (unsweetened chocolate, sugar, cocoa butter, soy lecithin, natural vanilla flavor), sugar, hazelnut flour, egg whites (egg whites, guar gum), flour (unbleached hard wheat flour, malted barley flour, niacin, reduced iron, thiamin mononitrate, riboflavin, folic acid), honey, citron peel, orange peel, glucose-fructose syrup, spices, water, less than 1% of: corn starch, potato starch, sea salt, citric acid, sodium bicarbonate, monocalcium phosphate, natural flavor(s). *Chocolate variety only. CONTAINS: EGG, WHEAT, ALMOND, HAZELNUT, SOY.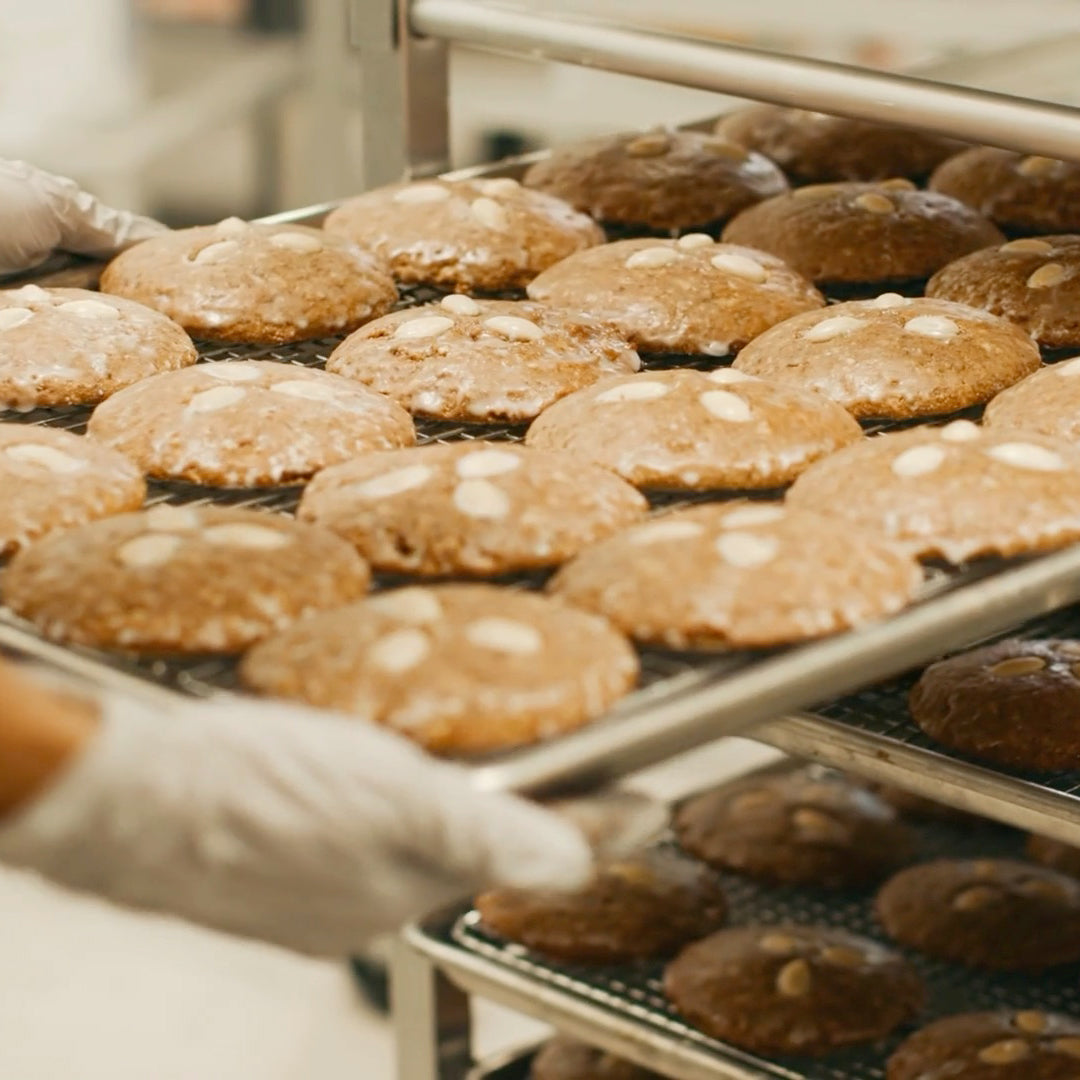 Made Fresh in Small Batches
The freshest lebkuchen you can buy in the States
Baked for you in Longmont, Colorado and shipped quickly
Our 13th season baking Nuremberg-style lebkuchen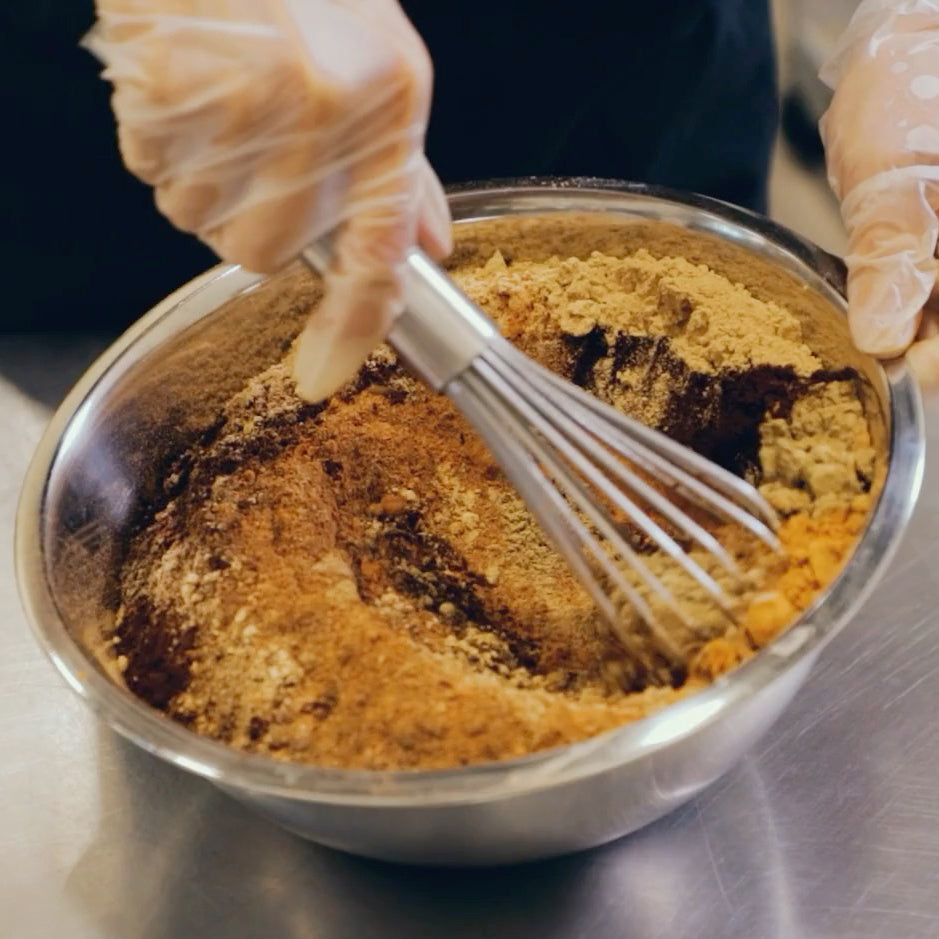 Quality Ingredients
40% almonds and hazelnuts
No artificial preservatives, flavors, or additives
Cold-ground spices (to preserve their aroma and flavor)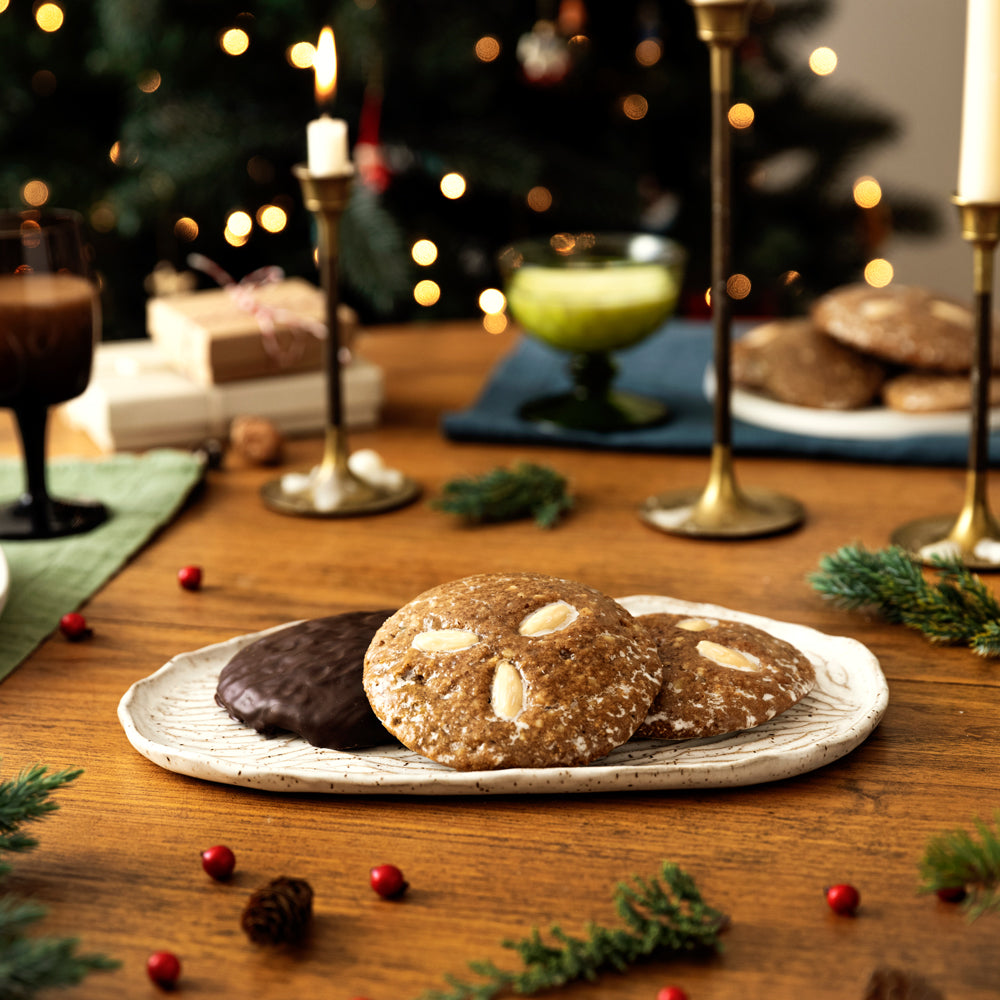 The Taste of the Holidays
Perfect cold-weather treat or festive addition to your holiday table
Distinctive holiday gift for friends, family, hosts, and colleagues
** Reviews below reflect only this particular tin/packaging style. To view all 2,000+ lebkuchen reviews we've received to date, click here.
Love Desert Bloom
Longtime Leckerlee nut and especially love the mini chocolate lebkuchen. Delighted this season with the new website design featuring all the tins <3! Was surprised to be able to order last year's Desert Bloom for this year: sweet perfection as my husband grew up in a desert region & our daughter has just gone off to college there. The design is even better in person: manages to accurately evoke the ecosystem, sleekly employ a mid-century illustration design, and be super-cute with lots of detail! Great year-round-whenever you are lucky enough to have Leckerlee lebkuchen.
HEAVEN
So delicious and tasty for breakfast, lunch and dinner, but being honest, they totally remind me of my German Christmas many years ago. Thank you!
Deliciousness
Can't wait for next season to order more cookies. They are a little expensive, yes, but they are unique and fun, and you won't regret making it a holiday tradition! Treat yourself!
Tin ❤️
I've been a customer since your first year. I really enjoy the delicious lebkuchen but I truly love the tins!
Beautiful
Friends loved this gift! A real success. The quality really made an impression and the cookies were delicious and gone too soon!