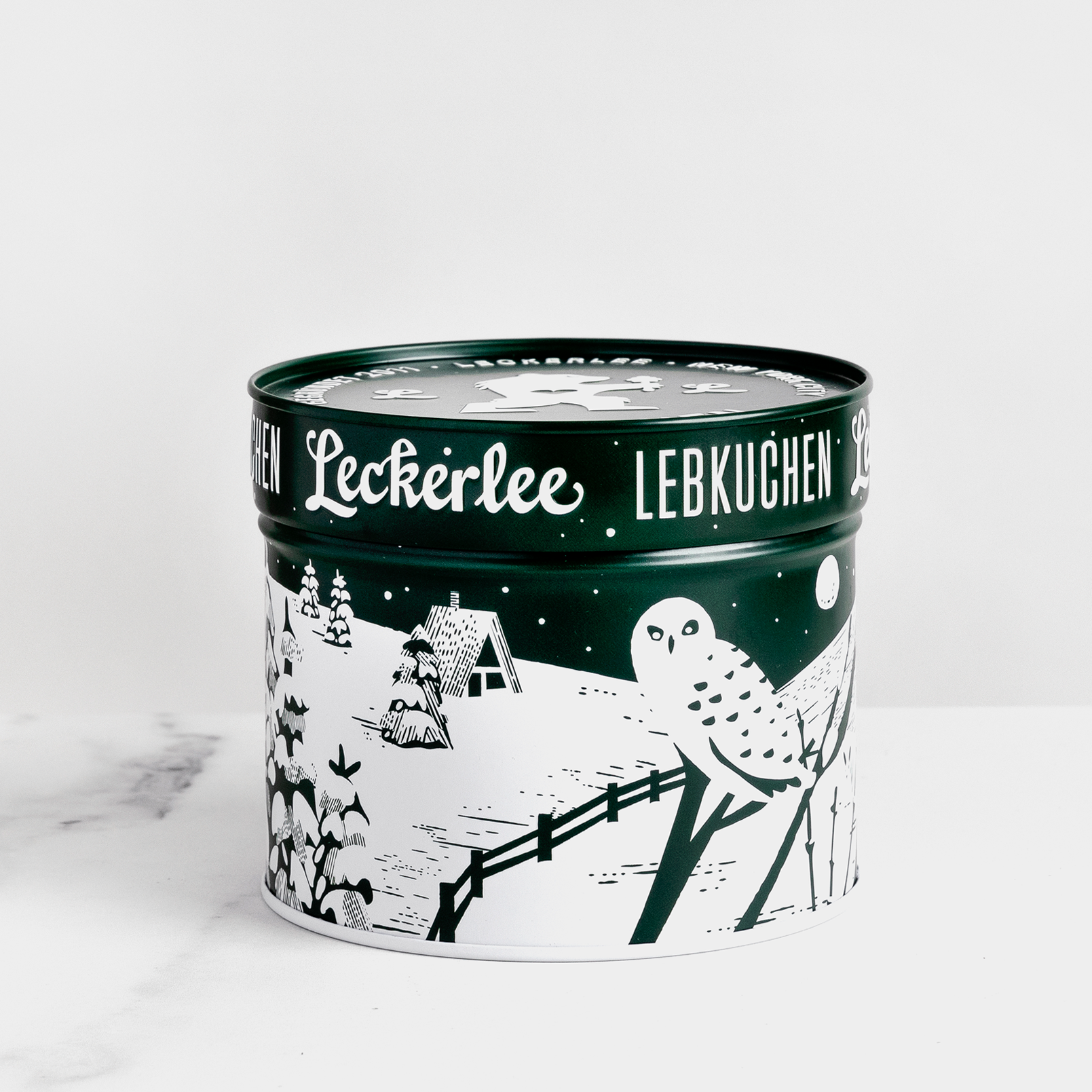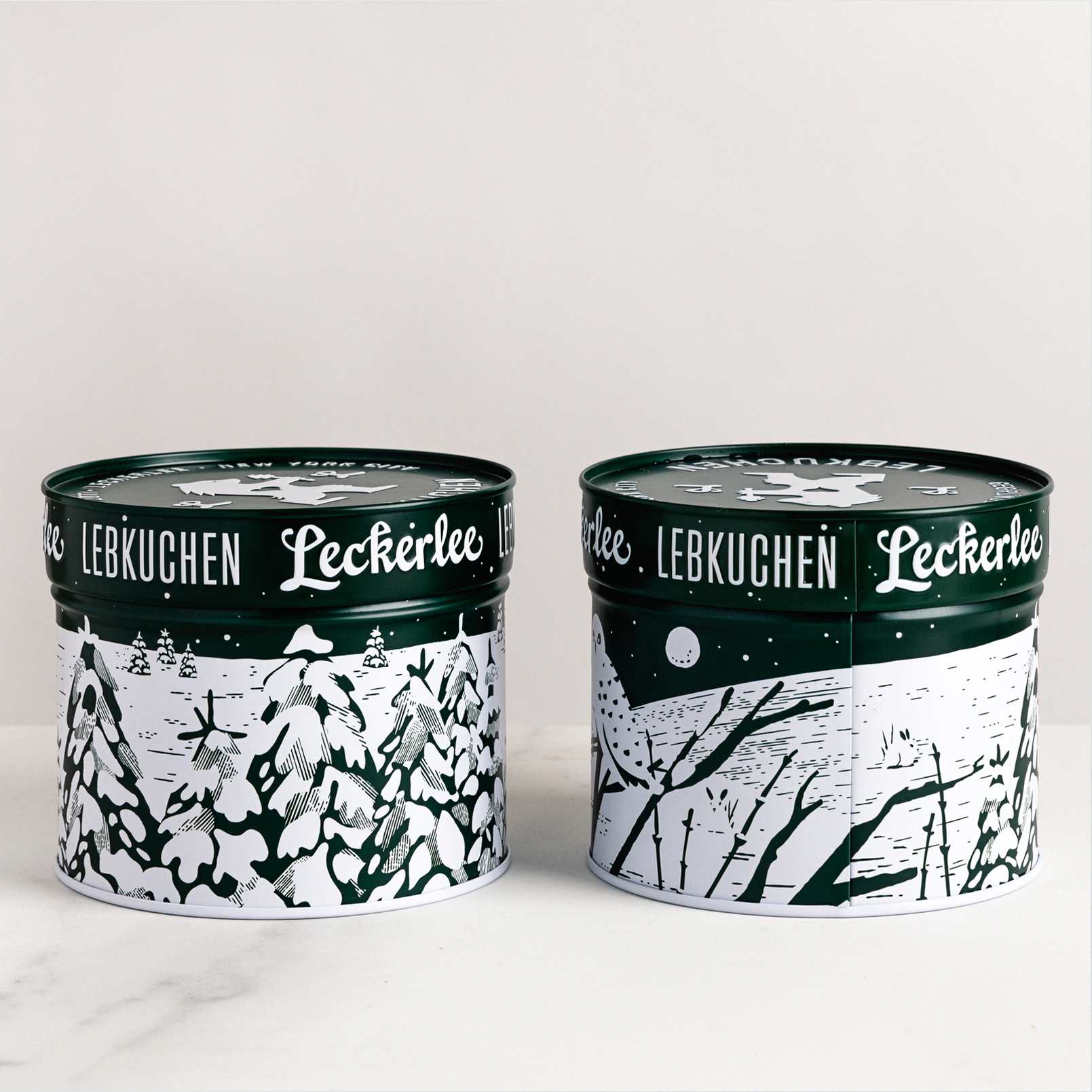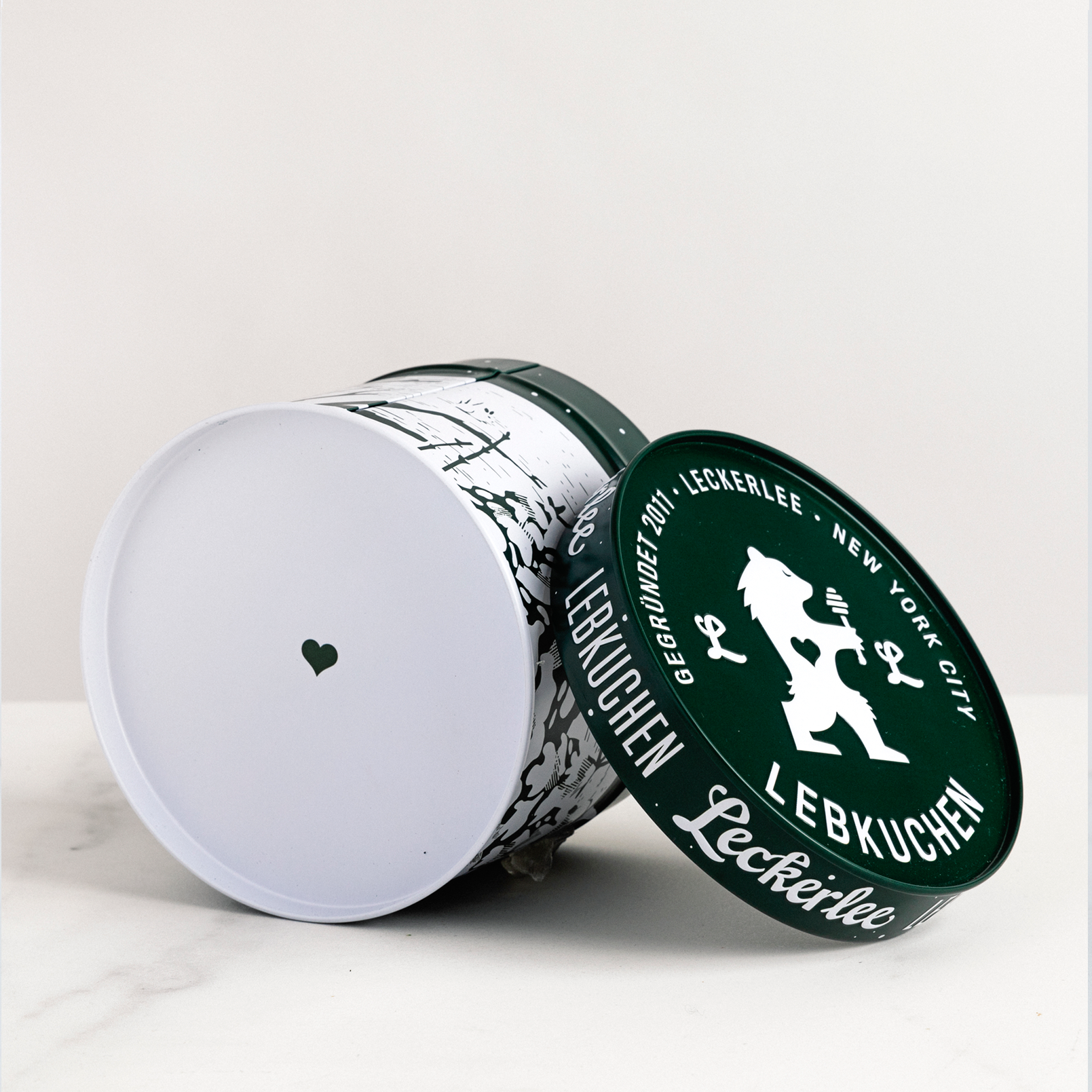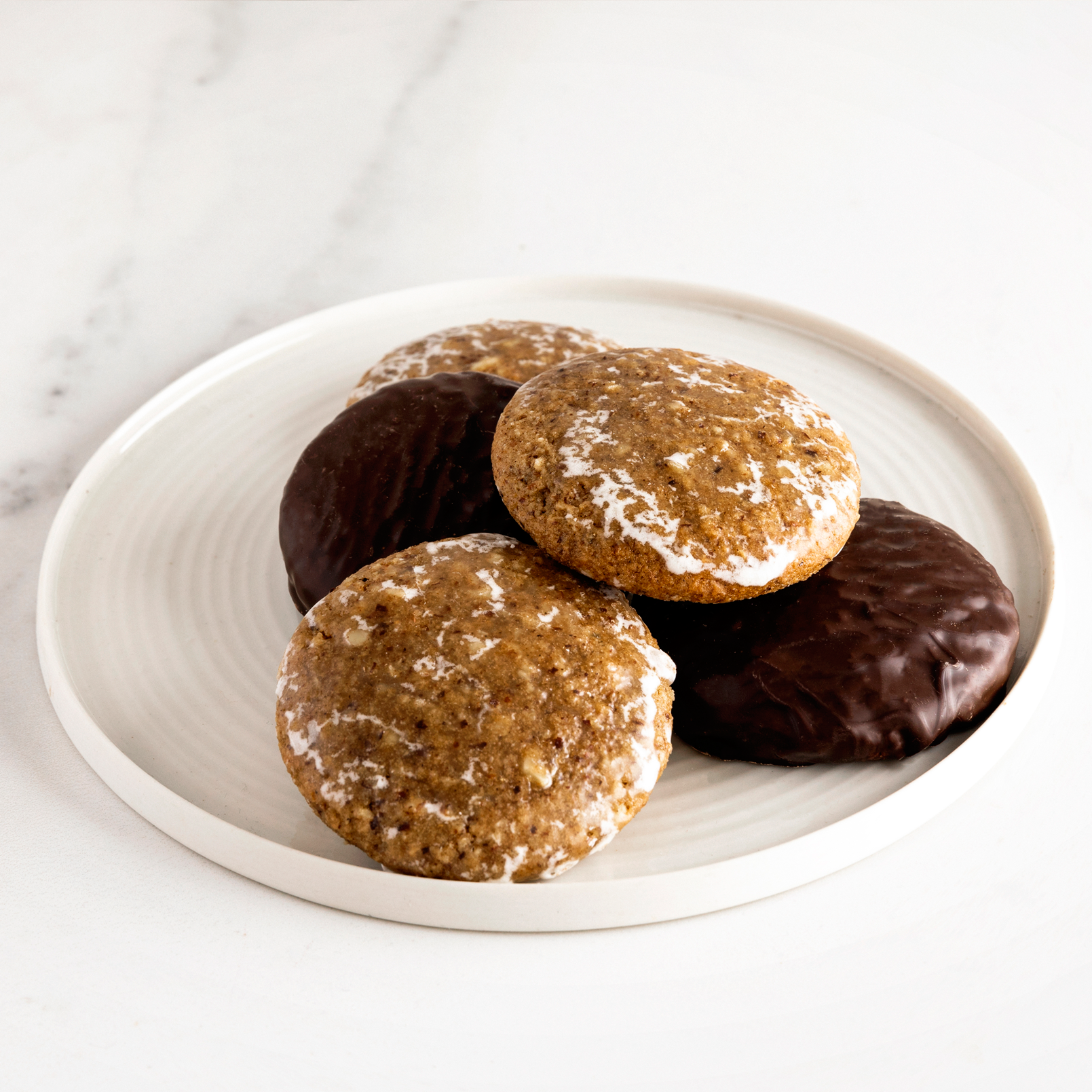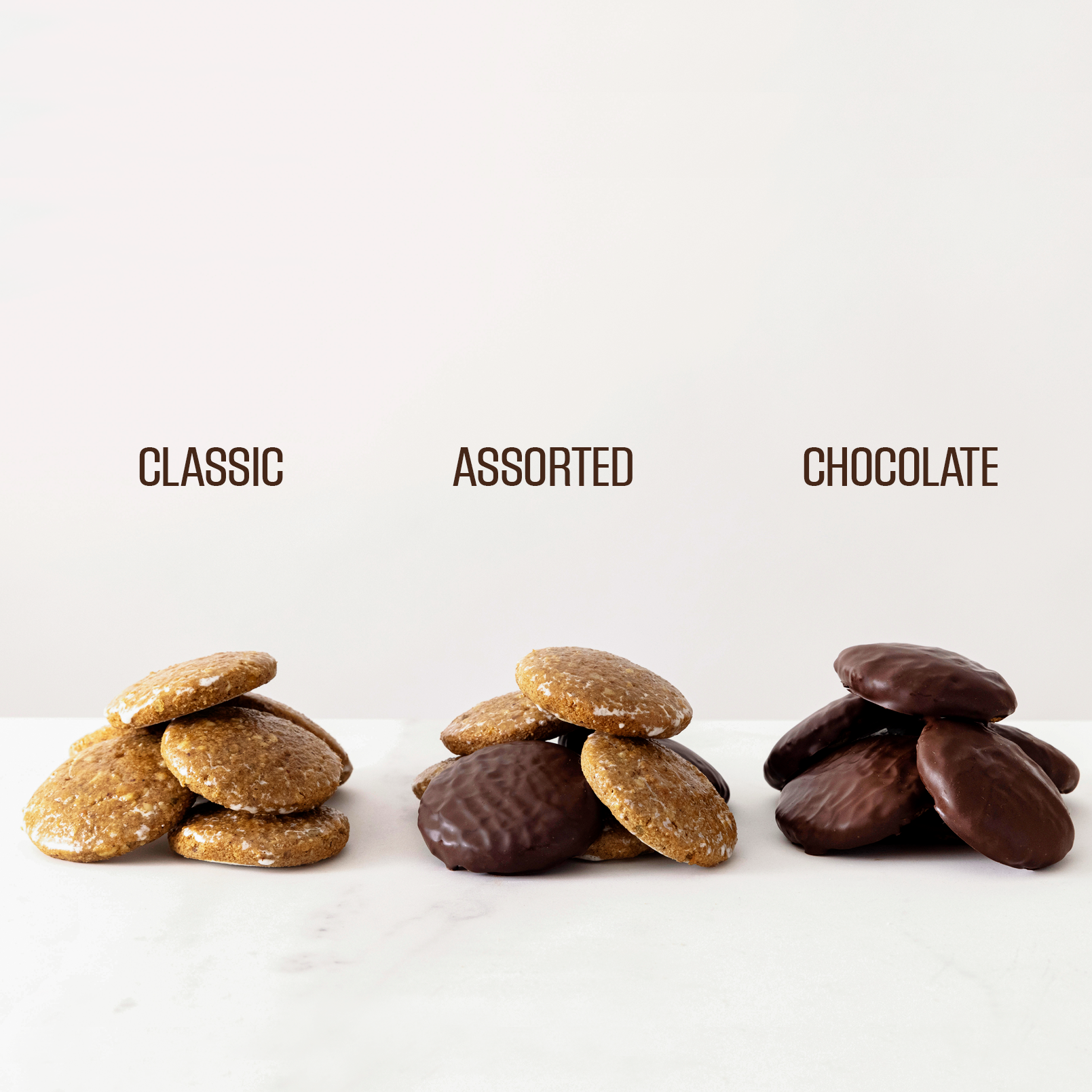 In this winter-themed design, you can almost feel the wind whipping across the snow-covered fields, as the pines huddle encased in snow and the snowy owl watches all.
Contains 7 Nuremberg mini lebkuchen (6 minis if you order all Chocolate), in your choice of Assorted (our most popular option), Classic, or Chocolate flavors. Assorted contains 4 Classic and 3 Chocolate minis. Net weight 9.5 oz.
Our tins are heavyweight and carefully embossed, imparting a high level of finish that feels distinctly from another era. Measures 4.63" in diameter & 3.8" high.
Almonds (blanched almond flour, almonds), dark chocolate* (unsweetened chocolate, sugar, cocoa butter, soy lecithin, natural vanilla flavor), sugar, hazelnut flour, egg whites (egg whites, guar gum), flour (unbleached hard wheat flour, malted barley flour, niacin, reduced iron, thiamin mononitrate, riboflavin, folic acid), honey, citron peel, orange peel, glucose-fructose syrup, spices, water, less than 1% of: corn starch, potato starch, sea salt, citric acid, sodium bicarbonate, monocalcium phosphate, natural flavor(s). *Chocolate variety only. CONTAINS: EGG, WHEAT, ALMOND, HAZELNUT, SOY.
** Reviews below reflect only this particular tin/packaging style. To view all 1,950+ lebkuchen reviews we've received to date, click here.
Taste delight
We have enjoyed these delicious cookies for several years and have gifted to many of our friends who are now ardent cookie lovers. The lovely snowy pines tin is a wonderful reminder that more will come next year!
Snowy pines tin
Loved the box and of course the cookies!
What a treat!
First time buying lebkuchen and loved them. Read the description of the product and the flavors and textures sounded interesting, the experience did not disappoint! Beautiful tin as well.
First time buyer
Loved both tins. They were to be gifted, but kept one for myself. Your product is excellent in presentation and flavor. My order arrived as promised and deliciously delicious, will be ordering from you in the future, thank you for a wonderful Leckerlee experience.
Delicious cookies
They were delicious cookies. We tried the small ones with both flavors. Plus a beautiful tin.