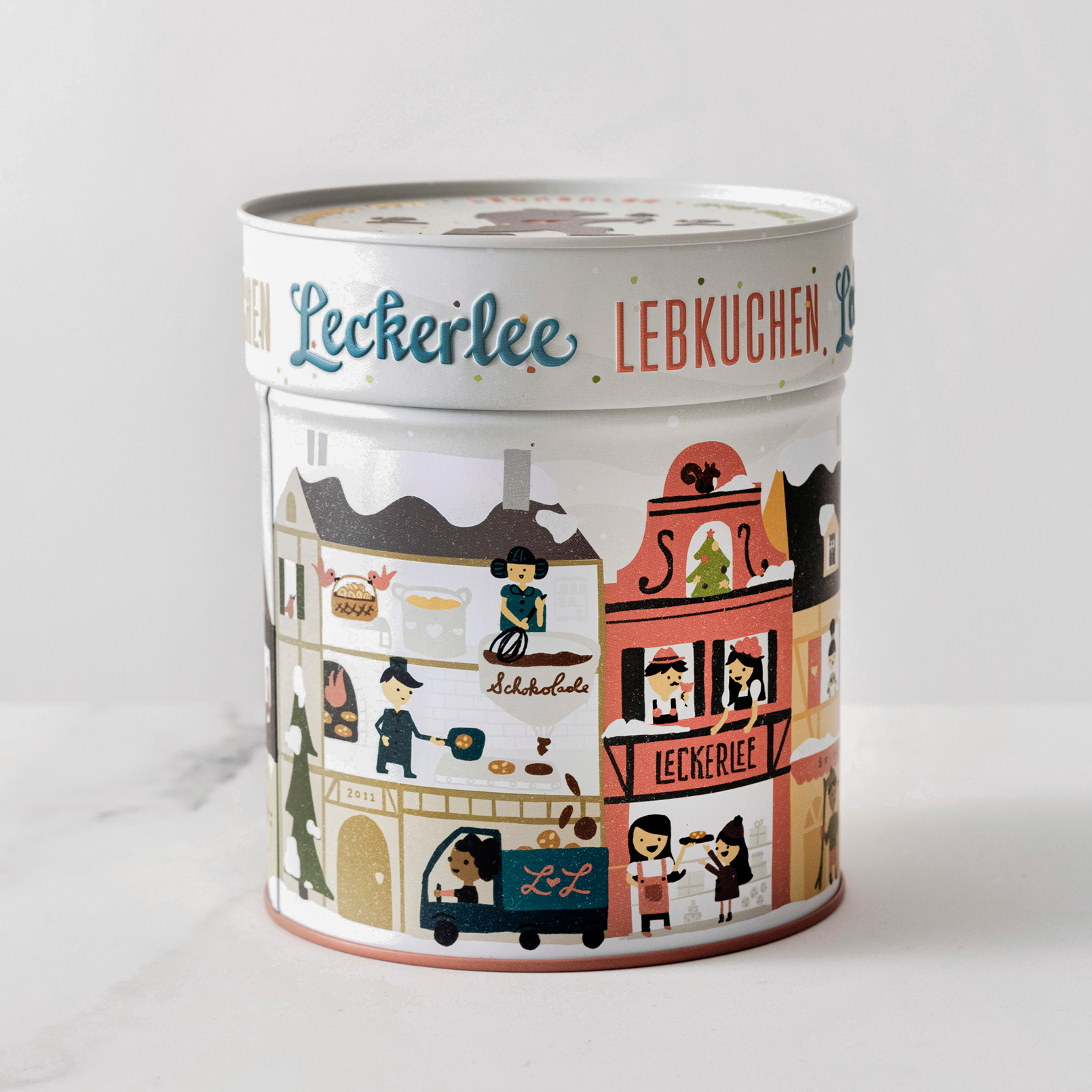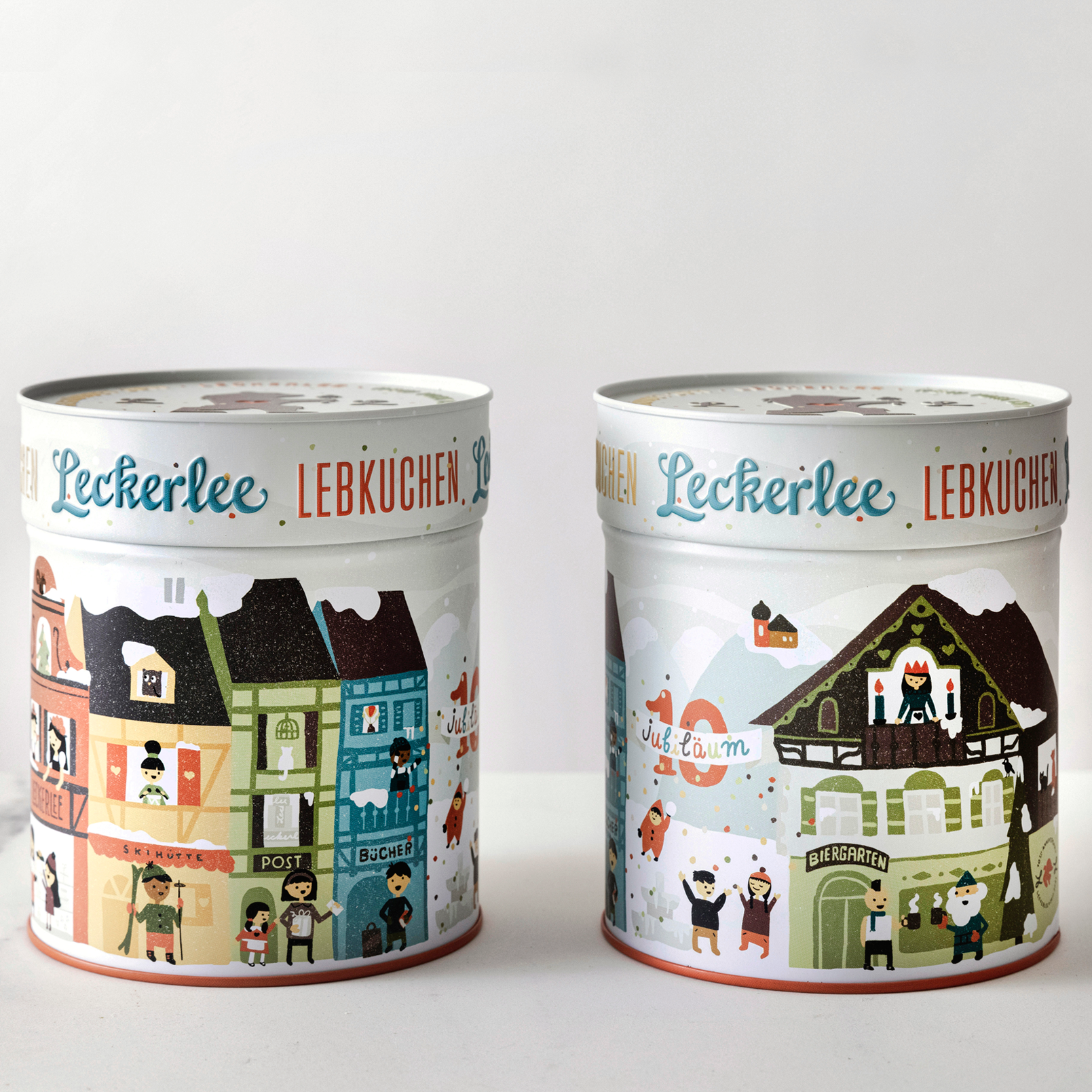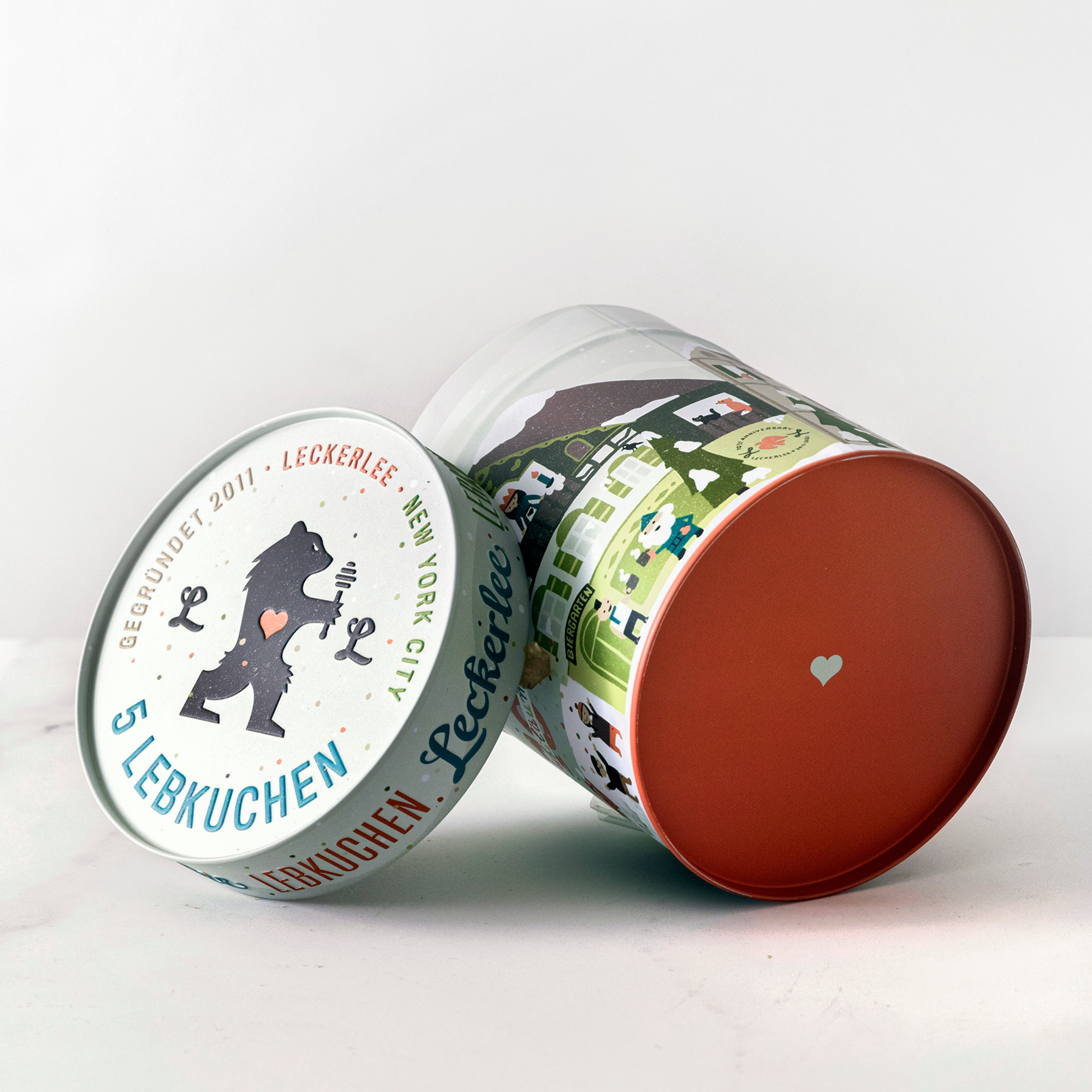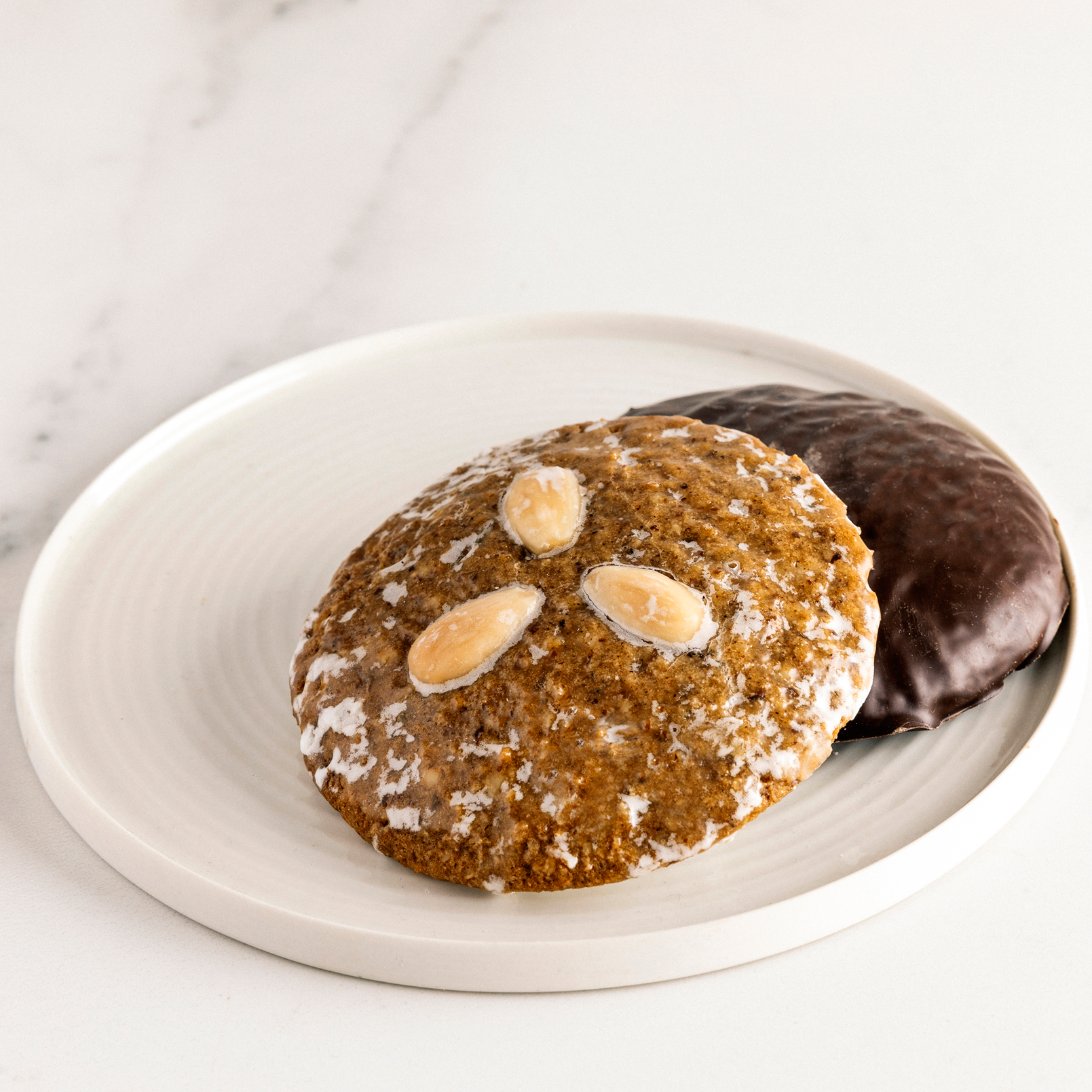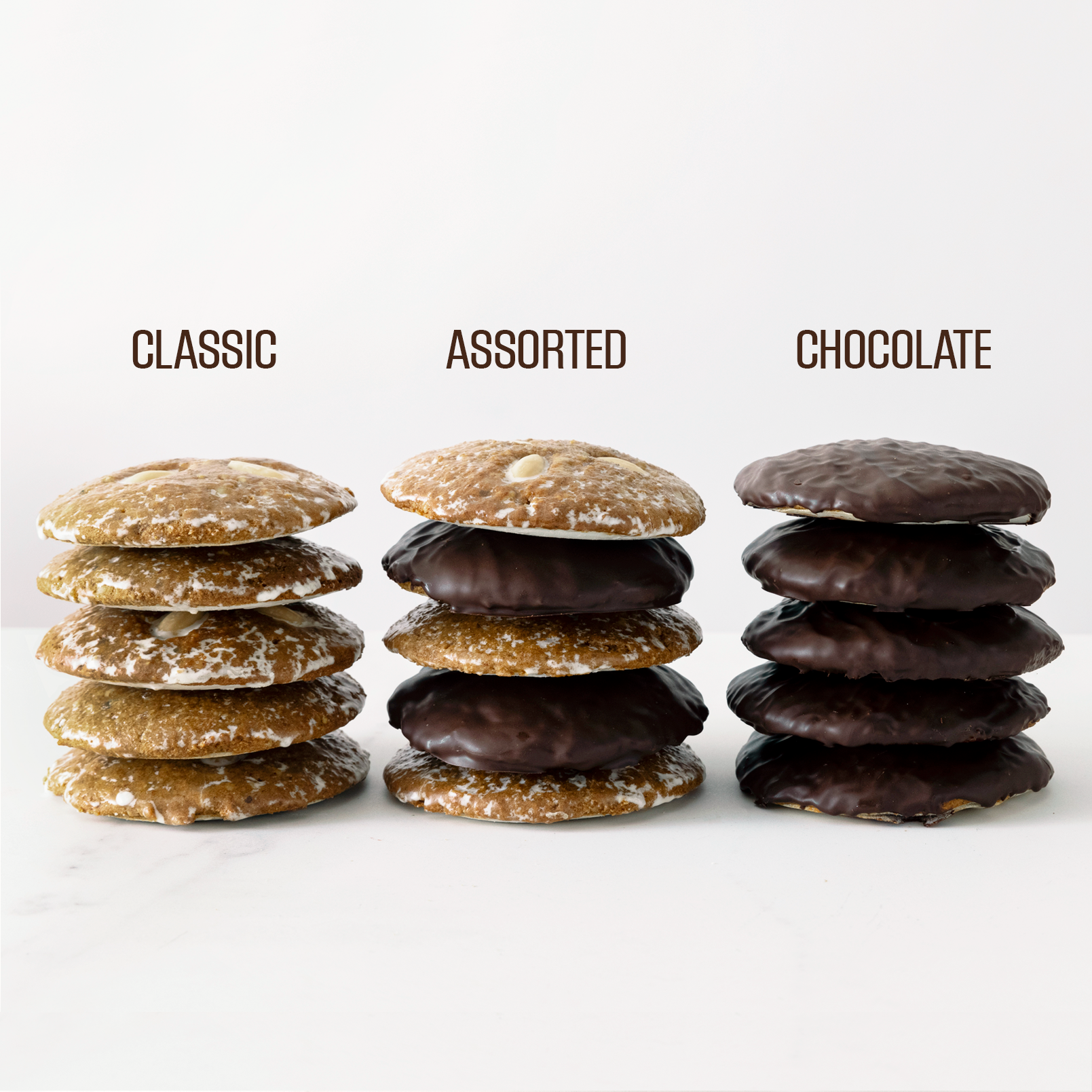 Celebrating 10 years of Leckerlee! Our anniversary tin features a variety of characters from the past decade of Leckerlee tins, charmingly illustrated in a snow-covered Alpine town. Animal visitors, confetti snow, a whimsical cookie operation, and more encapsulate the bustle and joy of holiday anticipation.
Contains 5 Nuremberg lebkuchen (1 lb) in your choice of Assorted (our most popular option), Classic, or Chocolate flavors.
Our tins are heavyweight and carefully embossed, imparting a high level of finish that feels distinctly from another era. Measures 4.63" in diameter & 5.25" high.
Almonds (blanched almond flour, almonds), dark chocolate* (unsweetened chocolate, sugar, cocoa butter, soy lecithin, natural vanilla flavor), sugar, hazelnut flour, egg whites (egg whites, guar gum), flour (unbleached hard wheat flour, malted barley flour, niacin, reduced iron, thiamin mononitrate, riboflavin, folic acid), honey, citron peel, orange peel, glucose-fructose syrup, spices, water, less than 1% of: corn starch, potato starch, sea salt, citric acid, sodium bicarbonate, monocalcium phosphate, natural flavor(s). *Chocolate variety only. CONTAINS: EGG, WHEAT, ALMOND, HAZELNUT, SOY.
** Reviews below reflect only this particular tin/packaging style. To view all 1,950+ lebkuchen reviews we've received to date, click here.
Quality in every fold
The lebkuchen raised the bar in all areas, in both flavor and presentation, to allow me a better understanding of what real lebkuchen is.
Something Special
Leckerlee's lebkuchen are truly something special. I don't know anywhere else (except maybe Europe?) where you can get these delicious cookies. And the reusable tins make these a great hostess gift -- or to treat yourself!
Perfectly authentic!
I lived in Salzburg, Austria during grad school and went to a tiny local bakery to buy lebkuchen during the holidays - I have craved that lebkuchen for years and now I've found it! This is the ONLY lebkuchen I've had in the US that is truly authentic - moist on the inside, crisp on the outside, and perfectly gingery. I cannot tell you how much I LOVE Leckerlee lebkuchen!!
Really great lebkuchen (and gift tins)
Those who received the lebkuchen told me that they enjoyed them very much and thought they tasted even better than those from their homeland!
Awesome again this year
I am so glad Leckerlee has been around for 10 years! This year's product was as fresh and tasty as ever and the Tenth Anniversary Tin made a great gift.