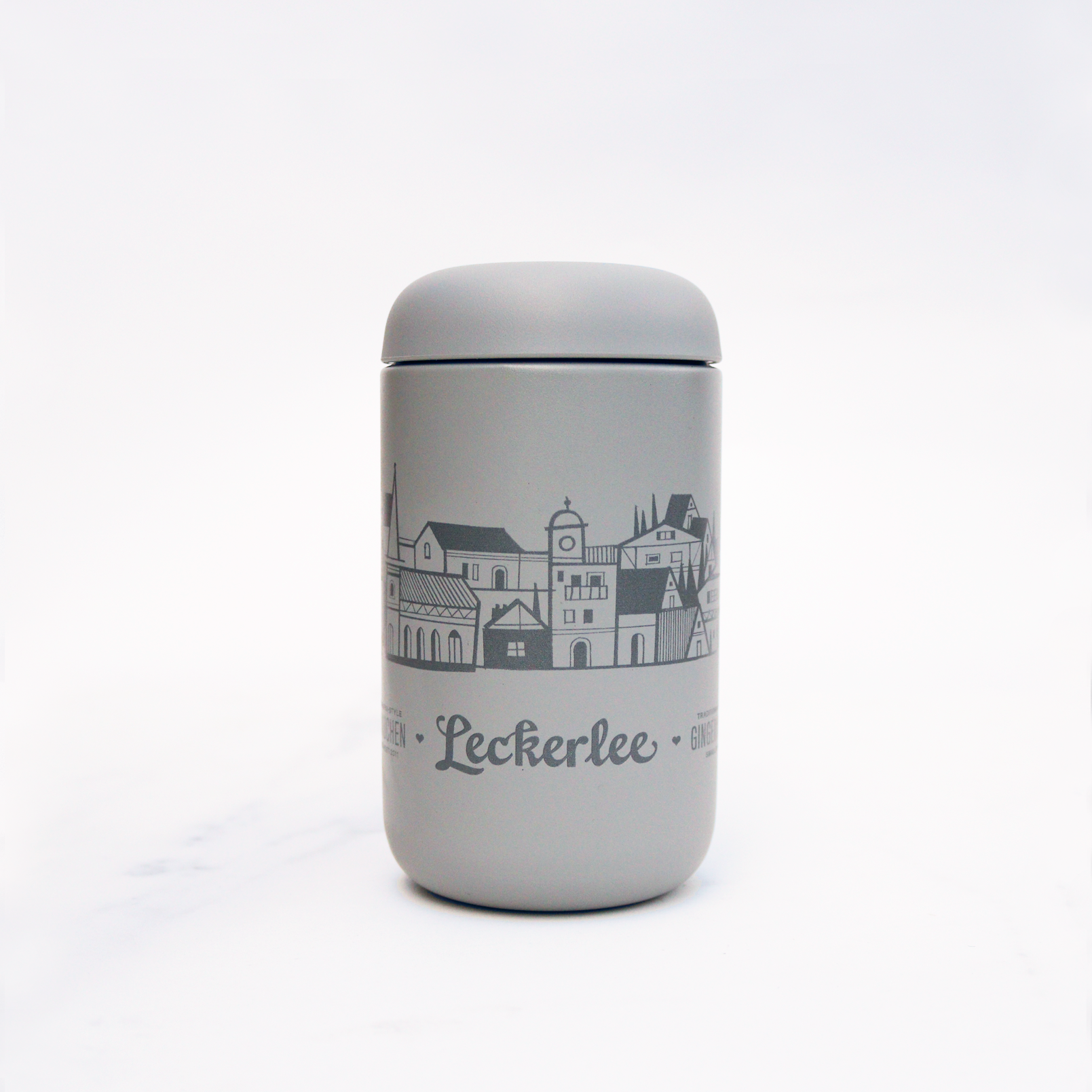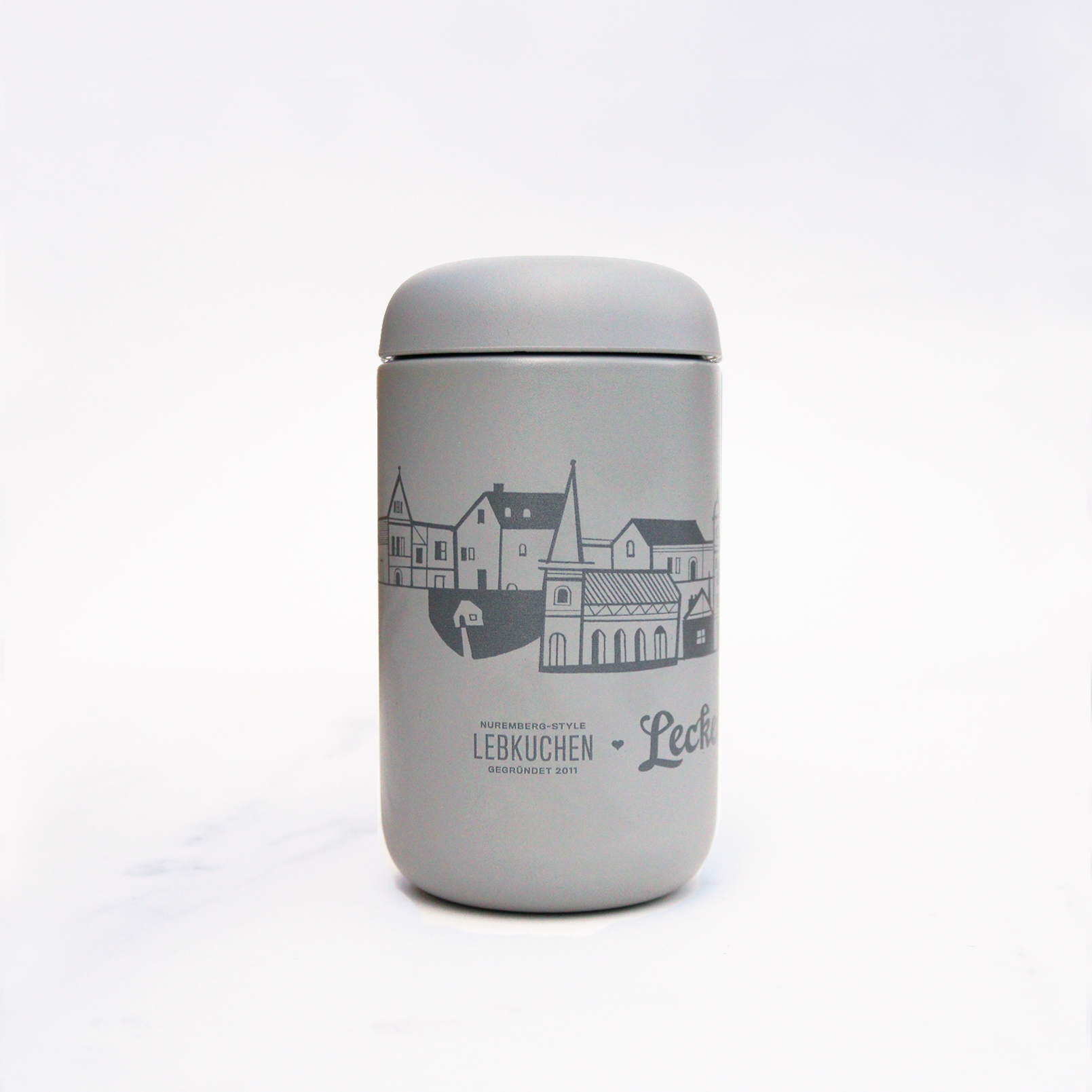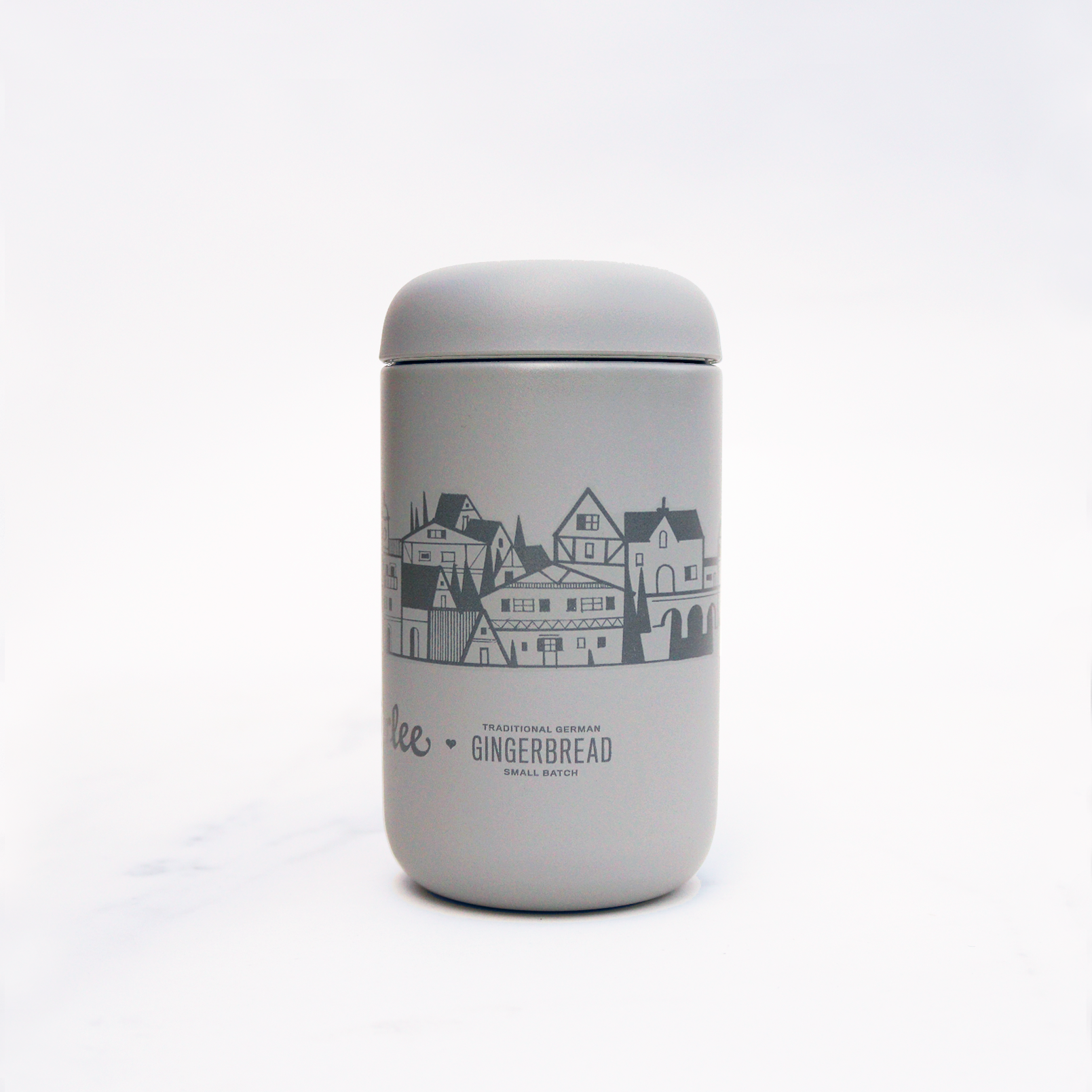 Fellow Carter Everywhere Mug
Coffee (and tea) lovers: you're probably familiar with Fellow, the San Francisco-based maker of beautifully designed kettles and coffee & tea making tools. Now you can enjoy your perfectly brewed coffee & tea (with lebkuchen) anywhere with this custom Leckerlee Fellow 16 ounce Carter Everywhere Mug! 
Featuring an inner ceramic coating, the Carter Everywhere Mug is designed to preserve the taste of your coffee in addition to having excellent heat retention capabilities. Learn more about the Carter Everywhere Mug in this video.
Features:
304 18/8 insulated stainless steel retains heat for 12 hours and stays cold for 24 hours.
Unlike stainless steel, a ceramic interior keeps your brew free of odors, oils, and "old penny" tasting notes.
A quick, 

270° twist locks the lid to eliminate liquid mishaps.

Rim designed to fit the most popular manual brewing devices.

BPA-free plastic and steel lid
Measures 3.3" in diameter x 6.1" tall.

Note: this mug is NOT dishwasher safe.
Nice mug
Love it! A handle would be good, but not a must.
The best, but could use improvement
the Fellow Carter Everywhere Mug is everything you said it would be. The most important thing is it keeps my coffee, tea, or any hot drink, wonderfully hot for hours. My only complaint is the diameter of the mug. I have arthritis in my hands and its width makes it difficult for me to unscrew the lid. Everything else is wonderful. Could you possibly make it in a thinner size so we old folks could use it more easily. If you do, I'd gladly buy another one.
Margaret, thank you for your review, and I'm sorry to hear that it is challenging for you to unscrew the lid because of your arthritis. Unfortunately, we are not the manufacturers of the mug itself (which is made by the company Fellow) and are not able to modify it. But we can take your feedback into account if we consider adding any similar products in the future.
New favorite work mug
I bought this for work. I make my coffee at home and, since this doesn't leak, I just throw the mug into my lunch bag. I am a slow coffee drinker and this keeps my coffee hot all day long. Having the Leckerlee design on it makes it even better.
Everywhere mug
I got this for my mom as I noticed she kept reheating her coffee in the microwave. she loves it, carries it around tbe house from sunny spot to sunny spot, keeps her coffee warm.
Great coffee holder
Kept coffee hot a long time. Very pretty. It did spot a little when washed in dishwasher. Fit in car cup holder but it is a big/wide cup holder. Would recommend.
We're glad you are enjoying the mug! Please note, Fellow (the manufacturer) indicates that the mug is *not* dishwasher safe!