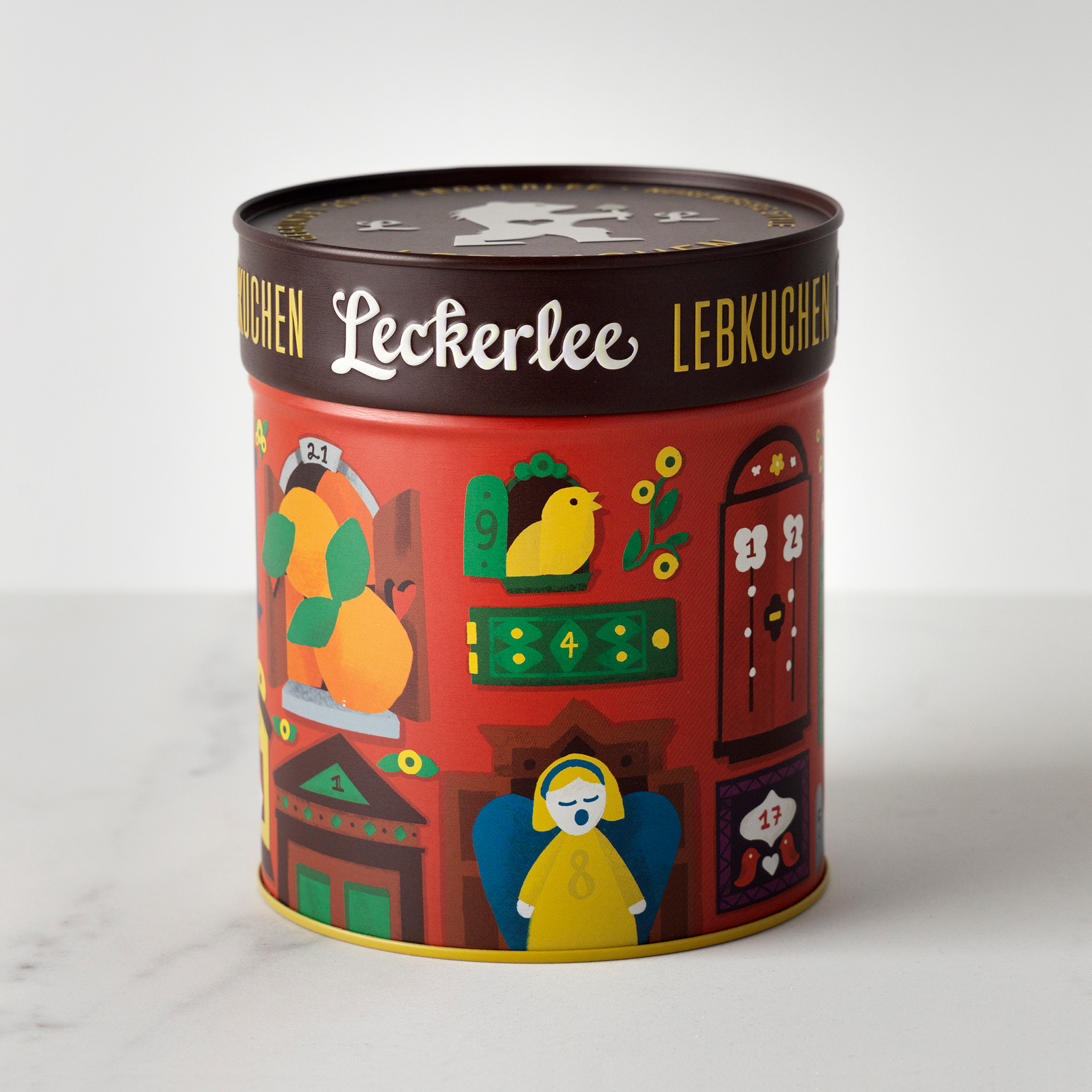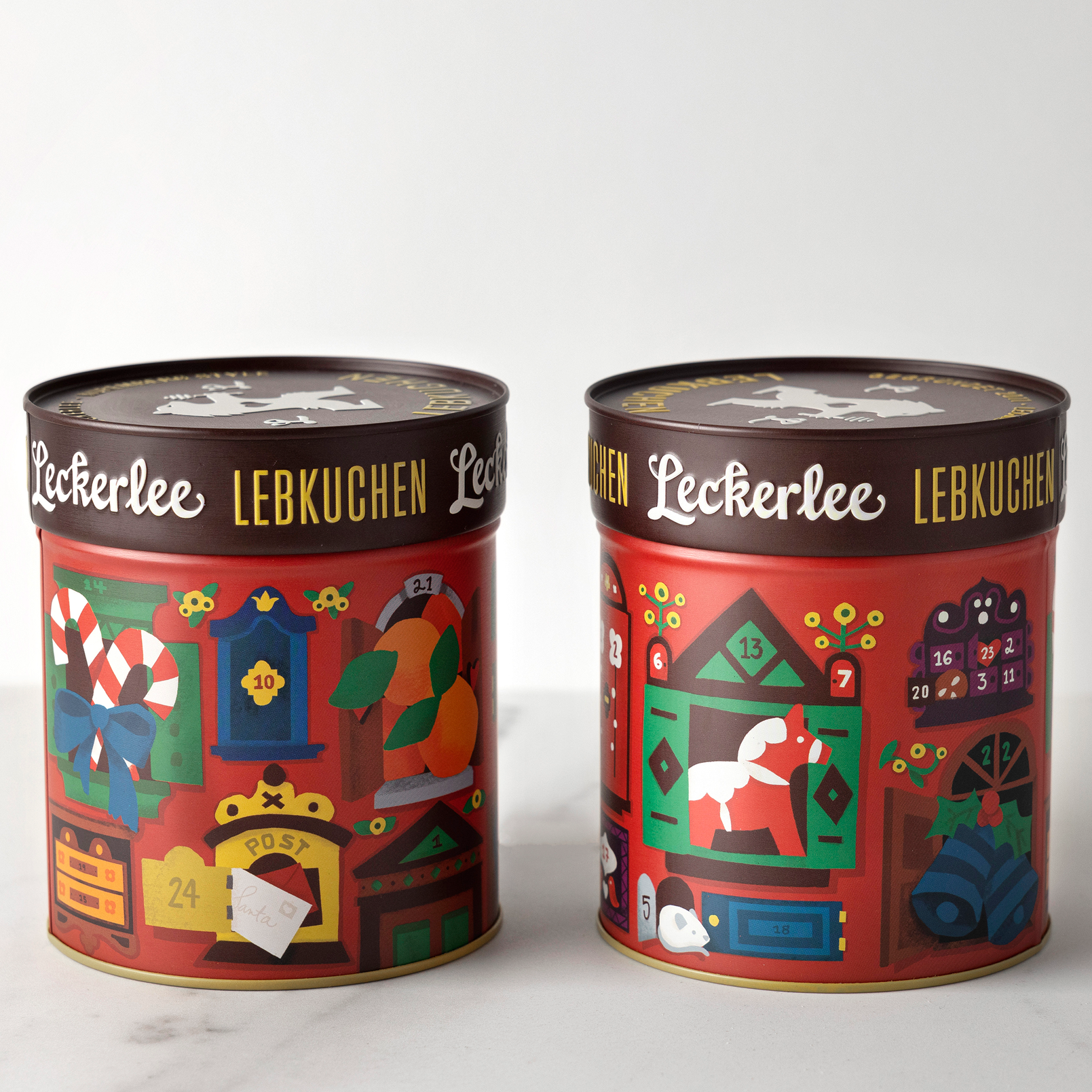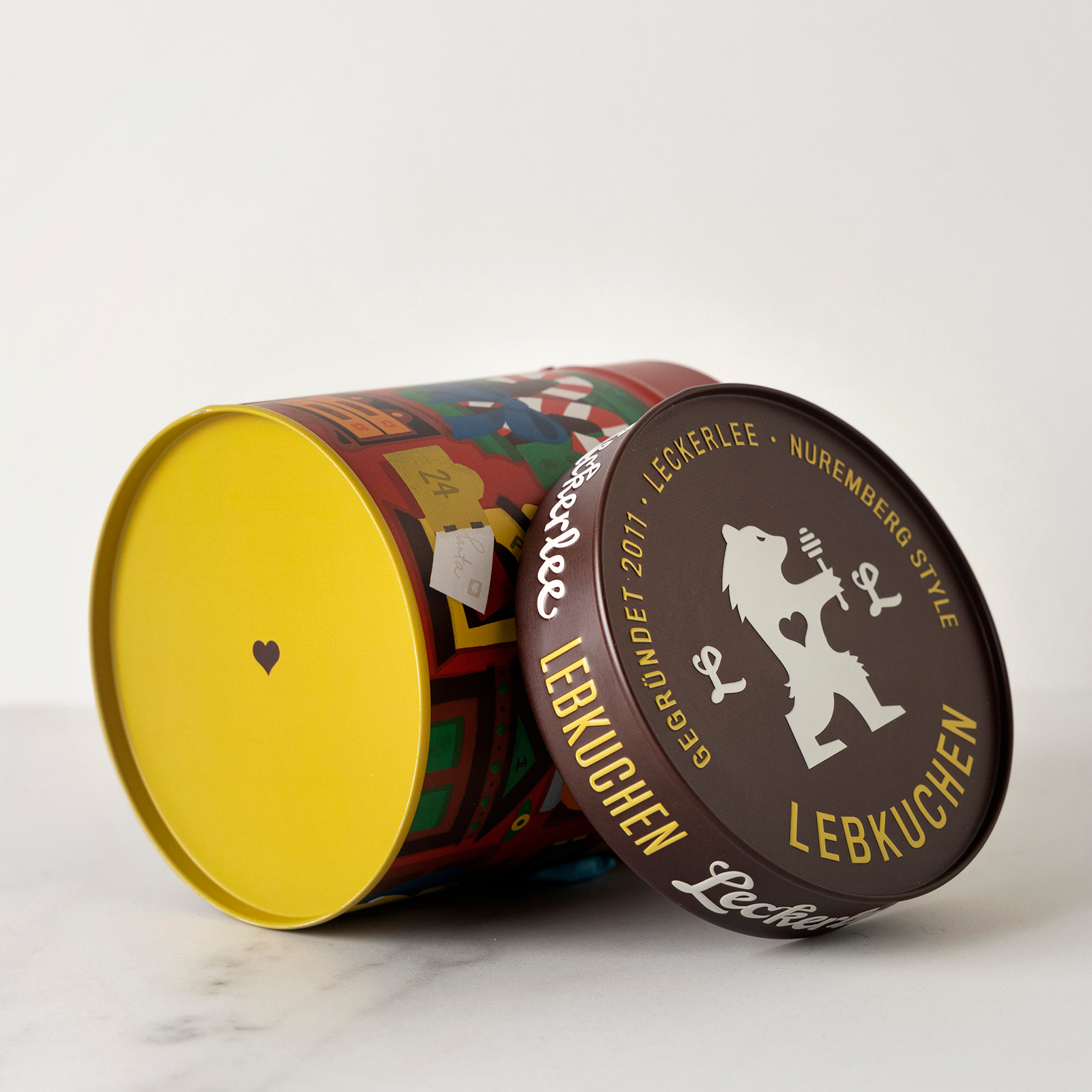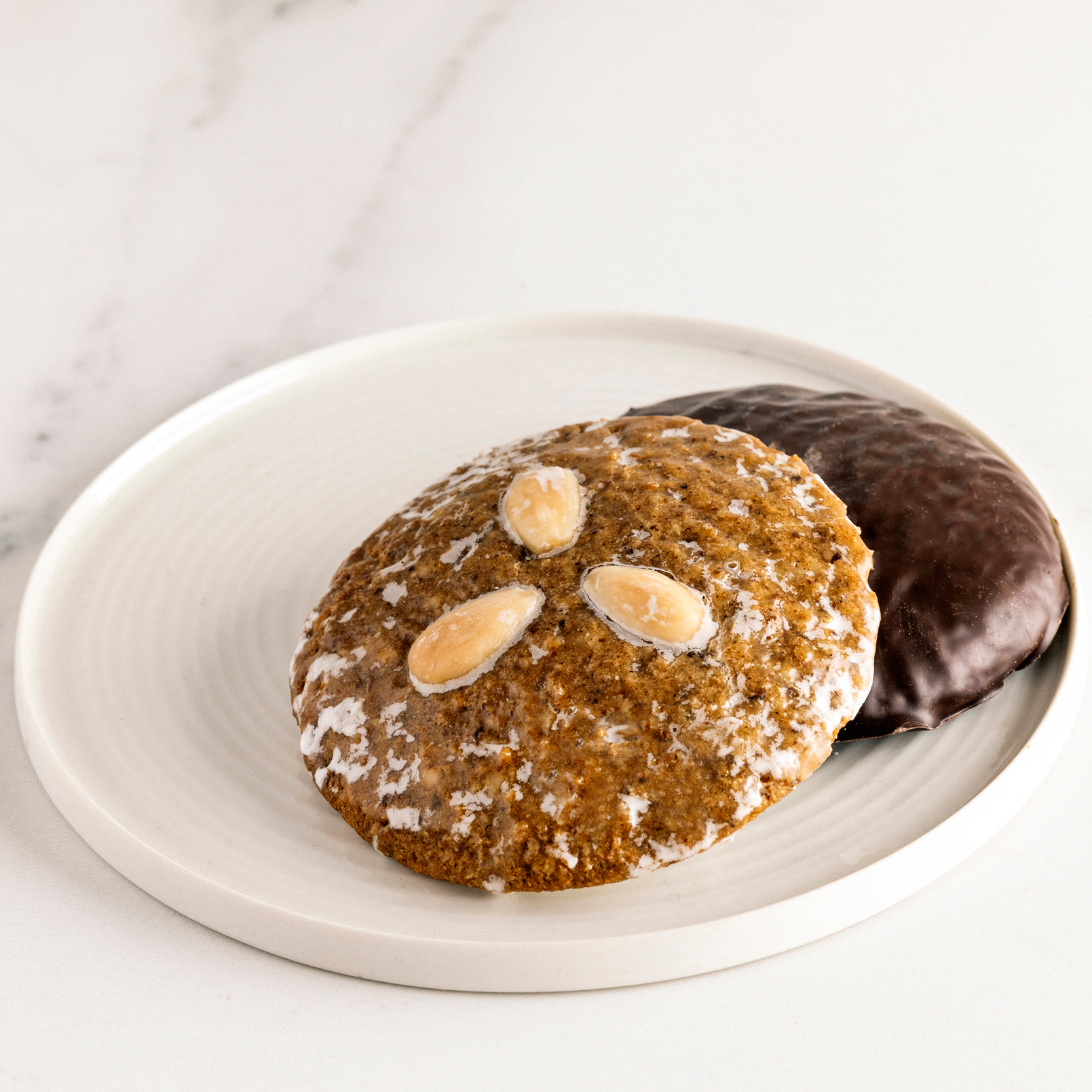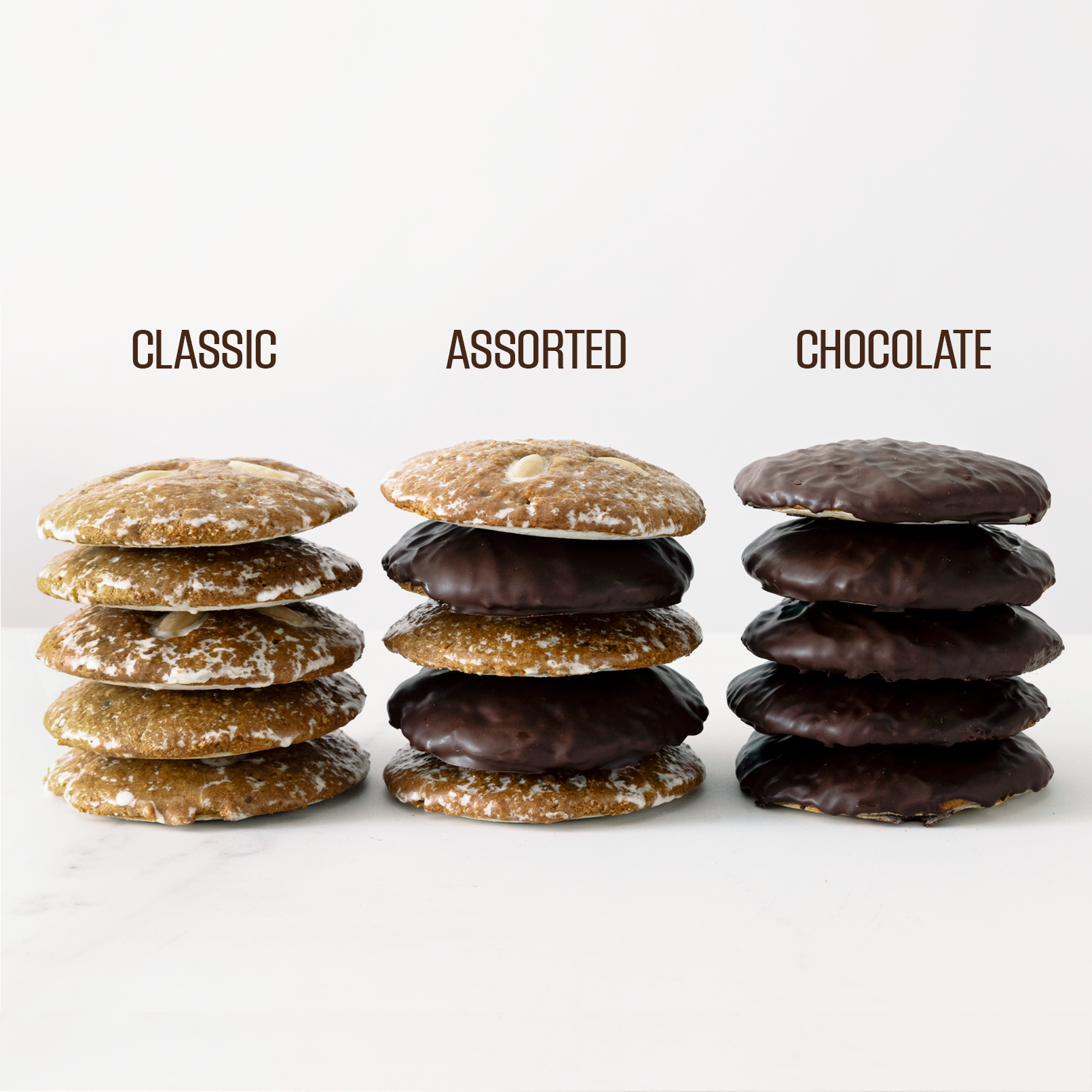 Our Advent Calendar tin is decked with holiday cheer and a chocolate-colored lid, the better to whet your Christmas anticipation. Curl up with our perfectly spiced lebkuchen as you count down the days.
Contains 5 Nuremberg lebkuchen (1 lb) in your choice of Assorted (our most popular option), Classic, or Chocolate flavors.
Our tins are heavyweight and carefully embossed, imparting a high level of finish that feels distinctly from another era. Measures 4.63" in diameter & 5.25" high.
Almonds (blanched almond flour, almonds), dark chocolate* (unsweetened chocolate, sugar, cocoa butter, soy lecithin, natural vanilla flavor), sugar, hazelnut flour, egg whites (egg whites, guar gum), flour (unbleached hard wheat flour, malted barley flour, niacin, reduced iron, thiamin mononitrate, riboflavin, folic acid), honey, citron peel, orange peel, glucose-fructose syrup, spices, water, less than 1% of: corn starch, potato starch, sea salt, citric acid, sodium bicarbonate, monocalcium phosphate, natural flavor(s). *Chocolate variety only. CONTAINS: EGG, WHEAT, ALMOND, HAZELNUT, SOY.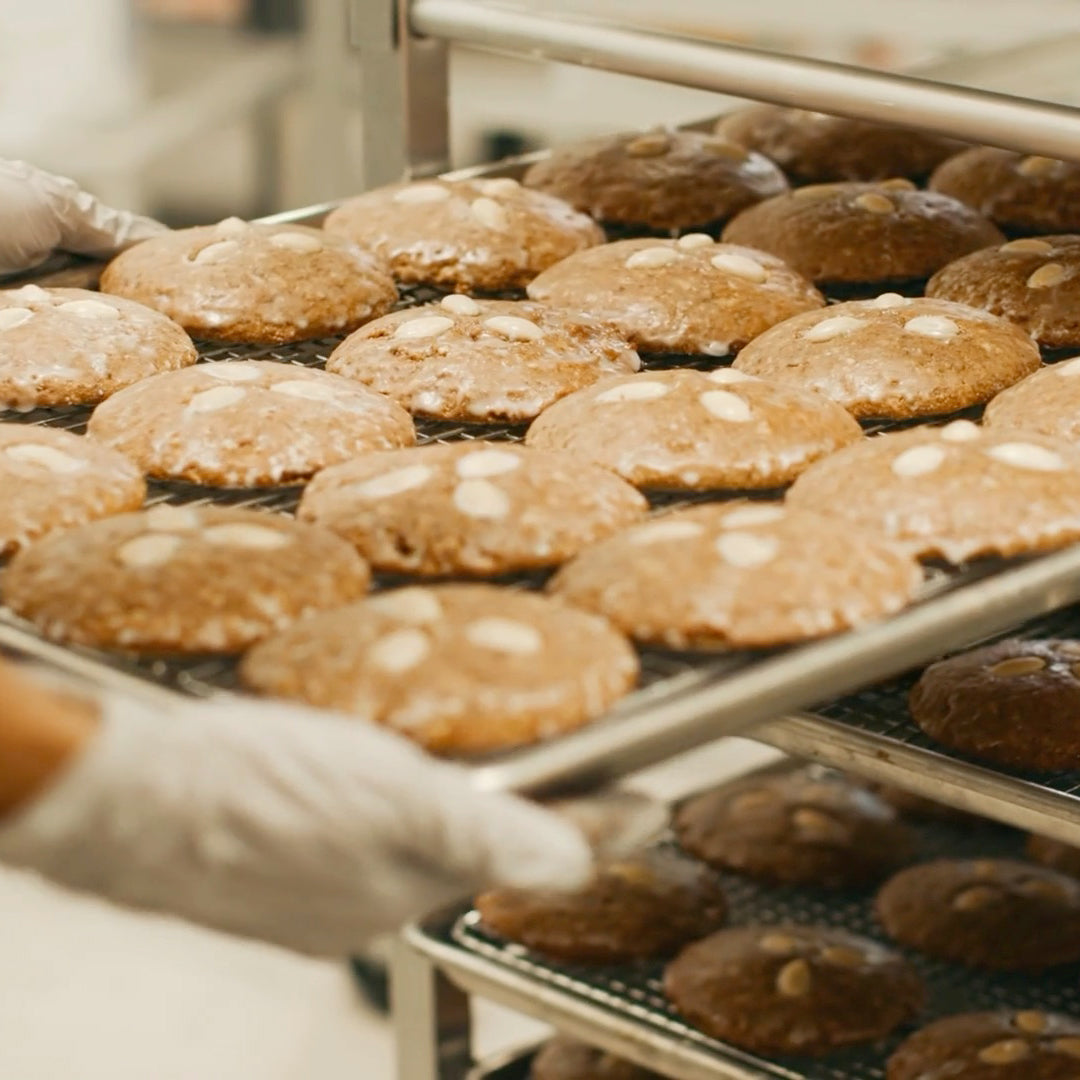 Made Fresh in Small Batches
The freshest lebkuchen you can buy in the States
Baked for you in Longmont, Colorado and shipped quickly
Our 13th season baking Nuremberg-style lebkuchen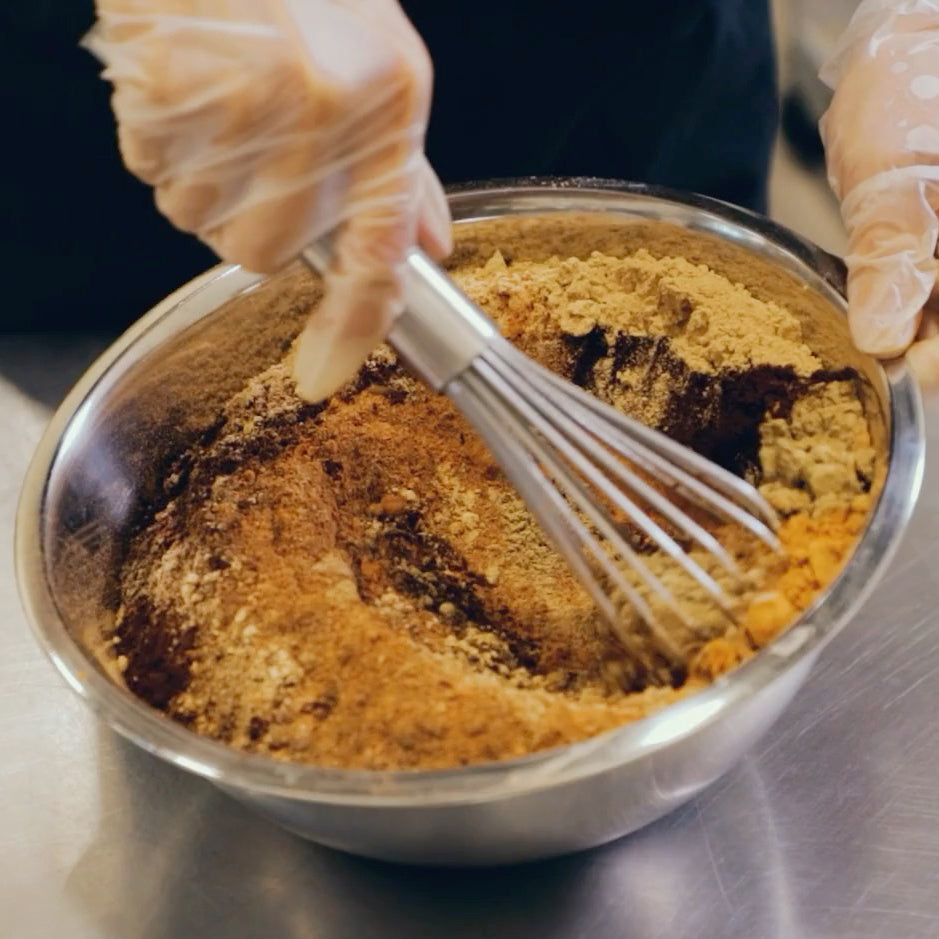 Quality Ingredients
40% almonds and hazelnuts
No artificial preservatives, flavors, or additives
Cold-ground spices (to preserve their aroma and flavor)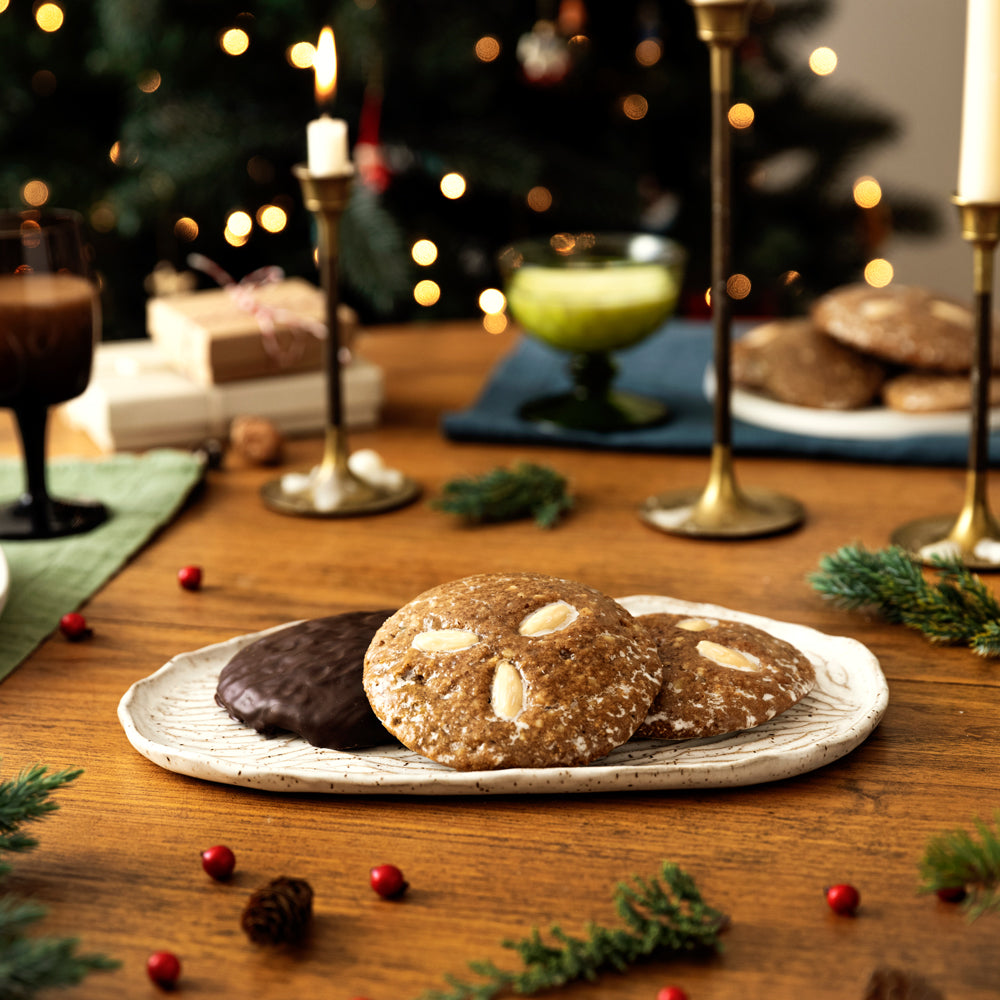 The Taste of the Holidays
Perfect cold-weather treat or festive addition to your holiday table
Distinctive holiday gift for friends, family, hosts, and colleagues
** Reviews below reflect only this particular tin/packaging style. To view all 2,000+ lebkuchen reviews we've received to date, click here.
An Annual Holiday Delight!
I love Christmas and I love German Christmas items, be they toys, decorations, or food and Leckerlee's artistic tins with the yummy Lebkuchen cookies inside satisfies both of these loves of mine. I used to purchase them as Christmas gifts for other people, who delighted in the cookies as well as the tins. Then I had a lightbulb moment in which I realized I needed to gift one of these tins to myself as well! And so now I thoroughly enjoy the cookies, enjoy the tins throughout the year, and share this delightful gift with new people each year. Keep up the good work and my only suggestion is that you make more of the tins each year as there are many I would love to purchase prior year tins but alas, they are sold out!
Most delicious!!! Beautiful tin!
Delicious!
These are delicious Lebkuchen which remind me of my childhood. And the beautifully designed tins are such as wonderful extra! Love!
I'm addicted
I enjoy the Leckerlee lebkuchen very much, especially the mini variety. But I'm addicted to the tins. This year, 20 of them, collected over the years, served as the mantle decoration at our country home. Thank you for staying smallish and baking a unique and extremely tasty product, and thank you for the ingenuity and care you give to the quality and design of the tins. My plan is to keep them for years, and the year before I die, I'll finally fill them with cookies I bake and give them away. (But when will that year be?? HAHA)