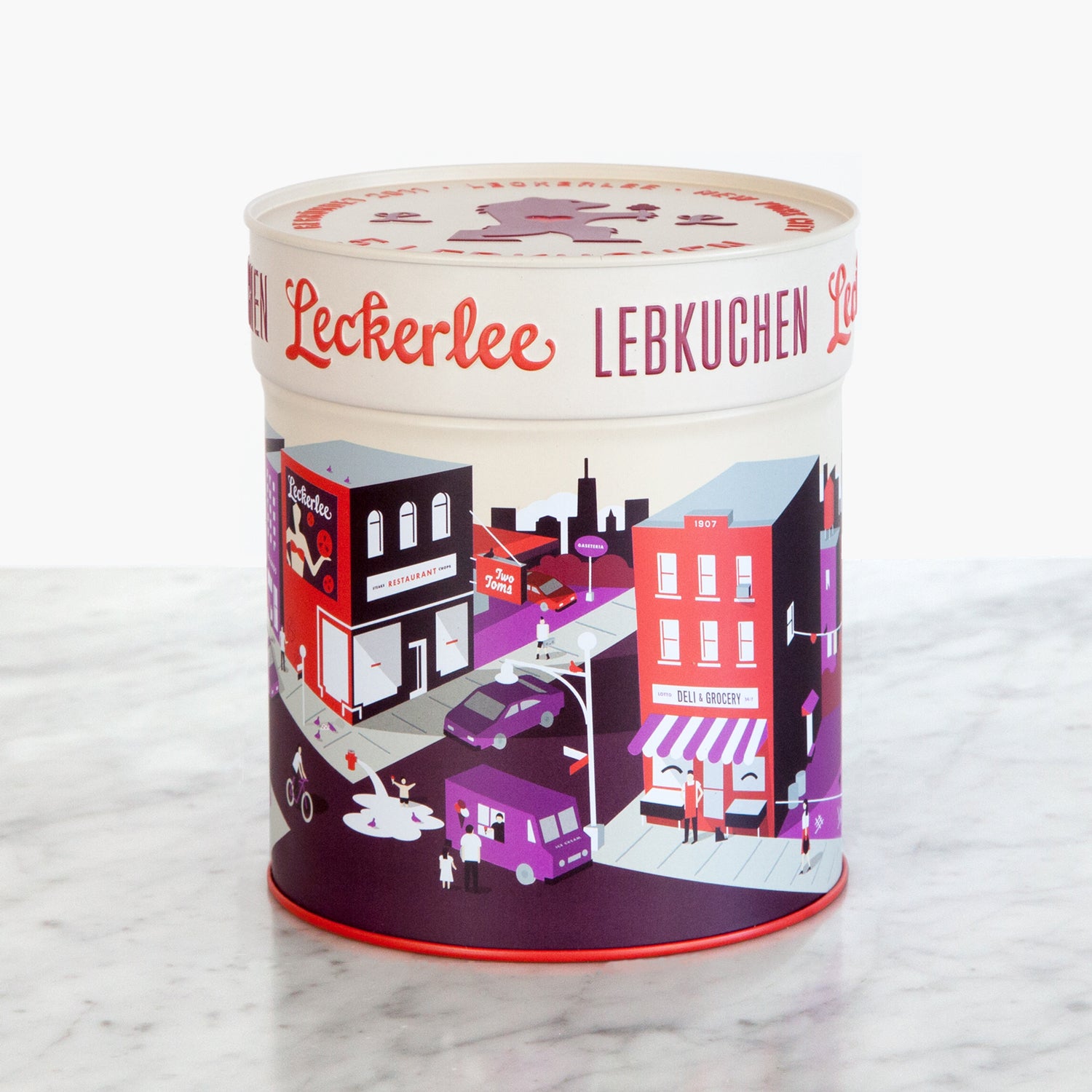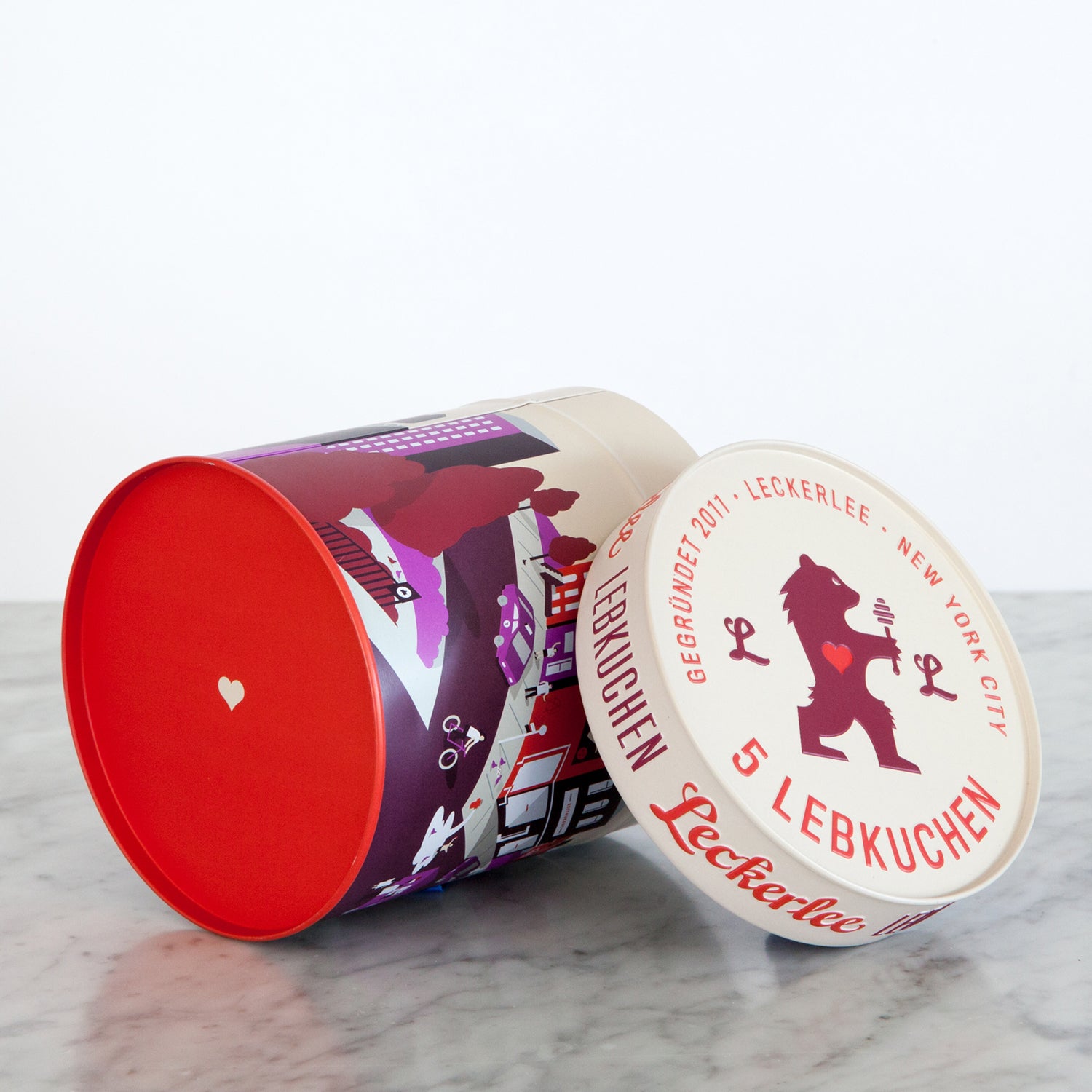 The follow-up to our popular NYC Skyline Tin, this design captures the feeling of neighborhood living in the big city, with New York's iconic skyline as a backdrop. Look closely and you'll find charming details of New Yorkers soaking up the final weeks of the summer sun, just before lebkuchen season starts up.
Contains 5 Nuremberg lebkuchen (1 lb) in your choice of Assorted (our most popular option), Classic, or Chocolate flavors.
Our tins are heavyweight and carefully embossed, imparting a high level of finish that feels distinctly from another era. Measures 4.63" in diameter & 5.25" high.
Almonds (blanched almond flour, almonds), dark chocolate* (unsweetened chocolate, sugar, cocoa butter, soy lecithin, natural vanilla flavor), sugar, hazelnut flour, egg whites (egg whites, guar gum), flour (unbleached hard wheat flour, malted barley flour, niacin, reduced iron, thiamin mononitrate, riboflavin, folic acid), honey, citron peel, orange peel, glucose-fructose syrup, spices, water, less than 1% of: corn starch, potato starch, sea salt, citric acid, sodium bicarbonate, monocalcium phosphate, natural flavor(s). *Chocolate variety only. CONTAINS: EGG, WHEAT, ALMOND, HAZELNUT, SOY.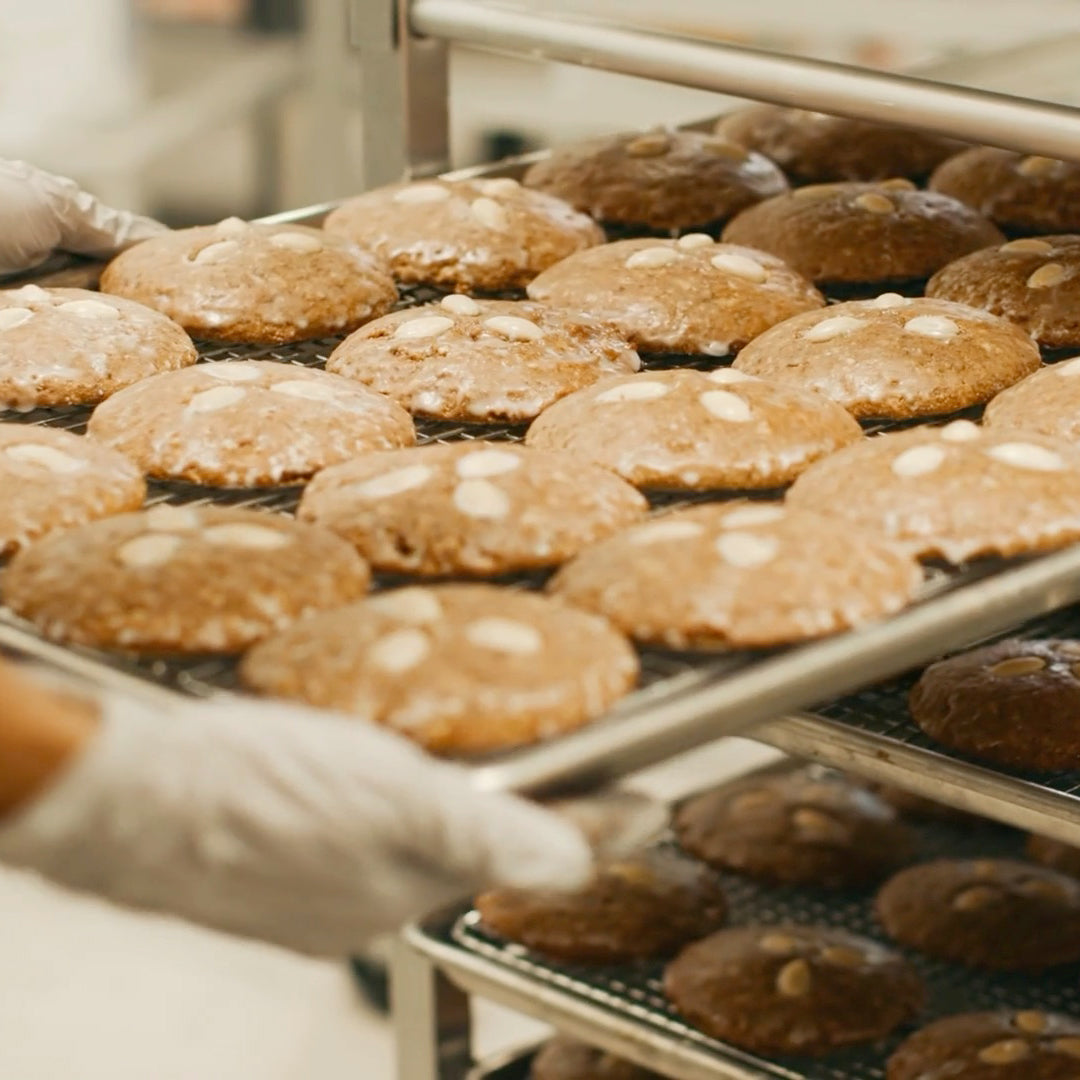 Made Fresh in Small Batches
The freshest lebkuchen you can buy in the States
Baked for you in Longmont, Colorado and shipped quickly
Our 13th season baking Nuremberg-style lebkuchen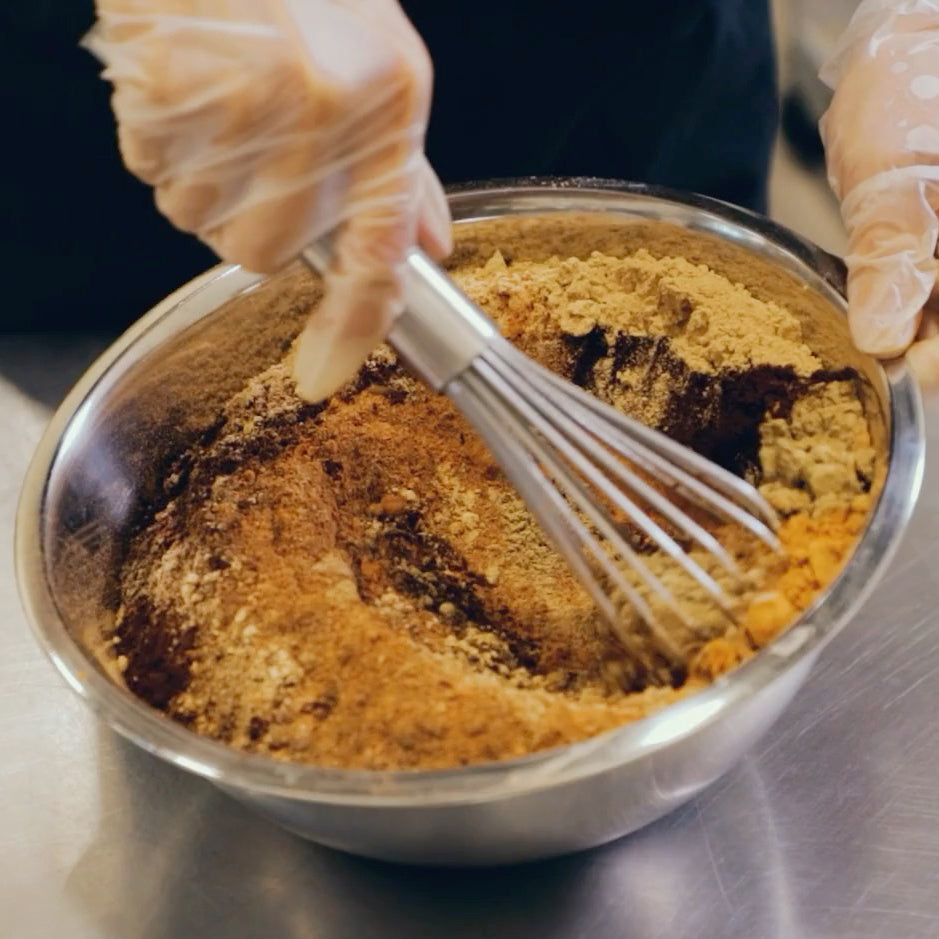 Quality Ingredients
40% almonds and hazelnuts
No artificial preservatives, flavors, or additives
Cold-ground spices (to preserve their aroma and flavor)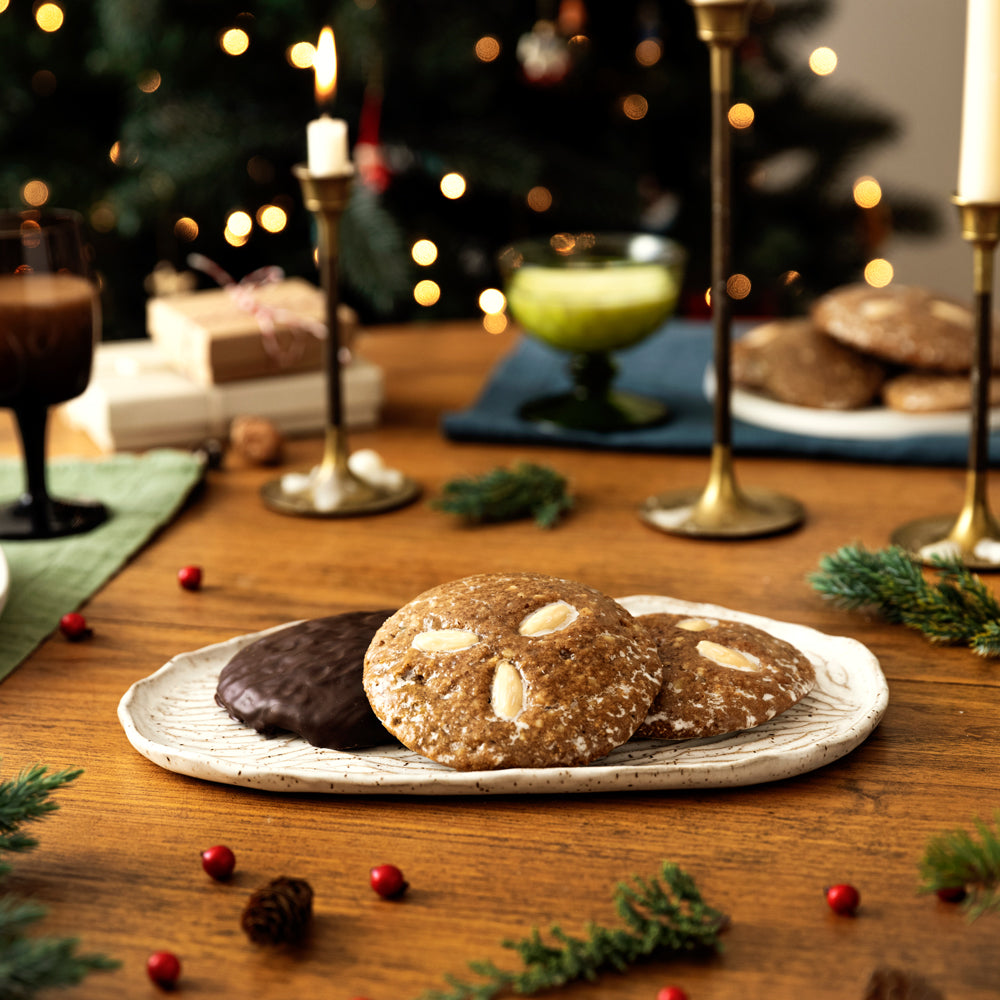 The Taste of the Holidays
Perfect cold-weather treat or festive addition to your holiday table
Distinctive holiday gift for friends, family, hosts, and colleagues
** Reviews below reflect only this particular tin/packaging style. To view all 2,000+ lebkuchen reviews we've received to date, click here.
Excellent Cookies
Healthy feeling after you eat the cookies
The best holiday indulgence.
A wonderful treat for the holidays. Glad I found them.
Great Customer Serfvice
I had several orders going to different places and was sent tracking information. I noticed one order was seemingly lost and notified Leckerlee. They checked all the orders and found another that wasn't logged as inroute. Leckerlee overnighted replacements to make sure the gifts arrived before Christmas. Thanks Leckerlee for your customer service.
Love it.
The best, plain and simple.
Leckerlee never disappoints!!!
For a few years now, my husband and I have been sending Leckerlee lebkuchen to our families and friends for Christmas. We always order plenty for ourselves, too.
We discovered Leckerlee out of some desperation. Many years ago, my husband taught for two semesters in Germany, and learned to love many things German, including lebkuchen. For years, we relied on our German friends to send us lebkuchen care packages at Christmas. A few times we ordered lebkuchen via Amazon. While the lebkuchen was still very good, international shipping wasn't very timely, and the cookies suffered a bit.
Then my husband found Leckerlee a few years ago via an internet search. We couldn't believe how much better the lebkuchen was, tasting so fresh it had to have come out of the oven hours before! Hands down, the best we had ever tasted. We've been customers ever since, and have expanded our purchasing to include friends and family.
They are a hit. Thank you Leckerlee, for maintaining all of those addresses in your database so that I can reorder every year, and for making such an excellent product that I never worry about what to send my mom, and my five brothers and sisters and their families (plus my in-laws and all of our friends). Leckerlee is now a wonderful tradition for us!
Jane Craig