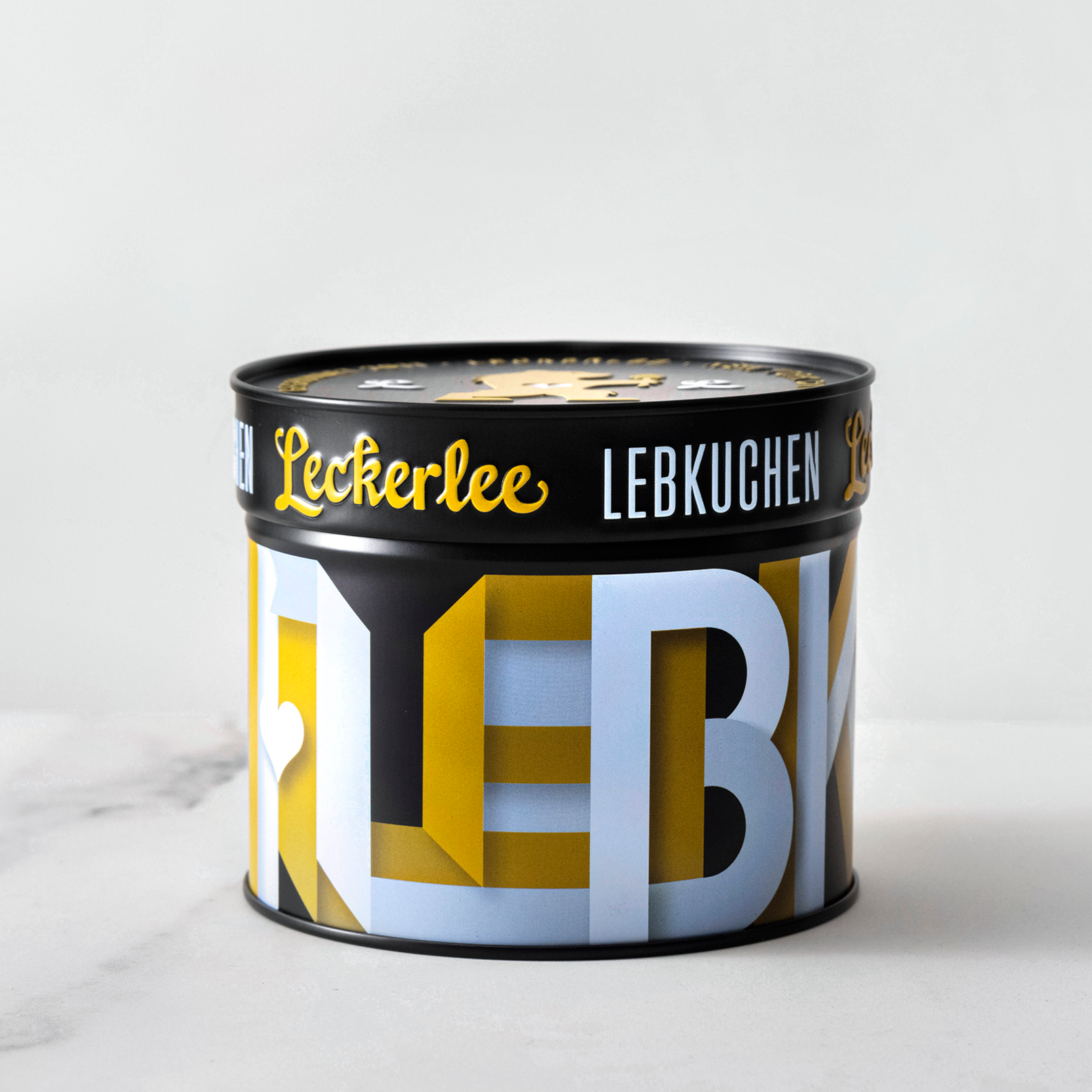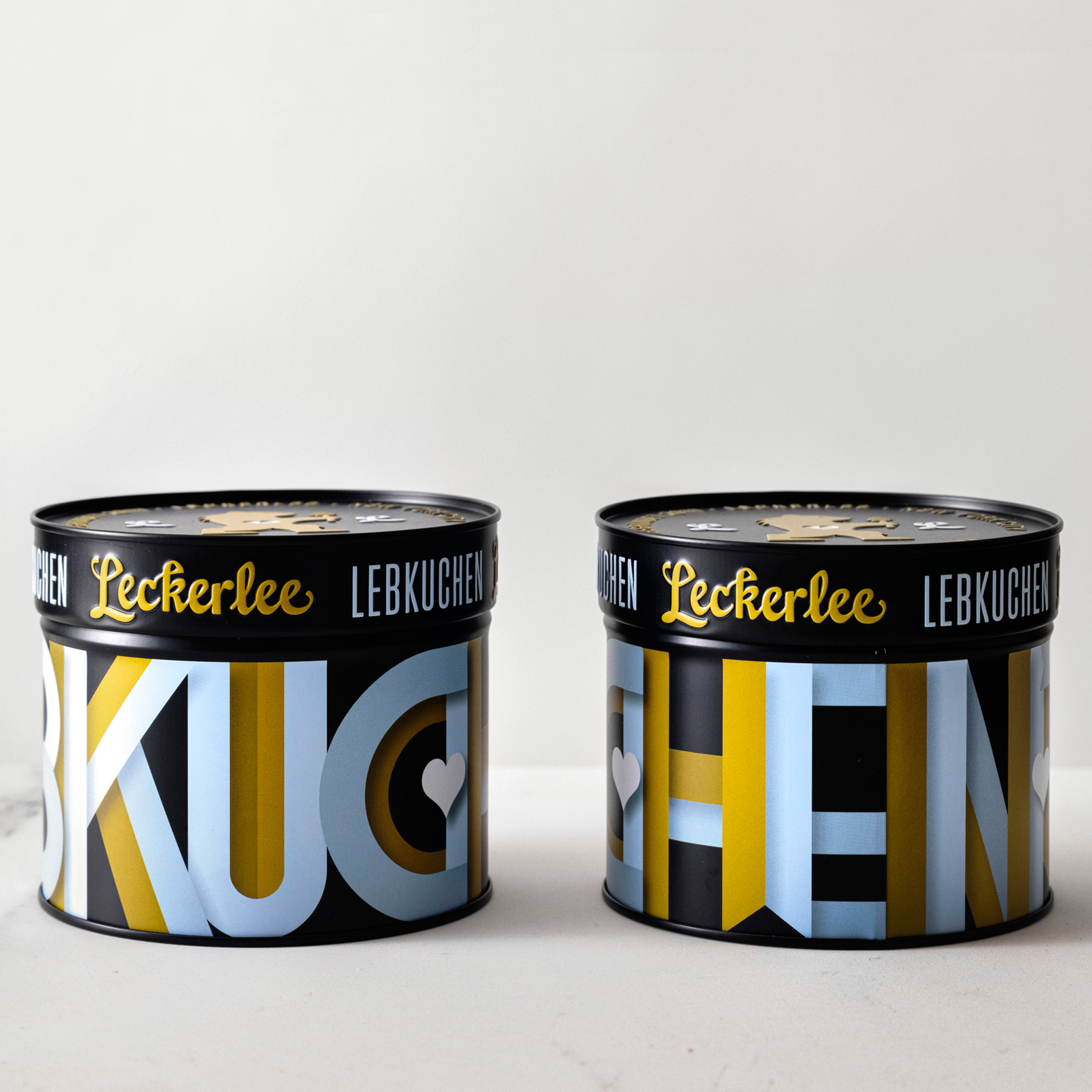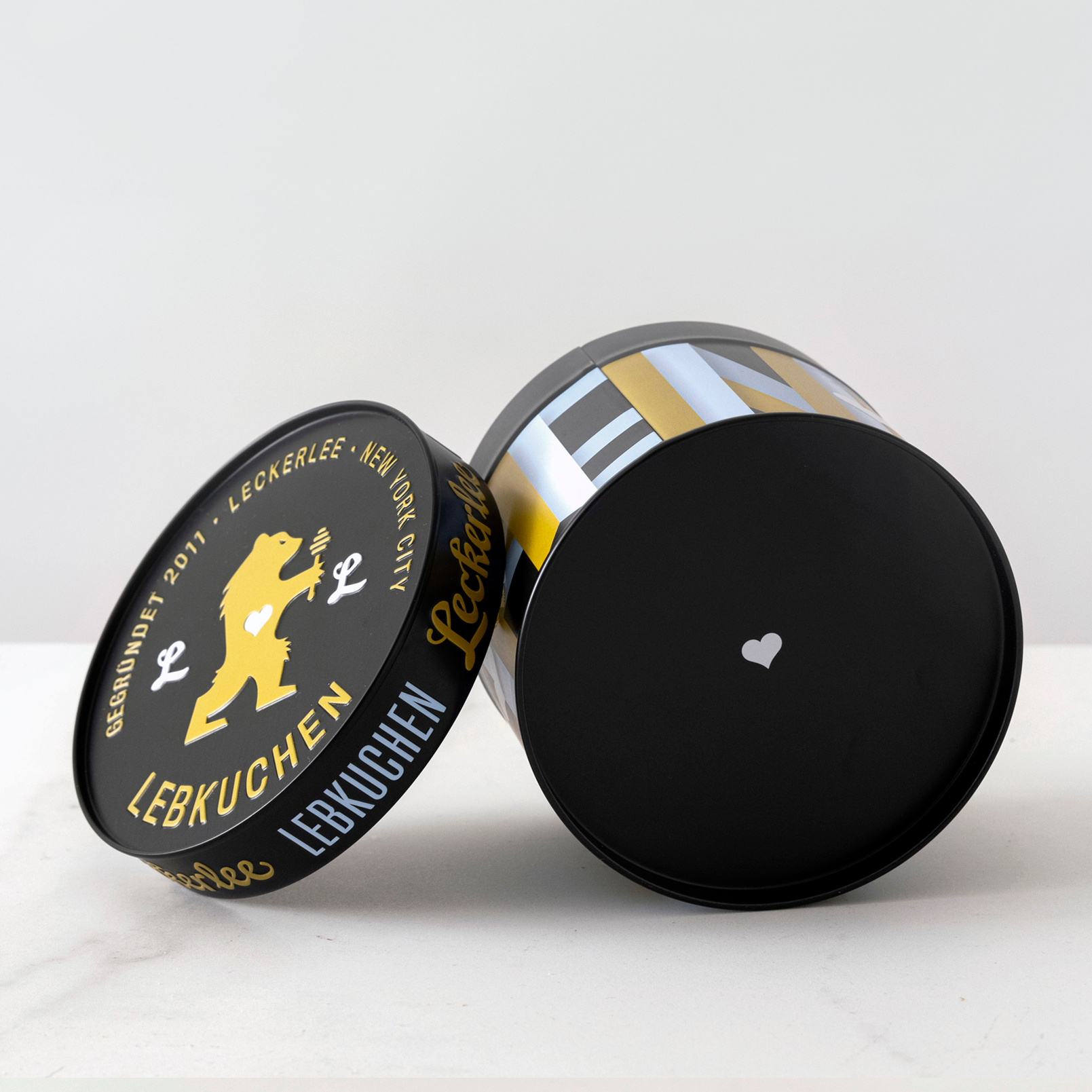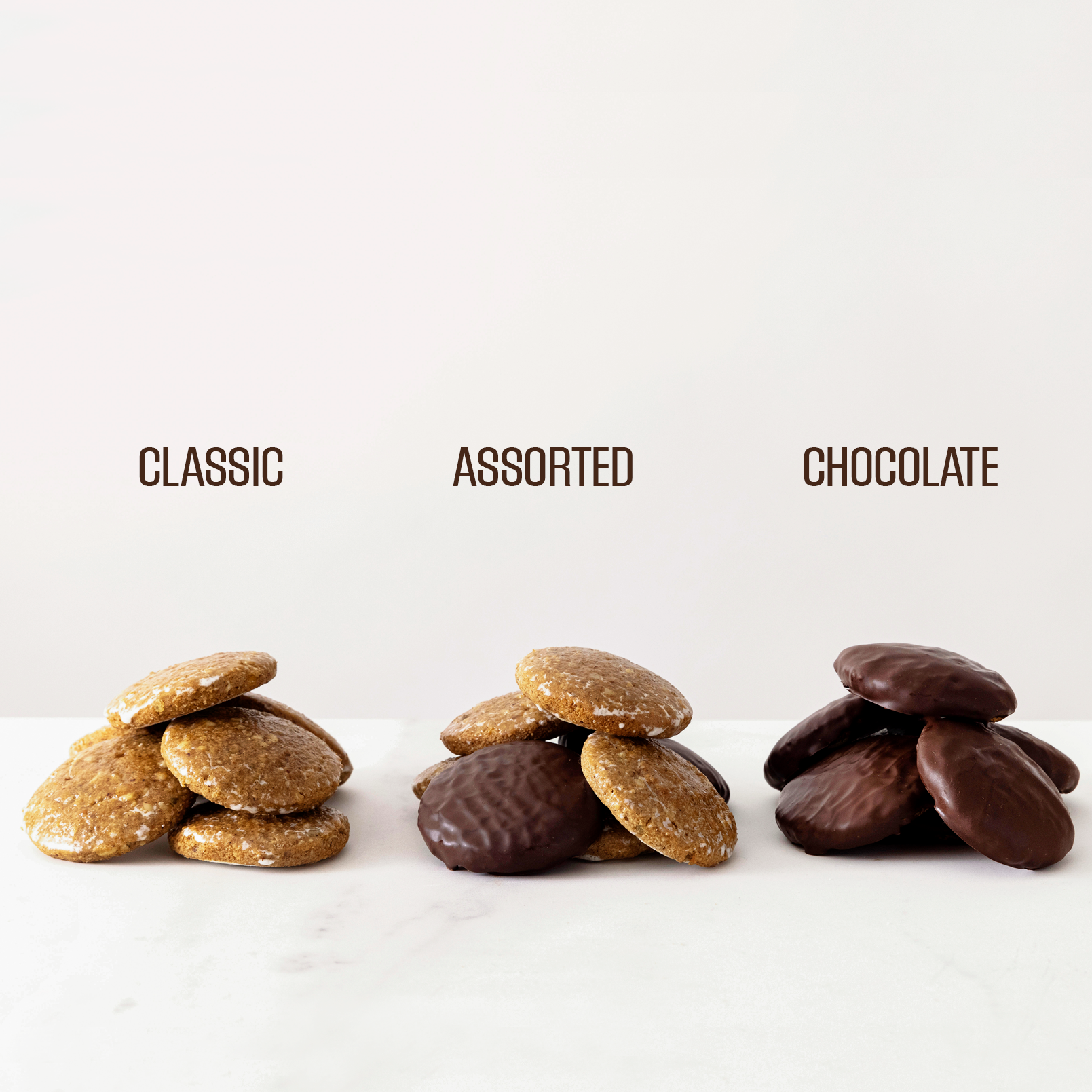 Calling on the sleek geometry of Art Deco, this striking design fits effortlessly into a holiday spread of silver and gold. Overlapping cool and warm tones evoke an aesthetic both modern and classic, reflecting Leckerlee's dedication to traditions old and new.
Contains 7 Nuremberg mini lebkuchen (6 minis if you order all Chocolate), in your choice of Assorted (our most popular option), Classic, or Chocolate flavors. Assorted contains 4 Classic and 3 Chocolate minis. Net weight 9.5 oz.
Our tins are heavyweight and carefully embossed, imparting a high level of finish that feels distinctly from another era. Measures 4.63" in diameter & 3.8" high.
Almonds (blanched almond flour, almonds), dark chocolate* (unsweetened chocolate, sugar, cocoa butter, soy lecithin, natural vanilla flavor), sugar, hazelnut flour, egg whites (egg whites, guar gum), flour (unbleached hard wheat flour, malted barley flour, niacin, reduced iron, thiamin mononitrate, riboflavin, folic acid), honey, citron peel, orange peel, glucose-fructose syrup, spices, water, less than 1% of: corn starch, potato starch, sea salt, citric acid, sodium bicarbonate, monocalcium phosphate, natural flavor(s). *Chocolate variety only. CONTAINS: EGG, WHEAT, ALMOND, HAZELNUT, SOY.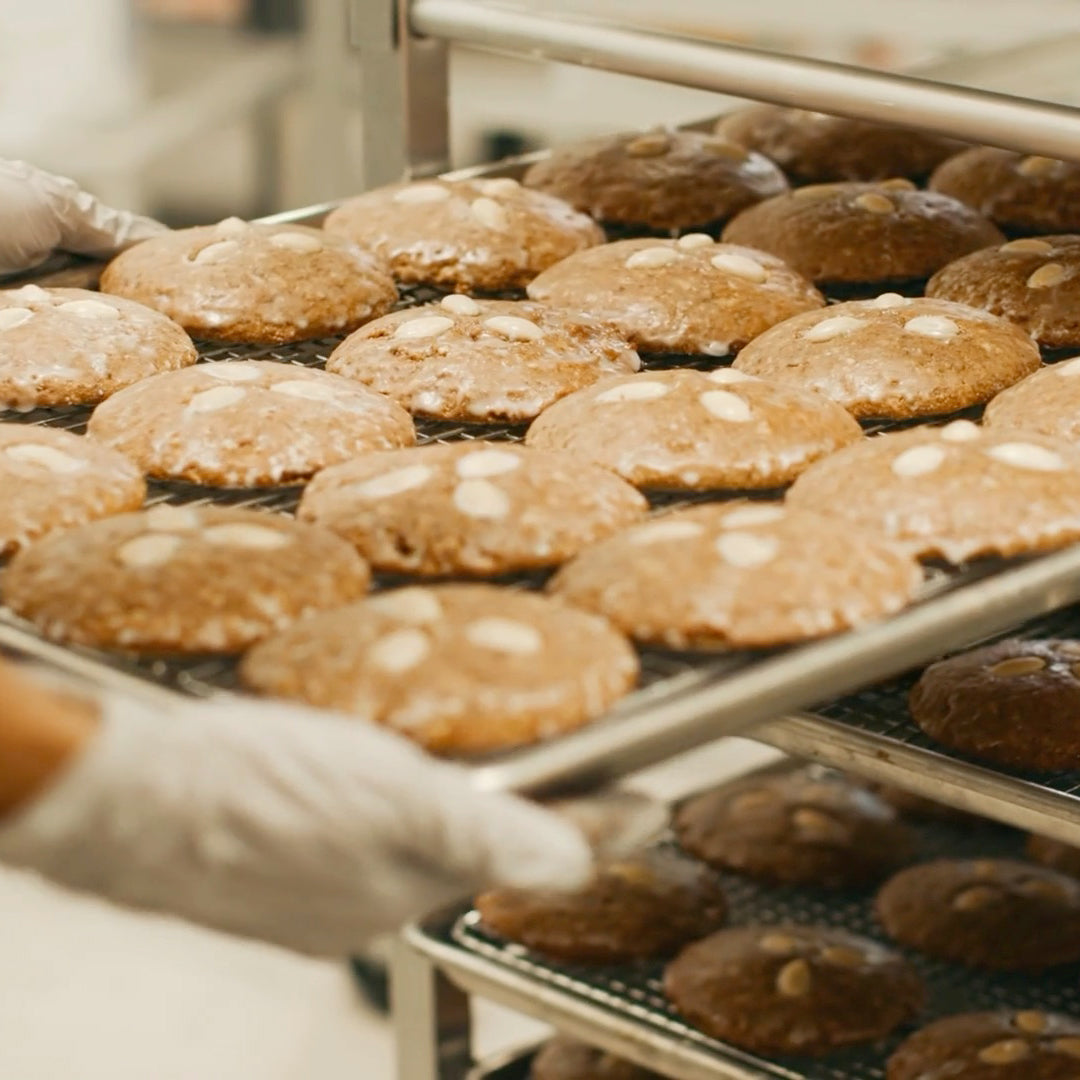 Made Fresh in Small Batches
The freshest lebkuchen you can buy in the States
Baked for you in Longmont, Colorado and shipped quickly
Our 13th season baking Nuremberg-style lebkuchen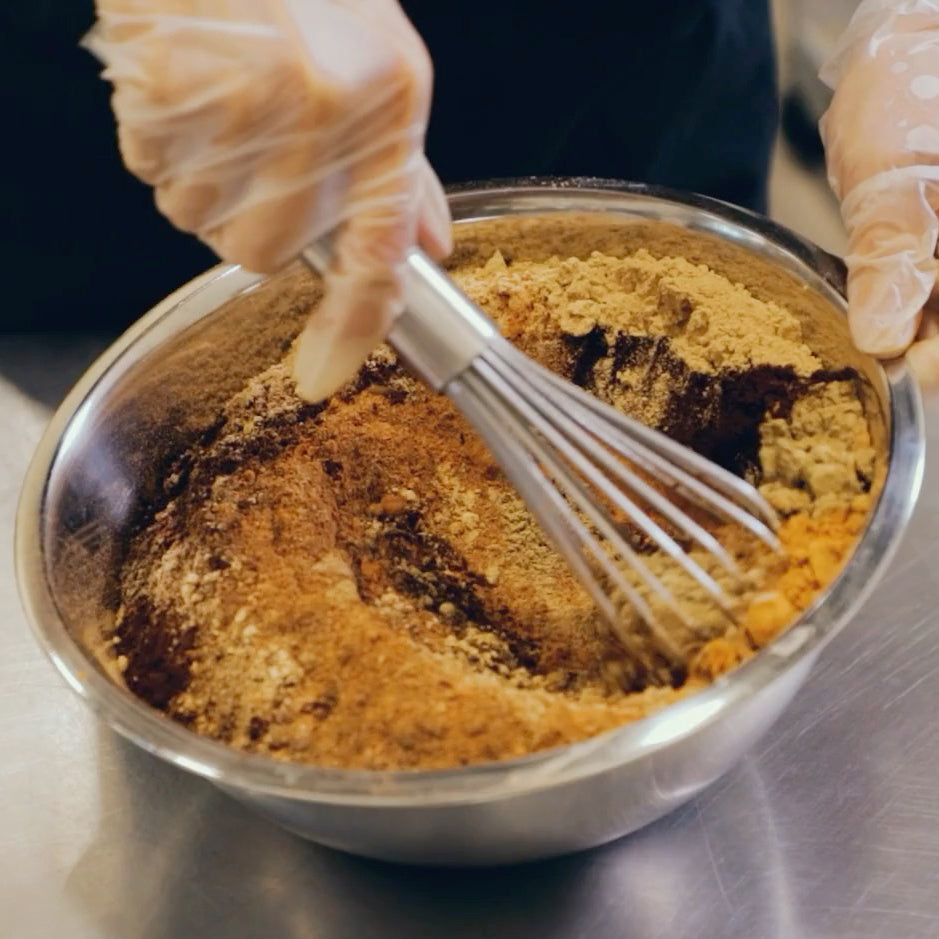 Quality Ingredients
40% almonds and hazelnuts
No artificial preservatives, flavors, or additives
Cold-ground spices (to preserve their aroma and flavor)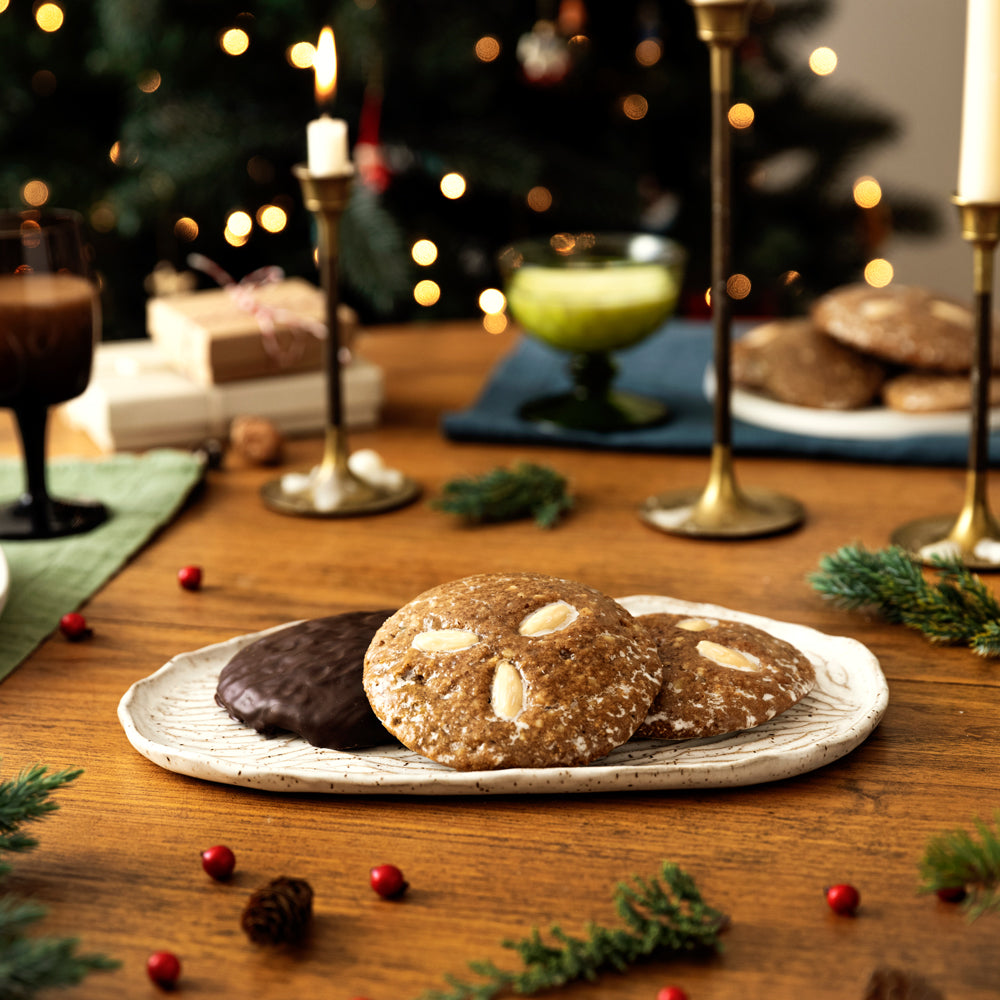 The Taste of the Holidays
Perfect cold-weather treat or festive addition to your holiday table
Distinctive holiday gift for friends, family, hosts, and colleagues
** Reviews below reflect only this particular tin/packaging style. To view all 2,000+ lebkuchen reviews we've received to date, click here.
The Spice is Right!
I read about this company from a friend who is a master German baker. She said it was an amazing Lebkuchen and the company had gorgeous tins that were keepsakes. That was good enough for me. When I went onto the site and saw the Art Deco tin I knew that was what I wanted. The tin is fabulous and the cookies, moist and delicious and everything I had hoped for. I have since recommended it to others. What a wonderful company with very high value products for a very reasonable amount of money.
A really special treat!!!
I chanced upon a Leckerlee lebkuchen booth at a holiday market in NYC several years ago—and have never looked back. These cookies and beautiful tins are an always-welcome gift and a must for my own holiday pantry. I look forward to them all year long.
Made with pride
Congratulations on Leckerlee's 10 year anniversary. Kudos to Sandy and everyone at Leckerlee: from bakers, packers, shipping, admin, and tech staff. My gift order this year all arrived in time for Christmas even considering holiday weather & delivery conditions were unknown upon ordering. Attention to detail and quality seem to be part of the company's culture and work ethic.The cookie-filled tins make excellent hostess gifts; and you'll be supporting small business. I look forward to choosing tin container designs each year.