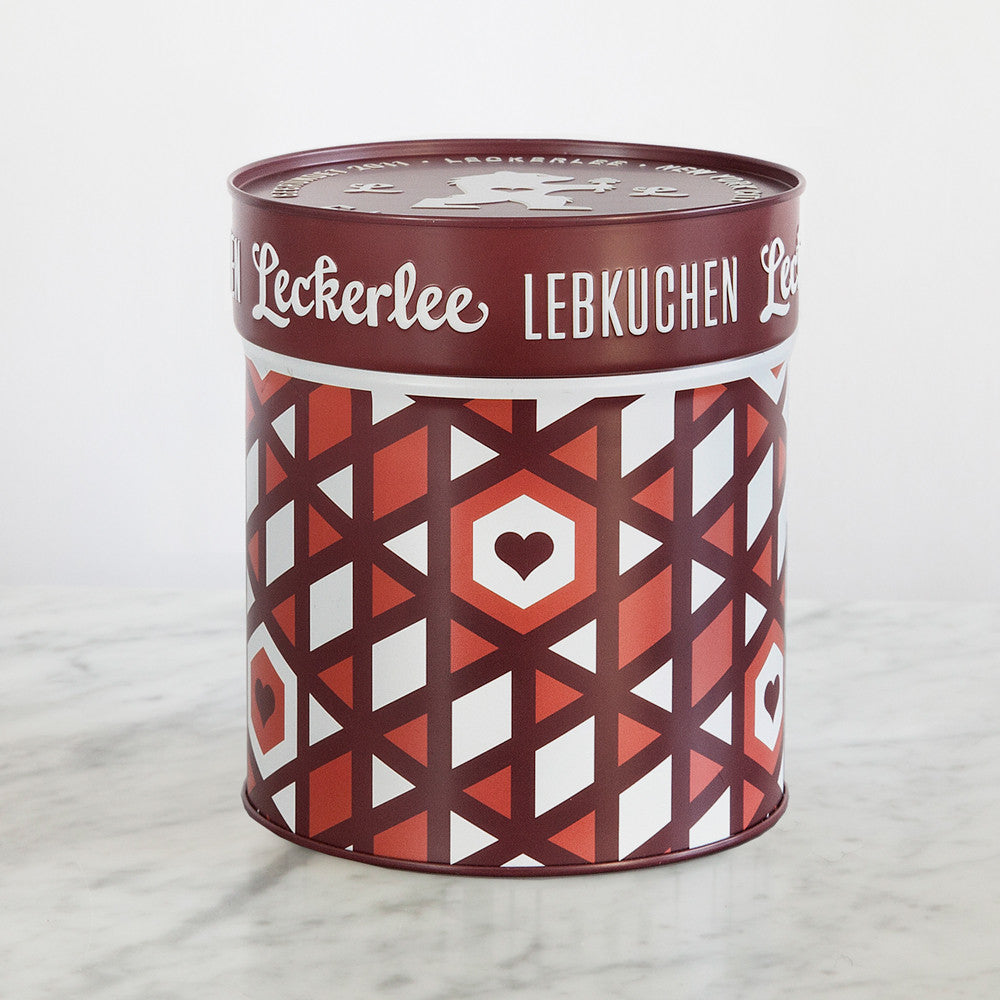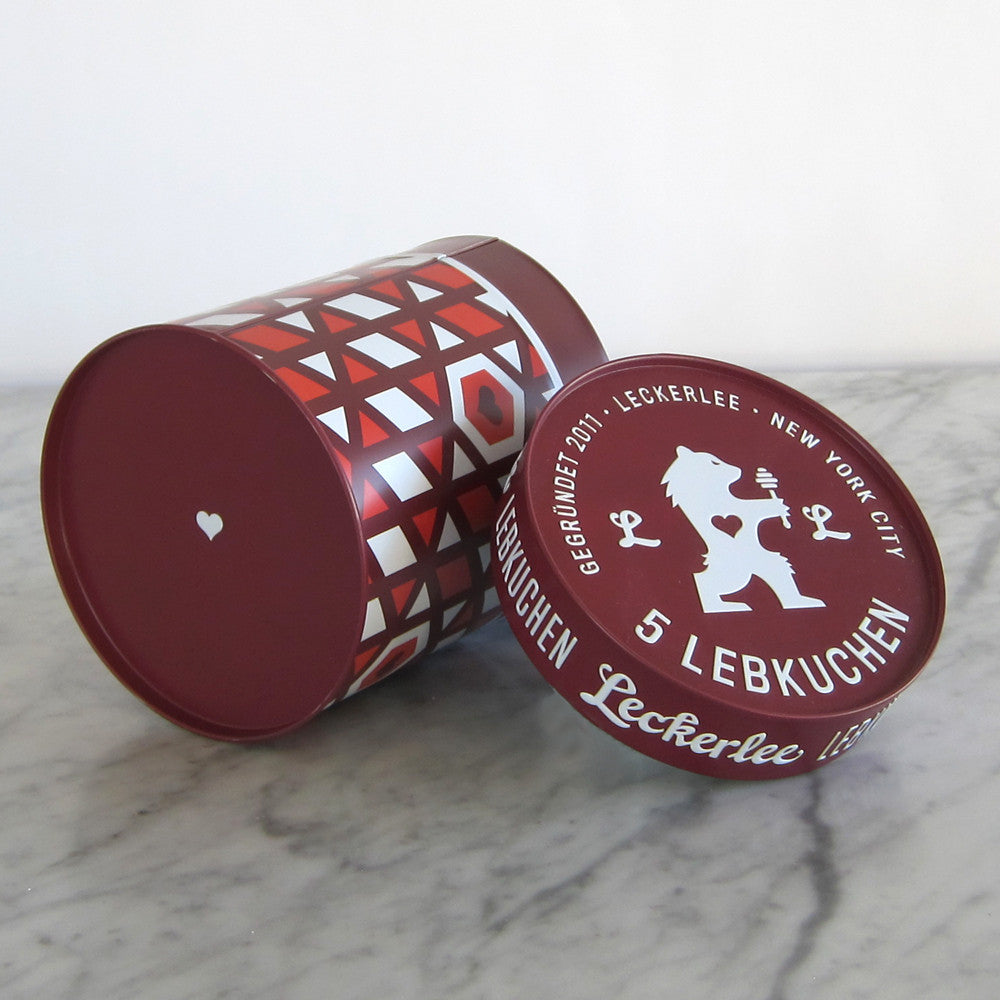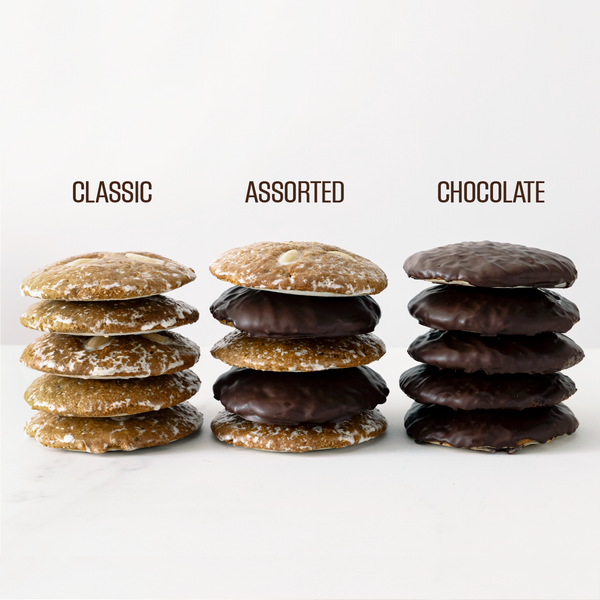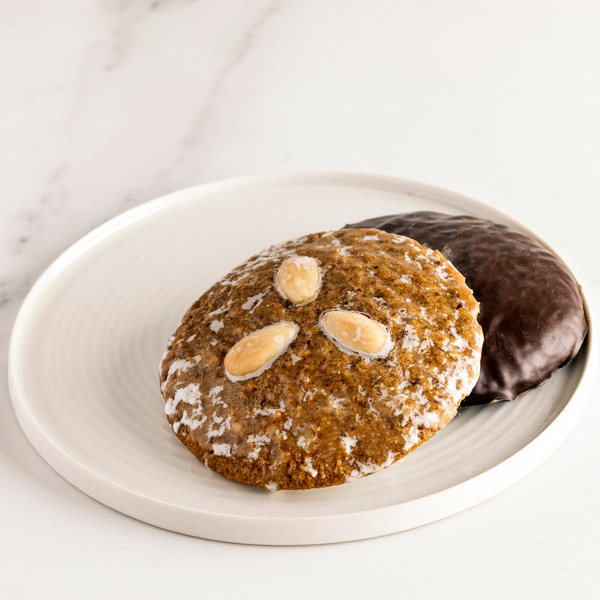 "If everything is honey, and I am what I eat, I must be made of honey.. and life is very sweet." - Winnie the Pooh
Our Honeycomb Tin is a classic design that complements the honeystick of the Leckerlee bear logo. We seal our lebkuchen tins with this bear as a nod to two things: honey was a key ingredient in many lebkuchen recipes, and the bear is the symbol of Berlin, where Leckerlee all started. 
Contains 5 Nuremberg lebkuchen (1 lb) in your choice of Assorted (our most popular option), Classic, or Chocolate flavors.
Our tins are heavyweight and carefully embossed, imparting a high level of finish that feels distinctly from another era. Measures 4.63" in diameter & 5.25" high.
Almonds (blanched almond flour, almonds), dark chocolate* (unsweetened chocolate, sugar, cocoa butter, soy lecithin, natural vanilla flavor), sugar, hazelnut flour, egg whites (egg whites, guar gum), flour (unbleached hard wheat flour, malted barley flour, niacin, reduced iron, thiamin mononitrate, riboflavin, folic acid), honey, citron peel, orange peel, glucose-fructose syrup, spices, water, less than 1% of: corn starch, potato starch, sea salt, citric acid, sodium bicarbonate, monocalcium phosphate, natural flavor(s). *Chocolate variety only. CONTAINS: EGG, WHEAT, ALMOND, HAZELNUT, SOY.
** Reviews below reflect only this particular tin/packaging style. To view all 1,950+ lebkuchen reviews we've received to date, click here.
Beautiful and delicious
I was delighted when I opened the package and held these beautiful, well made tins heavy with all the lebkuchen inside. Such a treat! These didn't last long. I really love the texture and the high quality dark chocolate. I'd love it even more if they had a stronger marzipan flavor though I know not everyone would agree. I gave them also as a gift to a neighbor who lived in Germany for many years and she really loved them too. Can't wait to get more next year!
Authentic & Delicious!
Lebkuchen at Christmas has been a holiday tradition in my husband's family for many years. We were bereft when the little lebkuchen company, Ericann in Michigan, closed it doors several years ago. We tried to find an equivalent with no luck. Our cousin gave us a gift of Leckerlee a few years ago and we rejoiced! We can enjoy this special family tradition again. Thank you Leckerlee!
I didn't know lebkuchen could be this good.
Having lots of German relatives, I've been eating lebkuchen all my life. Even though it's expensive, I thought I would try Leckerlee, just to see what it was like. I was BLOWN AWAY by the difference between this and the package you might get at world market. It is so fresh and moist! And the cookies are generous: the mini size is as big as a regular size in the packages I usually buy. They were worth every penny, and I will definitely be buying them again.
Amazing
These cookies are amazing! Found them at a local Whole Foods and when I went back for more they were sold out. Went online and I ordered 3 tins!!! Fresh, tasty and delicious!